Netball Expert & Columnist
Tamsin Greenway's Vitality Netball Superleague talking points
Coverage of the Vitality Superleague continues on Saturday when you can watch Saracens Mavericks v Severn Stars on the Sky Sports YouTube channel from 3.45pm
Last Updated: 26/04/19 4:54pm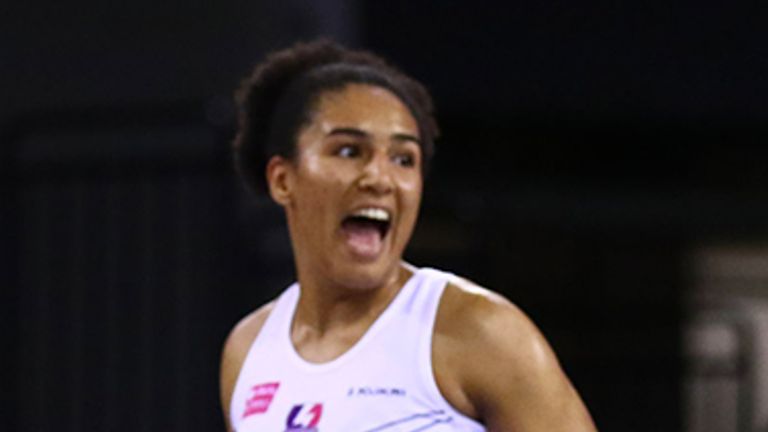 After a bumper weekend of Vitality Netball Superleague action, Tamsin Greenway is back with her latest set of talking points.
The Big Easter Weekend had it all, from matches running to the formbook to outings that provided more 'Oohs and Ahhs'.
It is the competition that just keeps on giving and, with two rounds of the regular season remaining, we only know one thing for certain - Wasps will be in the play-offs.
So without further introduction, allow Greenway to guide you through her key talking points from a jam-packed weekend...
Vitality Netball Superleague - Round 16 results
| | | | | |
| --- | --- | --- | --- | --- |
| Sunday, April 21 | Wasps Netball | 64 - 48 | Celtic Dragons | |
| | Strathclyde Sirens | 47 - 44 | London Pulse | |
| | Surrey Storm | 46 - 51 | Severn Stars | |
| | Loughborough Lightning | 60 - 57 | Manchester Thunder | |
| | Team Bath | 45 - 51 | Saracens Mavericks | |
Big tick for the Big Easter Weekend
It was great to have all teams playing across two venues at the Big Easter Weekend. It's certainly something that netball needs to keep looking at and progressing as it works out how to engage crowds.
There was so much more interest around the rounds as the games were going on at the same time, and because it was at such an exciting part of the season.
There were discussions around the matches, the line-ups, the decisions, the outcomes and, of course, what it meant to the table and the top-four semi-finalists.
I think also, from the players', the coaches' and the fans' points of views, having a number of teams in one venue, is a brilliant thing because it is not often that you get to watch all the other teams live.
It was a really positive atmosphere and anyone at the venues could see the other teams hanging around, watching the other games and being a part of it. It had a real international form and feel to it and I really do think that's one of the strengths of netball.
Whenever anyone talks about our game, whatever standard they play at, one of the things they enjoy the most is tournament netball. With everyone being around and the feel and buzz that it creates, it's one of the special parts of our game and this weekend gave us that.
So even though the sun was shining outside I was very happy to be part of it, to witness all the teams in action and to just soak up the atmosphere.
Loughborough's win against Thunder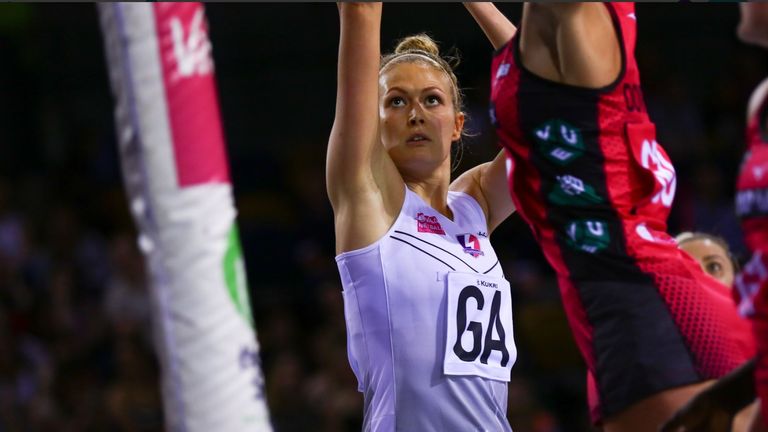 We all thought the game of the weekend was going to be Mavericks/Bath. It was the final game and obviously it was going to be a top-four decider, but everything changed for me when Loughborough went and beat Thunder.
I think I was a little bit surprised because I watched Thunder on the Saturday playing against Pulse and they absolutely tore them apart. It was expected that it was going to be business-as-usual off the back of that loss to Stars and they were going to show what they were worth. They got everyone on court, it was a real squad performance and they just looked really clinical - the team to beat.
Clark scores for Lightning and that's it. Thunder lose out, a hard-fought victory for Lightning who bridged the gap and made it just that bit too difficult for Thunder.

57-60#THUvsLIGHT

— Manchester Thunder (@thundernetball) April 21, 2019
So, I was really surprised to see them fall short against Loughborough again. It's just been such a strange league this year. I've gone on about it a lot this season, about match-ups and how teams are better against certain teams. Lightning are slowly becoming Thunder's bogey team, and it makes it really interesting for the semi-finals because I believe they will now end up playing each other.
So, if you were Thunder, you've got to be going into that game and the next couple of weeks with a few nerves and some self-doubt. Whereas Loughborough are looking at it going, 'We can do this guys, we can make another Grand Final'. I felt like it was the first eye-opener of the weekend.
Mavs' victory over Bath
Been a couple of weeks since I've been able to say this but it's an awesome feeling waking up with not one but two wins in the bag. We're back! 👊👊 awesome performance from the girls. 💜💜

— GEORGE Fisher (@GeorginaFisher4) April 22, 2019
The other one for me was Bath/Mavs. We knew it was going to be a massive decider and the way Bath have been playing in the last couple of weeks, I would have thought that they would have had enough confidence and experience to see them through.
But, fair play to Mavericks, they put in a real team performance, whereas for Bath it was just more individuals shining at certain times. There just seemed to be such a lack of connection [with Bath], whereas Mavericks just kept going through the motions and saw out the game.
How quickly it has all changed? Before the weekend I thought Mavs were going to find it really, really tough to make the top four.
I backed Bath to win that game because of the way they had been playing, I'd seen Mavericks against Wasps recently and they lacked their usual spark, and they only just got past Celtic Dragons on the Saturday. They only beat them by five goals and they just didn't look as calm and confident as everybody else above them seemed.
What I find amazing with Mavs is, if you look at their goal-difference, with their goals scored and their goals let in, they should be in the top four.
That's why I just couldn't get over their recent form in the last few weeks. Their results and performances in this second half don't add up. When you see players like Raz Quashie and Jo Trip playing how they are playing, you're wondering how they've got themselves into this kind of trouble.
So, it was really good to see them pull it together, grind something out and just find that little bit of spark, and I think that Sasha Corbin was key in leading that.
With Gabby Marshall injured, she's had a big ask in having to play centre and I was really impressed. Bearing in mind that she was up against Serena Guthrie, she did an incredible job for her team. Mavs came out on top and with Loughborough's victory it's all change once more.
Wasps book play-off spot
I have to mention how good Wasps were this weekend because everybody's focus has been about who's going to finish third and fourth now, but we can't overlook the fact that Wasps were the first ones to qualify [for the semi-finals].
A few weeks ago, people were saying, 'Is it crisis? They've lost to Thunder, they've lost to Loughborough… Oh here we go'. But, this weekend they were quality, they pulled apart Surrey Storm which most teams haven't been able to do this year.
It was a slick performance and then they backed that up with a solid win against Dragons - they were able to use their squad, and key players were on fire.
I think they're in the position where they are going into the semi-finals really confident, showing consistency and using their experience wisely.
The tables have turned…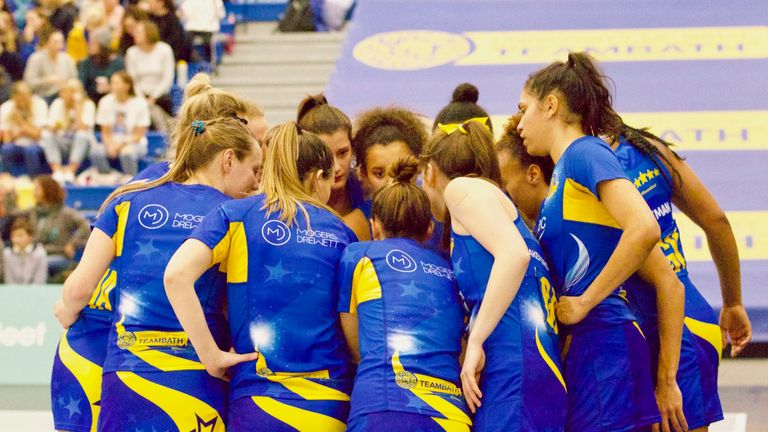 If you look at the final run-in and who's going to join them, I think the tables have turned and the pressure has suddenly all come back to Bath.
Bath have to - because of their goal difference - realistically go and beat Thunder this weekend. Whereas Thunder are going to come back firing because they're going to want the points to make sure of the home semi-final if they're going to end up playing Loughborough.
Mavericks' run-in, on paper, is certainly the easier one. And, although they need to win both games they will feel that's very much in their grasp.
However, they will need to have done their homework on Stars as they are a danger team for all top sides. Stars' threat to Mavs will very much depend on if they have their full line-up, they need Iona Darroch back as they missed her greatly at the weekend.
Even with a full-strength side, I think if Mavs play like they played on Sunday, then they won't have a problem and they will keep the dream alive and sneak that fourth spot.
If anyone wants to see an end to a season, then they're going to need to tune-in on Saturday because it's going to be immense.
The Vitality Superleague continues on Sky Sports on Saturday, April 27, when Saracens Mavericks take on Severn Stars from 3.45pm on Sky Sports Mix with just two rounds of the season to go before the play-offs on Saturday, May 11.