Serena Guthrie to captain Vitality Roses at Netball World Cup as Rachel Dunn gets call
Sky Sports is the only place to watch all 10 days of the Vitality Netball World Cup, live coverage gets underway on July 12 and continues through to the final on July 21
Last Updated: 24/05/19 6:09am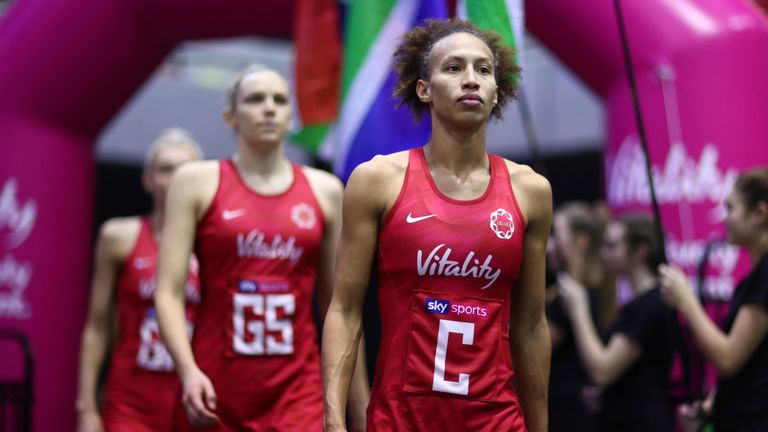 Rachel Dunn, Layla Guscoth, Nat Panagarry and Fran Williams have been named in the Vitality Roses squad to be captained by Serena Guthrie at the Netball World Cup taking place in Liverpool in July.
Head coach Tracey Neville announced her 12-player squad on Sky Sports News on Thursday afternoon and there are four changes from the squad that won a brilliant Commonwealth gold medal in Australia last April.
Jodie Gibson was ruled out through injury earlier this year and she was followed last week by Beth Cobden, who suffered cruciate knee ligament damage playing for the Adelaide Thunderbirds. Their defensive places go to Guscoth and Williams, both of whom will be playing in their first World Cup.
Sasha Corbin misses out having featured on the Gold Coast last year and her role as versatile option goes to Loughborough Lightning captain Panagarry, who has enjoyed a stellar season. Wasps shooter Dunn comes in to crown a memorable career with a place in the squad for a home World Cup.
Commonwealth gold-winning captain Agbeze's absence was confirmed at the weekend, and, in her place, Guthrie will captain the side with Jade Clarke as her deputy.
Vitality Roses - 2019 World Cup squad
| | |
| --- | --- |
| Serena Guthrie (c) | Helen Housby |
| Jade Clarke | Geva Mentor |
| Rachel Dunn | Nat Panagarry |
| Layla Guscoth | Chelsea Pitman |
| Jo Harten | Eboni Usoro-Brown |
| Nat Haythornthwaite | Fran Williams |
Returning stars
Team Bath mid-court star Guthrie will lead the team after a return to the Vitality Netball Superleague this year while fellow gold-medal winners Geva Mentor, Helen Housby, Jo Harten, Chelsea Pitman, Nat Haythornthwaite, Eboni Usoro-Brown and Clarke are included.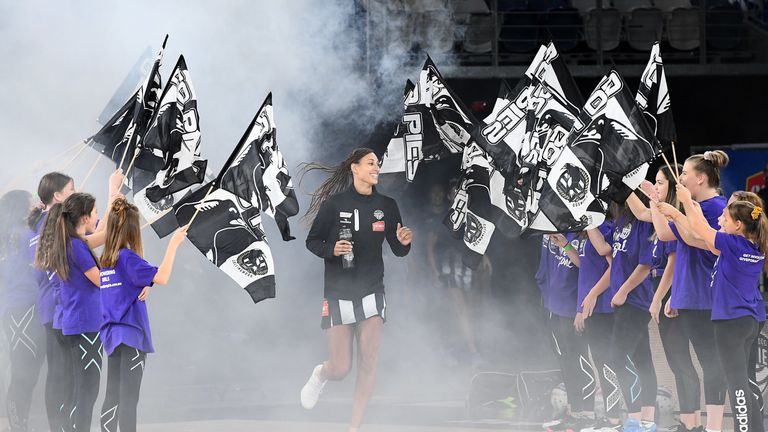 Neville will be hoping Mentor, Housby, Harten, Pitman, Haythornthwaite and Guscoth avoid any injury problems while playing in Super Netball competition in Australia.
The Vitality Roses are heading into this home tournament side ranked second in the world and are looking to exceed back-to-back third place finishes in the last two editions of the competition.
England's last five Netball World Cup finishes
| | | |
| --- | --- | --- |
| 1999 | Christchurch, New Zealand | Third |
| 2003 | Kingston, Jamaica | Fourth |
| 2007 | Auckland, New Zealand | Fourth |
| 2011 | Singapore | Third |
| 2015 | Sydney, Australia | Third |
"There were some really tough decisions to make in selection," said Neville.
"The World Cup is a challenging competition due to its format and the potential opposition we could come up against.
"All of the players selected are at their physical peak and have shown through the international and Vitality Netball Superleague season that they are able to consistently perform well under extreme pressure, which is crucial leading into July.
"It is fantastic to see the versatility we have amongst the final 12, plus the emergence of two outstanding leaders in Serena Guthrie as captain and Jade Clarke as vice-captain. Not only are they world class players but together they have set the standard within our Roses programme both on and off the court.
"Our final 12 have shown that they're ready to perform and want to win. I'm excited to see these players compete in a home World Cup!"
The new (ish) names
Each of the new faces are all capped by the Roses and have enjoyed impressive seasons on the domestic front, three of them in the Vitality Netball Superleague and Guscoth in Australia.
With the help of Sky Sports' Tamsin Greenway we run the rule over what the quartet add to Neville's gold-medal-winning squad.
Fran Williams - Goal Defence/Wing Defence (Wasps Netball)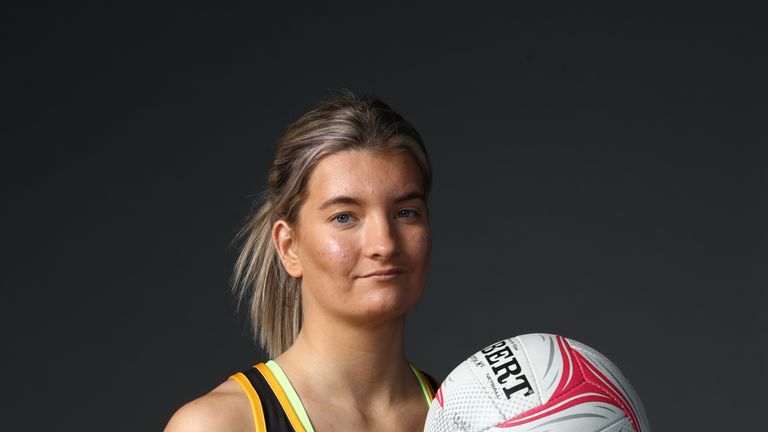 I'm delighted to have been selected to compete in my first World Cup, it's something I've always dreamt about and it still doesn't feel quite real.
I am really proud to be representing my country amongst the amazing athletes that make up the squad!"
Fran Williams, England & Wasps
The 21-year-old made her international debut against Uganda in the 2018 end-of-year series and was integral in driving Wasps to this season's Vitality Netball Superleague Grand Final.
Williams, an economics student at the University of Birmingham, first started playing netball when she was nine and has enjoying a coming-of-age season over the past six months.
She has the ability to play across all three defensive positions and captained England U21s to a bronze medal at the World Youth Championships in 2017.
Tamsin's verdict
"What I love about Fran is that she's smart. She's a really smart defender and a completely different style to the other three that you have in the squad so will complement them so well.
"She will move across from GD to WD and is the kind of player that you can put on against the likes of Scotland and Samoa, who will just grind it out and do a job for you. A player who will be so willing to keep doing that to help the rest of the squad perform."
Rachel Dunn - Goal Shooter/Goal Attack (Wasps Netball)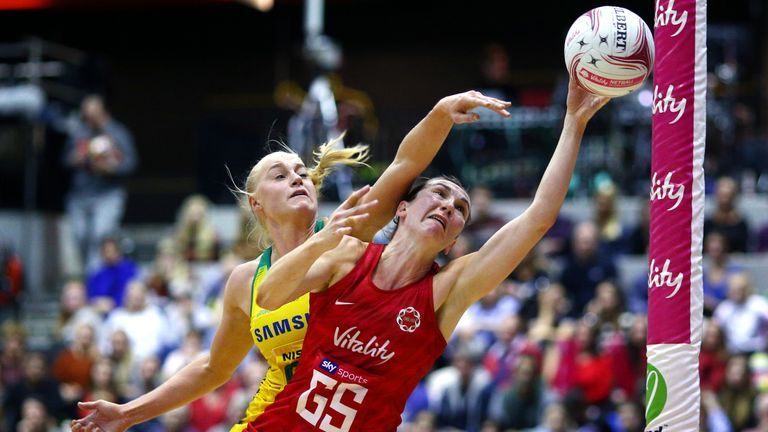 Internationally, this exceptionally experienced shooter first put on an England Netball dress in 2004 and has two Commonwealth Games bronze medals to her name (2006 and 2010).
Dunn, who is arguably playing the netball of her life in the 16th year of her career, has bounced back after missing out on selection for last year's gold medal-winning squad at the Commonwealth Games.
The 36-year-old is hailed for being 'a bit unorthodox' with the way in which she sets up her angles in the circle and during January's Quad Series she showcased just how lethal she can be. Dunn should relish this summer's tournament.
Tamsin's verdict
"She brings heaps of experience to the squad and I'm so chuffed for her. It's probably the most competitive shooting end that we have ever had.
"She's been in the squad and out of the squad for so many years, but she's also proved that at the top level she can do it. We all know that she's not going to be the starting goal shooter but the reality is, that when you're there for 10 days, the culture and how your squad are, is so important.
"You need players that are not only going to come on court and make an impact but that can be on the bench and be positive on the bench. That is something that she will do for that whole group."
Layla Guscoth - Goal Defence/Wing Defence (Adelaide Thunderbirds)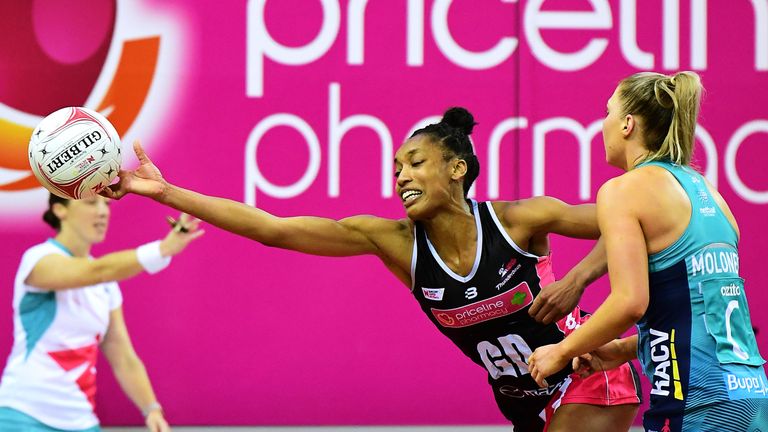 This defender describes herself in her social media biography as 'Half doctor, half netballer' and her ability to have combined a medical degree and elite-level netball highlights her outstanding determination and drive.
Guscoth was not there on the Gold Coast, instead she was focusing on the demands of being a junior doctor, but is back in the international mix and ready to fly.
She's currently plying her netball (and medical) trade in Australia - combining a research project role at the University of Adelaide with lining up for Adelaide Thunderbirds.
On a weekly basis, Guscoth is meeting the best in the world on and should arrive in camp sharp and raring to go.
Tamsin's verdict
"I actually think that with Layla Guscoth coming into the squad she will be the starting GD.
"She has so much quality and she would have been in the squad, and been a stating player a long time ago, but chose to do her medical degree and has now committed to netball.
"She's smashing it in Super Netball with Shamera Sterling and is impressing worldwide. She needed that next step up to show that she can play a full 60 minutes for England.
"I think she will be incredible for England. She's such a hassler, she wins so much ball and partners really nicely with Geva Mentor. For Geva to win ball, she needs those people out in front of her doing their jobs and Layla is the person to do that."
Nat Panagarry, Wing Defence/Centre (Loughborough Lightning)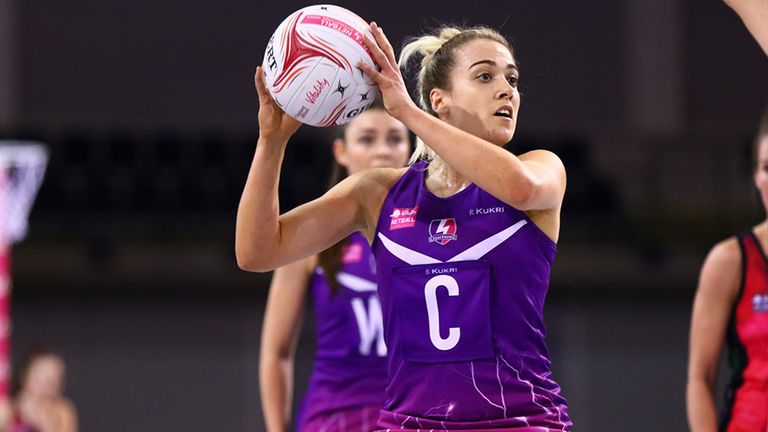 Nat Panagarry's season with Loughborough Lightning has been an exceptional one and one in which she's expanded her skill-set considerably by gaining significant game time at WD.
Panagarry admitted that developing as a WD, after focusing as a C previously, was "bit of a challenge for me", however, she's showed an outstanding ability to nail the position.
She's proved to be an unrelenting defender, she has significant pace through the mid-court and has accuracy in her feeds too.
This season, during 60-minute outings for Lightning, Panagarry has regularly combined playing both C and WD and the Superleague side's captain will also bring significant leadership skills with her to Liverpool too.
Tamsin's Verdict
"This happens [a slight surprise selection] at World Cups and it just goes to show that if you just keep plugging away and doing a job, opportunities happen.
"Beth Cobden got injured and we know that Nat probably would not have been in the squad if that had not have happened, and now she's taken her opportunity. When you look down the list of the next best mid-courters, she's earned her spot over the course of the season.
"Probably why Tracey Neville has gone for her is because she will cover all three of the mid-court positions.
"She's another player who will be itching to get out there and prove herself, she's super fit, super aggressive and will just get on a do a job."
The Vitality Roses will start their World Cup campaign on the opening day of the tournament against the Uganda She Cranes before meeting Scotland and then Samoa in Group D.
Sky Sports is the only place to watch all 10 days of this summer's action in Liverpool and your home for the tournament will be Sky Sports Netball, a first-of-its-kind channel dedicated solely to coverage of women's sport.
Watch every match of the 2019 Vitality Netball World Cup live on Sky Sports. Coverage starts on Friday, July 12 plus keep up to date with all of the latest competition news, results and enjoy in-depth features at SkySports.com/netball