Tracey Neville looks to 'Christmas Day' after announcing squad for Netball World Cup
Sky Sports is the only place to watch all 10 days of the Vitality Netball World Cup, live coverage gets underway on July 12 and continues through to the final on July 21
By Emma Thurston
Last Updated: 29/05/19 1:03pm
Tracey Neville, the Vitality Roses head coach, says that the opening day of the Vitality Netball World Cup in Liverpool will be like "Christmas Day".
The head coach announced her 12-player squad for this summer's home tournament live on Sky Sports News on Thursday and has selected a group of individuals that hold 827 caps between them.
The Commonwealth Games gold medal-winning captain Ama Agbeze did not make the cut while Sasha Corbin, who was also part of that history-making squad, is another who misses out.
Rachel Dunn, Layla Guscoth, Nat Panagarry and Fran Williams were all selected and the latter trio are set to make their first appearances at a Netball World Cup this July.
"The most difficult thing for me is that you're destroying someone's dream and you're trying to make someone's dream and I think that's always hard in a selection process," said head coach Neville to Sky Sports.
"However the selection process, we feel was tough but very fair."
Vitality Roses - 2019 World Cup squad
| | |
| --- | --- |
| Serena Guthrie (c) | Helen Housby |
| Jade Clarke | Geva Mentor |
| Rachel Dunn | Nat Panagarry |
| Layla Guscoth | Chelsea Pitman |
| Jo Harten | Eboni Usoro-Brown |
| Nat Haythornthwaite | Fran Williams |
It's a selection process that started at the end of the Commonwealth Games in 2018 but the spotlight that Neville is shining on this competition was in place long before that.
"I got this role on October 1, 2015 and the World Cup was always in our minds," noted the former international, who finished her career with 81 caps.
"Always through particular competitions, it was the end goal where we wanted to get to. We've not denied that all the way through this particular four-year cycle.
"We talk about the 12th of July and for me that's Christmas Day, that's when you get to open your presents."
Neville's side will commence their tournament against the Uganda She-Cranes before meeting Scotland and Samoa and the side will be looking to improve upon consecutive third-place finishes at the last two editions of the competition.
"For me, there's a long way still to go before that and there are a lot of processes that we need to put in place," added Neville.
"We need to get our players together, we need to put the right environment in place to prepare them and we also need to collect all of our squad members up.
"A lot of them are still in competition at the moment and are trying to get back to the physical form that they were at in the international season.
"So, there's a long way to go but I'm sure that any coach on the world scene now cannot wait for that Christmas Day."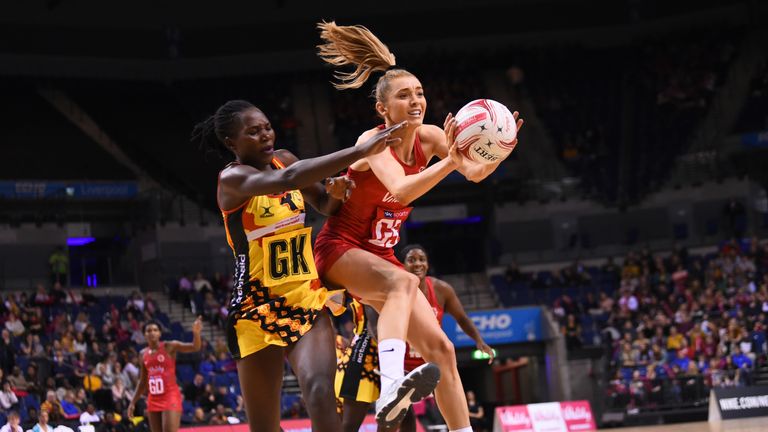 The Roses' success and development under Neville has seen the outfit move up to second in the International Netball Federation Rankings. It's a position that's both a blessing and a curse.
"What that world ranking #2 has done is given us the most difficult journey to that final," remarked Neville. "However to win a gold medal you've got to beat every single team and you've got to be at your best.
"So, we've had some good performances this year but we've had some performances that we probably weren't that happy with.
"The exciting thing for me is that, no team is safe. Every team is vulnerable, every team could have a bad day at the office and that bad day could see you out of the competition."
It's that type of 'unrest' and 'unease' that will bring out the best in their head coach and her players.
As a former international herself she's a competitor of the highest order and comes from a family where sport, and competing under pressure, is the norm.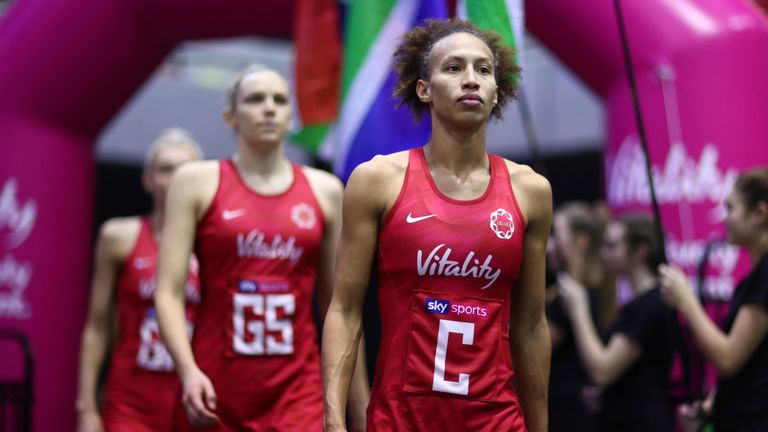 Neville's captain for the tournament, Team Bath's Guthrie, will also thrive in the intensity and lead by example. The mid-courter, who is hailed by so many as the best in world netball, was the first name on her head coach's squad list.
"When she entered our programme in July she brought a new level. She brought a role that we didn't have, she brought a leadership," commented Neville.
"She trained, off and on the court, and she led with her performance. She takes our programme forwards, she speaks out and sweats world class.
"She was flabbergasted [when I told her she was captain] and I think that the phone call to her was quite emotional, I got quite teary about it because it probably wasn't something that she was expecting.
The Roses' World Cup experience
Geva Mentor and Jade Clarke have both been to four previous editions of the competition while Jo Harten has been to three. The trio of Rachel Dunn, Eboni Usoro-Brown and captain Serena Guthrie were all at the 2011 and 2015 tournaments. Helen Housby has been to one.
"With Serena, she probably underestimates herself more than anybody else. In our eyes she's a world-class player. She's a beautiful person and so valuable as a team member."
If the Roses are to be successful this summer then it will be the whole squad that delivers. The pressure surrounding them is colossal, however that's something they all know and are engaging with now.
They have never once shied away from the task at hand and instead have owned it wholly and addressed it openly. They want to win.
To achieve the ultimate, with the calibre of the world game being where it is right now, the Roses have an almighty task on their hands. But, when you read down the list of individuals that Neville has selected and add to that her own experience, then you have to say that England are very, very well-placed to take to this world stage and fly.
Watch every match of the 2019 Vitality Netball World Cup live on Sky Sports. Coverage starts on Friday, July 12 plus keep up to date with all of the latest competition news, results and enjoy in-depth features at SkySports.com/netball