Mikki Austin reveals her excitement at Surrey Storm's recruitment this summer
"We have made some really key additions in court areas that I think are going to pay real dividends for us going forward next year"
By Josh Gorton
Last Updated: 02/10/19 3:27pm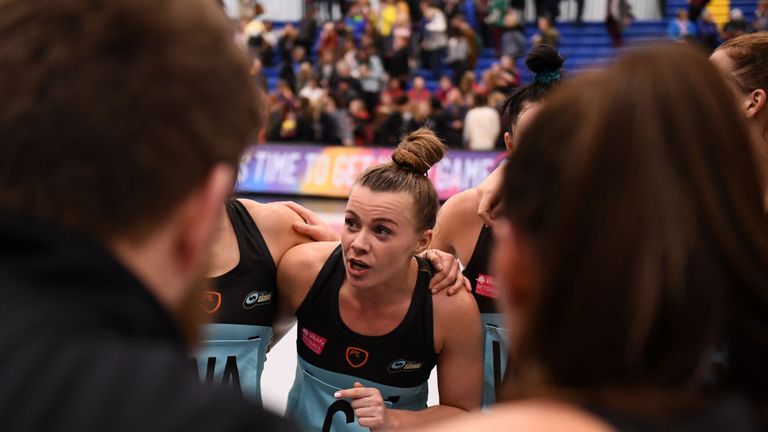 Surrey Storm director of Netball Mikki Austin has revealed her excitement at the new additions she's made to her squad ahead of the 2020 Vitality Netball Superleague season, before promising there is still more to come.
Austin's first year in charge last season saw Storm record an eighth-place finish, securing their place in the British Fast5 Netball All-Stars Championship which is live on Sky Sports in October, and the 26-year-old has hailed their 'proactive' summer.
Storm have already confirmed eight of their playing squad for the 2020 season, which includes three exciting new signings.
Northern Ireland international Niamh Cooper has joined Austin's side from Kingsway in the Netball Northern Ireland League, whilst they've also secured the signature of Leah Middleton from the Queensland Firebirds.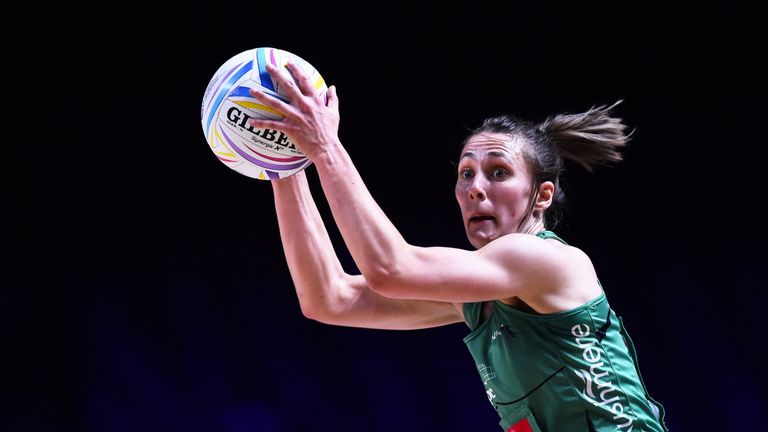 Austin on Niamh Cooper
Niamh Cooper was brilliant at the Netball World Cup this summer, she was really impressive to me and I'm excited how she grows over the course of this season. She is an absolute supreme athlete as well; she looks amazing, she trains really hard and slots in really well with the training group and the mentality that we go with.
The two-time Superleague winners also welcome former Saracens Mavericks and Team Northumbria goal attack Sophie Hankin to bolster their shooting circle.
Storm's all-time leading appearance maker Katy Hughes has signed a new contract at the franchise for the 2020 campaign and she will captain the side, with Yasmin Parsons set to take on the role of vice-captain.
Yasmin Hodge-England and Emily Gulvin are the latest players confirmed to be returning for next season and with Austin also set to feature in a playing capacity, Storm's director of Netball is delighted with their recruitment.
"We have made some really key additions in court areas that I think are going to pay real dividends for us going forward next year," Austin told Sky Sports.
"That's really exciting to have that blend of returners and new faces in the mix. We've had eight players that have been announced now - we've drip-fed some returners with some new ones which is great and the buzz around that has been brilliant.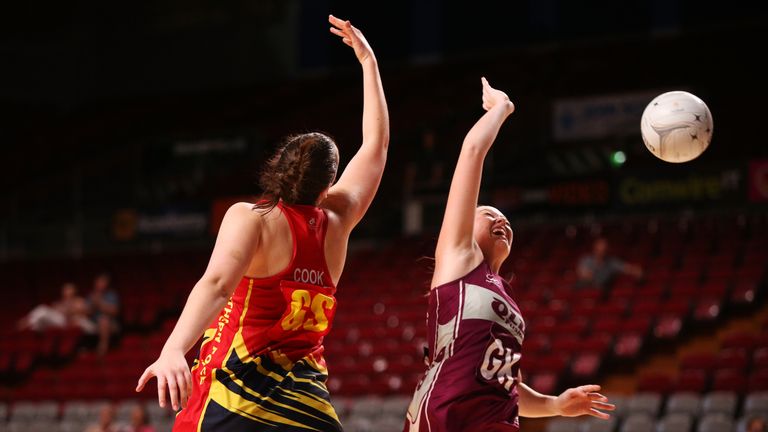 Austin on Leah Middleton
"Leah Middleton is a really big coup for us. She's a Queenslander – She's been playing and training with Queensland Firebirds last season and is the captain for Queensland Fusion – she was ANL player of the year last year so I'm really excited to see her and work her into our defensive combinations. The one thing that attracted me to Leah was her mentality. She really buys into me and Storm and what we're about – our values and how we operate."
"This has been a really long process from May time, so we were really proactive with that.
"We really wanted to make a big push to retain the majority of our squad and I'm really happy to say that we've done that. Seventy per cent of our squad this year are returners and I think that's super important."
With pre-season preparations ahead of the Fast5 All-Star Championships well underway, Austin insisted it was crucial to ensure their recruitment was completed as soon as possible to ensure the side could focus solely on gelling as a unit.
The 26-year-old also paid tribute to the spirit and mentality within her squad and believes that it could be a decisive factor in a Superleague season which promises to be extremely competitive.
"I think that's one thing we've been really smart on this year. Not only am I really happy with the athletes and netballers that we've got, I'm more happy with the people and the personalities.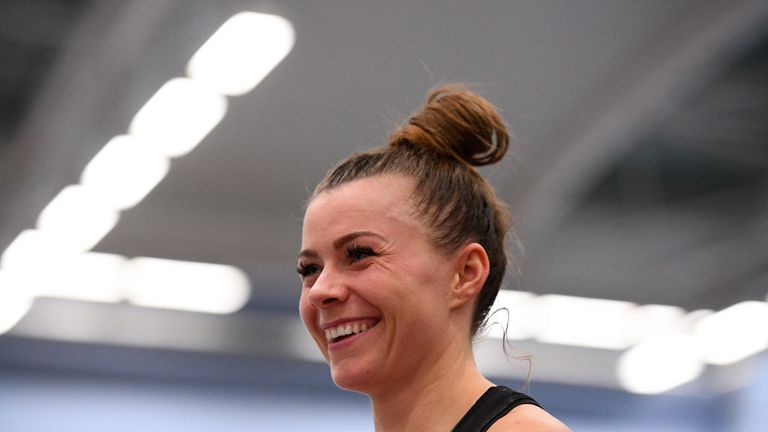 "There seems to be a seamless blend with how girls interact with each other and their mentality right from the get-go has been on exactly the same page.
"I feel like that is so promising going forward and especially in the depths of March and April when you are mid-season and really fatigued, having a really good team-camaraderie is going to count for almost wins and losses this year," she added.
While the additions of Cooper, Middleton and Hankin gives the Storm squad an exciting refresh, they've maintained the core of their squad from last season - with Hughes continuing in her role as captain.
The 28-year-old has been an ever-present in the Storm squad since 2011 and she played an integral role in their back-to-back Superleague triumphs in 2015 and 2016.
Austin admits that Hughes' experience and leadership qualities are invaluable and she reveals that retaining the services of her captain, as well as vice-captain Parsons - was a priority.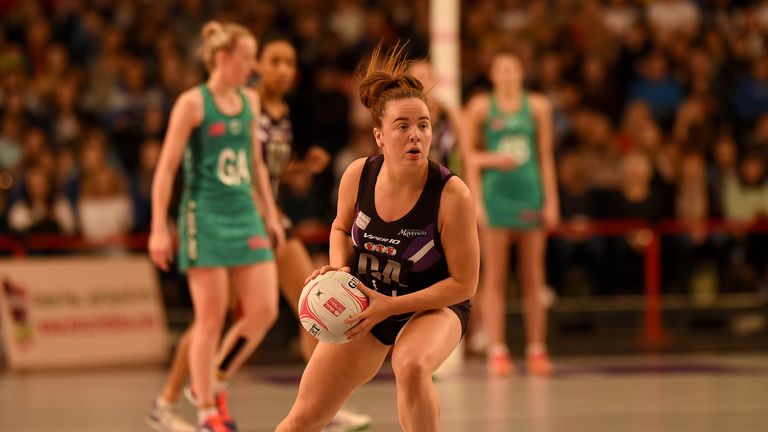 Austin on Sophie Hankin
"We go back a really long way so when it came to additions to our squad and bolstering our shooting circle for me that was a real easy one. Sophie was a bit unfortunate last year – she had a few injuries that she struggled to manage and because of that I don't think she saw the court time that she would want as an athlete. We're really excited to see what Sophie can do in our team colours this year."
"Katy Hughes was leading from the front as our captain last year and will continue in that leadership role next season with Yaz Parsons as her vice-captain," Austin confirmed.
"I think last season both of them really took on a lot of responsibility, Katy especially leading from the front and in terms of her performances probably had one of the best years of Netball I've seen Katy play.
"She really flourished with taking on that responsibility and I said to the girls when it came to re-signing, they were basically the first two on my list.
"I had no reason not to re-sign them and certainly no reason to not have them continue to lead. They buy into me and what I'm about.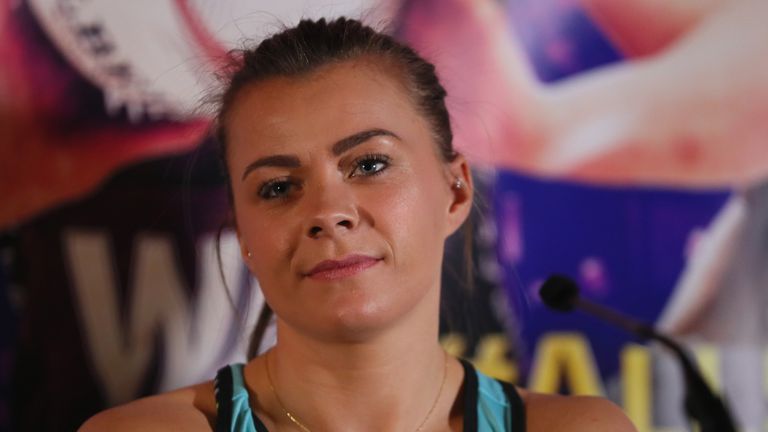 "There's still a couple of newbies to add into the mix and some that I am so excited about and they've slotted into our training environment well."
Austin teases new arrivals...
"They really care about this squad and the badge and what that represents. I'm so grateful to have their backing and have them back in our squad."
Nevertheless, Austin has teased more new arrivals over the coming days and weeks and she is adamant that the new additions will play a pivotal role in ensuring a successful season for her franchise.
"There's still a couple of newbies to add into the mix and some that I am so excited about and they've slotted into our training environment well.
"I think they're going to spearhead and lead from the front in terms of their leadership and their experience on court as well, which we've seen with the league being as tight as it was last year - that can be the difference between you winning and losing."
Sky Sports is your home of netball and it returns to your screens shortly, starting with the British Fast5 All-Stars Championships on Saturday, October 12, while the Roses return to televised action under Jess Thirlby when they tour South Africa in November.