England Roses commence Vitality Nations Cup with loss to New Zealand
Watch the two matches back on the Sky Sports YouTube channel and enjoy the second day of the competition on January 22
By Emma Thurston
Last Updated: 20/01/20 11:22am
England's Vitality Roses commenced their Nations Cup campaign with a 64-48 loss to New Zealand at the Motorpoint Arena in Nottingham on Sunday.
The Roses' first match on home soil since last year's Netball World Cup saw them combine moments of excellence with more frustrating passages during the 60-minute match.
New Zealand, the world champions who broke English hearts last year in Liverpool, mixed up their combinations in attack throughout and showed the strength of their shooting options.
At the other end of the court, they also overcame being shorter on numbers after Michaela Sokolich-Beatson was sent home after rupturing her Achilles tendon in a warm-up match.
For the first half, the Roses kept New Zealand in their sights and only trailed by 28-25 at the half-time pause.
From the start, Kate Shimmin was sparky in defence and the introduction of George Fisher settled the Roses' attack-end and shooting circle towards the end of the first half.
Fisher arrived at GS with Eleanor Cardwell moving out to GA and Kadeen Corbin being taken off. The new combination clicked instantly and a run of five unanswered goals helped to bring about the close half-time score.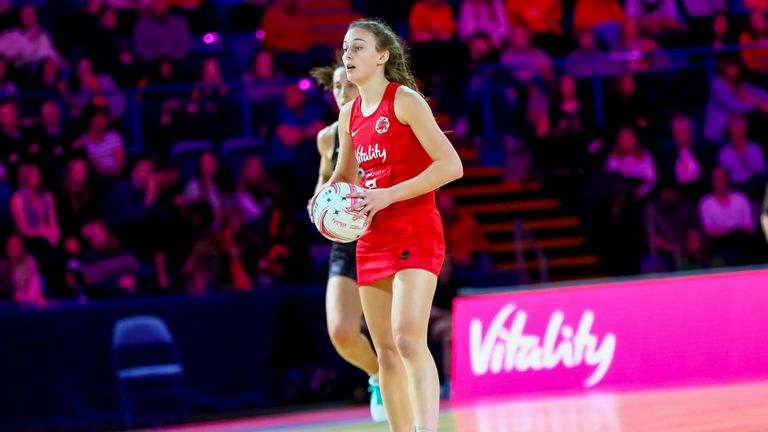 However, the world champions pushed their foot down on the accelerator in the final two quarters and highlighted just how impressive their player pool is, and how ingrained their style of netball is.
The Silver Ferns have arrived in England without Laura Langman, Katrina Rore and the now-retired Maria Folau and Casey Kopua, and yet remained seamless.
Head coach Dame Noeline Taurua changed their combinations at every quarter time, she used all four of her shooters - Maia Wilson, Te Paea Selby-Rickit, Ameliaranne Ekenasio and Bailey Mes - and it did little to de-reail their momentum or disrupt their output throughout.
In the earlier contest, Jamaica put their Netball World Cup woes behind them and sent a message of intent out to the rest of the world.
The outfit have endured a difficult time since their disappointing World Cup with reports of great levels of tension between the governing body and the players. However, the now-resolved conflicts didn't appeared to have hindered their preparations.
Instead Connie Francis' outfit dominated the SPAR Proteas and a five-goal loss (59-54) flattered a South African team which didn't fire on all cylinders and lacked spark.
The Sunshine Girls' forward momentum was created by defender Shamera Sterling as she used her exceptional wingspan and anticipation to great effect.
Sterling disrupted South Africa at every opportunity and it will have been concerning for Francis to have seen her hobble off with two minutes to go.
The experienced Jhaniele Fowler provided a focal point in Jamaica's shooting circle and the team's combination of flair and more disciplined netball, fuelled their confidence.
The competition now moves to Birmingham for the second match-day where Jamaica face New Zealand and England meet South Africa. The final weekend will take place at the Copper Box Arena in London on January 25 and 26.
Expert Views
Sky Sports is your home of netball - every moment of the Vitality Nations Cup is being shown on air and streamed on YouTube. The second match-day is on January 22, with England versus South Africa and New Zealand against Jamaica.