New Zealand vs England 2021: Vitality Roses aim to clinch deciding Test in Christchurch
England's Vitality Roses seek to win the series against New Zealand after triumphing in the second Test on Wednesday; watch the third match of the Cadbury Series live on Sky Sports Mix from 8am (BST) on Friday morning
Last Updated: 24/09/21 8:49am
England's Vitality Roses face New Zealand's Silver Ferns in a series decider on Friday morning, with Jess Thirlby's outfit looking to build upon the momentum they generated during the second half of the second Test in Christchurch.
The Vitality Roses were disappointed to lose the opening Test of the series by six goals, however, after producing a purposeful championship quarter in the second Test, Thirlby's team ensured that captain Serena Guthrie could still lift the Taini Jamison Trophy on Friday morning.
Throughout her tenure, Thirlby has impressed the importance of playing as many 'crunch matches' as possible before next year's Commonwealth Games in Birmingham and the 2023 Netball World Cup.
As a former international herself, Thirlby knows that matches with silverware on the line create a different level of pressure and force her players to manage a greater level of discomfort.
The key for all on Friday and in forthcoming matches, will be knowing what's coming and having the tools to handle winner-takes-all occasions.
Many of the Vitality Roses' senior players - Serena Guthrie, Geva Mentor and Layla Guscoth - know all about this type of situation but others, who could be instrumental at next year's Commonwealth Games, must continue to develop their knowledge through occasions like this deciding Test.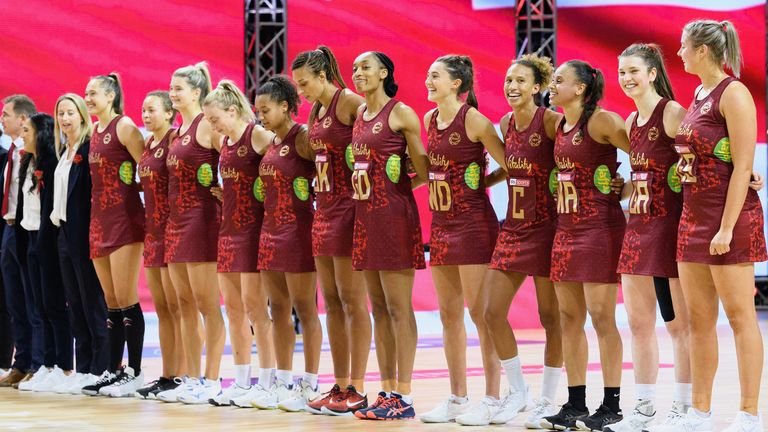 From a coaching point of view, both Thirlby and her counterpart Dame Noeline Taurua have a conundrum to solve with regard to the number of changes they decide to make for the final Test.
Both have made tweaks to their starting line-ups during the series and both have introduced players to amend the dynamic mid-match.
Although injuries have forced Taurua's hand in places, she has shuffled her deck more than Thirlby. Taurua's post-match comments - and further quotes to RNZ in New Zealand - indicate that this series is all about learning and continued growth.
Silver Ferns - Starting Sevens
| Test One | Test Two |
| --- | --- |
| GK: Kelly Jury | GK: Sulu Fitzpatrick |
| GD: Karin Burger | GD: Kelly Jury |
| WD: Maddy Gordon | WD: Sam Winders |
| C: Sam Winders | C: Claire Kersten |
| WA: Gina Crampton | WA: Shannon Saunders |
| GA: Tiana Metuarau | GA: Tiana Metuarau |
| GS: Maia Wilson | GS: Te Paea Selby-Rickit |
"You can do a lot in ANZ [Premiership] and it's always that big step up," New Zealand's head coach said. "Unless you're out there, you never know [what it's like]. It's a starting point for people and for us as a team, and we've got to lick our wounds and get on with the job.
"Obviously, we go for a win, but if someone can tell me what my strongest line is, I'll be really happy about that because I feel like I've got quite a few," she added to RNZ.
"I've got to be really objective, not emotional and stay focused about what our long term goal is.
"The only way you can learn is through the good times and the bad and this is a massive learning curve, not only for her [Grace Nweke] but others as well within our team."
Vitality Roses - Starting Sevens
| Test One | Test Two |
| --- | --- |
| GK: Geva Mentor | GK: Geva Mentor |
| GD: Layla Guscoth | GD: Layla Guscoth |
| WD: Beth Cobden | WD: Imogen Allison |
| C: Serena Guthrie | C: Serena Guthrie |
| WA: Laura Malcolm | WA: Laura Malcolm |
| GA: Sophie Drakeford-Lewis | GA: Eleanor Cardwell |
| GS: Eleanor Cardwell | GS: George Fisher |
The Roses generated a wave of momentum during the second half of the second Test, and both Thirlby and captain Serena Guthrie have spoken about the importance of improving their start.
With that in mind, Thirlby may well choose to field Sophie Drakeford-Lewis and George Fisher together from the outset, as well as maintaining the Team Bath unit of Serena Guthrie, Imogen Allison and Layla Guscoth further back.
Vitality Roses' New Zealand and Australia Series - Live on Sky Sports
| | |
| --- | --- |
| September 20 | New Zealand Silver Ferns 48-42 England Vitality Roses |
| September 22 | New Zealand Silver Ferns 45-55 England Vitality Roses |
| September 24 | New Zealand Silver Ferns vs England Vitality Roses |
| October (Date TBC) | Australian Diamonds vs England Vitality Roses |
| October (Date TBC) | Australian Diamonds vs England Vitality Roses |
| October (Date TBC) | Australian Diamonds vs England Vitality Roses |
However, as captain Guthrie points out, a modern Test match is seldom won by just seven players and others must be poised to stamp their authority at any moment.
"The netball world is changing. You cannot just stick with the seven anymore," Guthrie said, after their victory on Wednesday.
"There's too much talent out there; too many tactics, everyone is smartening up, which is great for the game.
"We know they are a classy team that can score quickly and if we don't take care of our own possession then we will be in trouble.
"We will always be pushing for more. The standards keep rising - I think that was one up on the game the other night, especially for us. The sky is the limit, isn't it? You have just got to keep pushing and we'll see what we can come up with next."
With the Taini Jamison Trophy on the line, Sky Sports expert and the Scottish Thistles head coach Tamsin Greenway takes a look at some of the tactical focus areas for the Vitality Roses.
First, let's talk about the potential match-up between Sophie Drakeford-Lewis and the Kiwi goal defence that I think will be selected - Karin Burger.
This is an area that will be really interesting to watch and that could have a significant impact on the game's outcome.
In the second Test, England really started to understand how to break the Kiwi zone down and they did that tactically with the way that they used the ball and where they played on the court.
During that Test, Drakeford-Lewis was pitched against Kelly Jury and the Kiwi player was in 'chase mode' throughout because the Team Bath and England GA is so quick. This time, despite Burger being on the court, I'd like to see the Roses doing exactly the same thing.
"It's about what we do next that is important."

Dame Noeline Taurua and Sulu Fitzpatrick talk through our loss to the England Roses in game two of the Cadbury Netball Series.https://t.co/z0lG8ugoZf

— Silver Ferns (@SilverFernsNZ) September 22, 2021
This match is going to be Drakeford-Lewis' third opportunity against New Zealand this series, and she had exposure to the Kiwi style during last year's tour, so she needs to get the better of the Kiwi defence.
When you play against New Zealand - and the Australian Diamonds too - the only way you can really learn how to face them is on the job.
At this point, Drakeford-Lewis needs to illustrate that she's knowledgeable about the Kiwis' style of play and that she's self-aware enough to know what she can and can't do against it. I'd like to see a consistent 60-minute performance from the GA and one that means she gets the better of Burger on court.
Another key area to watch will be between Geva Mentor and her expected opponent, Maia Wilson.
During the first Test, England didn't win enough ball in the circle. They were penalised far too much and Mentor will have been well-aware of that. She adjusted her game in the second Test and now it will be about doing so again, and this time with Wilson up against her.
Finally, I'm looking forward to observing the Roses' style [of play]. During the second Test, I thought that England pulled the Kiwis' zone apart at times and also created an impatience around the Ferns defence.
The Roses were very smart when it came to how they retained ball and used the back up. They played with width and were patient in terms of bringing the ball through.
But again, it was all done against a very different line-up to the one that they faced in the first Test. Now, I want them to be able to commit to doing all of that again and doing it from start.
I'd like to see the Roses winning ball throughout the court, as a team they struggled to get ball off the Kiwis in the first Test, and this time that must change. It will need to be a team effort throughout the court and I'd like to see some creativity in terms of how they win ball too.
In the second Test, the outcome was fantastic from an English perspective, but their first quarter wasn't great still. In this final encounter, I'd like to see the Roses hitting their straps from the get-go.
I'd like them to break down the zone early and get into the Kiwis heads, because that's how you create a platform which can ultimately help you to see a game out and get over the line.
Watch live coverage on Sky Sports Arena, Mix and YouTube channel of England's series in New Zealand on Friday at 8am as Jess Thirlby's squad continue preparations for the defence of their Commonwealth Games gold medal in Birmingham in 2022.