Netball Quad Series: Ones to watch as England, South Africa, New Zealand, and Australia go head-to-head
The Netball Quad Series returns as England take on South Africa, Australia, and New Zealand; all live on Sky Sports from January 21- January 25
Last Updated: 20/01/23 7:41am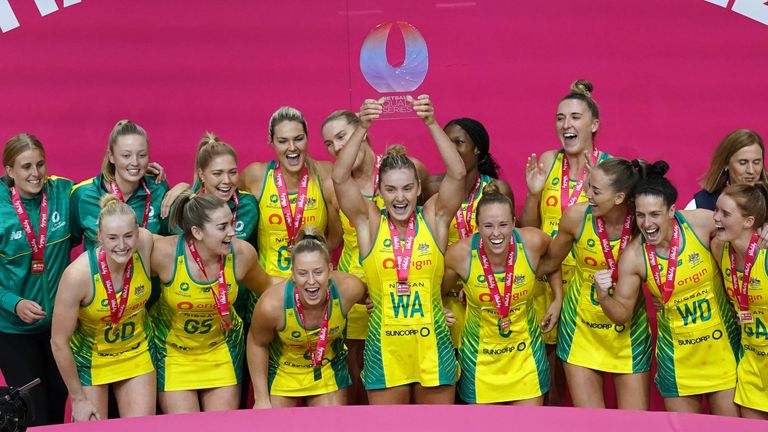 Ahead of the Netball Quad Series, live on Sky Sports, we have taken a closer look at some of the biggest stars on show....
Taking place at the International Convention Centre in Cape Town, the same venue that will host the World Cup later this year, the Quad Series sees England take on South Africa, Australia, and New Zealand in their first taste of what atmosphere to expect come August.
It is also their biggest opportunity to see how their main competitors for that World Cup trophy are performing, with Australia looking to back up their 2022 victory.
With a huge year ahead, and a big Quad Series to come, here are some of the key players that could help their sides go all the way:
Eleanor Cardwell
Eleanor Cardwell has been a regular face on the international scene since 2016, a Tracey Neville-inspired move from defence to attack in 2015 setting her career alight.
From there, her career has only grown, leading her all the way to winning 52 caps so far and making a first Commonwealth Games appearance to remember in 2022, in which she has averaged a goal return of 92 per cent, her sheer strength setting her apart from others.
Now heading to the Adelaide Thunderbirds in Australia, Cardwell has shown a consistency that is only going to be an asset for England and one they will want to utilise going into the Quad Series.
Funmi Fadoju
Although she is a fresh face for England, after making her debut just over four months ago, Funmi Fadoju has been a shining star on the international stage.
At just 20-years-old she has asserted herself as one of England's most reliable defenders and will be looking to use the Quad Series as an opportunity to get her name firmly on Jess Thirlby's team sheet come the World Cup in this summer.
A back-to-back Super League player of the season as London Pulse recorded their best season so far, with a league-leading 71 deflections to her name, Fadoju's youth and enthusiasm has brought a new energy to an England side that will be looking to continue to find their form after a 2-1 series win over Jamaica.
Shadine van der Merwe
An integral cog in the South Africa side for over five years, defender Shadine van der Merwe has done it over and over again on the biggest stages and gives South Africa a unique versatility at the back.
Her ability to play both in wing defence and circle defence, plus her rapid speed, are key for forcing turnovers and it is an asset that her side will want to utilise on home soil.
Natalie Metcalf
A player that requires no introduction, Natalie Metcalf has been one of the key leaders for England for many years and played in the side that helped England secure their first-ever gold medal at the Commonwealth Games in 2018.
Since making her debut in 2015, she has led from the front, both internationally and domestically, her leadership skills coming to fruition as she captained the side at the 2022 Birmingham Commonwealth Games.
With 70 caps, she will be one of the most experienced players on display at the Quad Series and her attacking prowess is not to be underestimated. With a World Cup around the corner, how she leads England will be vital as they check out their fiercest competition.
Quad Series: Full Schedule, live on Sky Sports
The Netball Quad Series returns as England take on South Africa, Australia, and New Zealand, which are all live on Sky Sports from January 21- January 25.
January 21: South Africa vs New Zealand (Sky Sports Mix,13:30), Australia vs England (Sky Sports Arena,15:30)
January 22: South Africa vs England (Sky Sports Mix,13:30), New Zealand vs Australia (Sky Sports Arena,13:30)
January 24: South Africa vs Australia (Sky Sports Mix, 13:30), England vs New Zealand (Sky Sports Arena, 13:30)
January 25: Quad Series final and 3rd vs 4th playoff (Sky Sports Mix and Sky Sports Arena, 13:30)