Netball in 2023: Schedule and fixtures for the season ahead
The netball gets under way on Sky Sports from January 21 as the Red Roses take part in the Quad Series against New Zealand, Australia, and South Africa; The Netball World Cup takes place this summer from July 28- August 6, all live on Sky Sports
Last Updated: 09/01/23 11:30am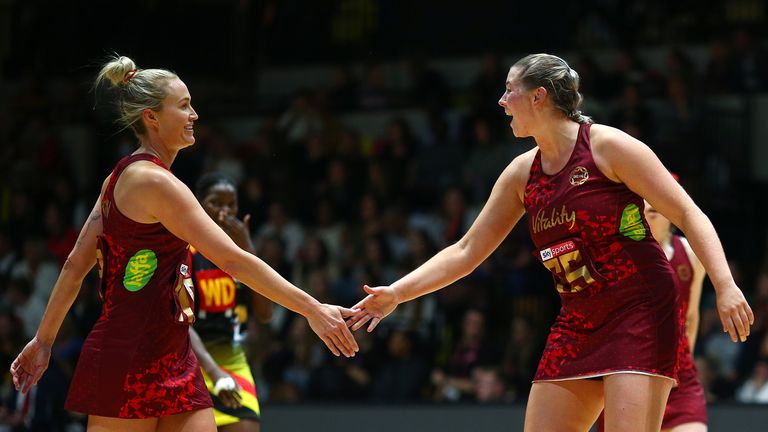 With a Netball World Cup just around the corner, we have taken a closer look at all the big fixtures coming up in a bumper 2023....
The Netball action gets underway from January 11 as the Vitality Roses will welcome Jamaica's Sunshine Girls to England for a three-match Test series, the Series getting underway at Manchester's AO Arena before back-to-back fixtures at the Copper Box Arena in London on January 14 and 15.
With Jamaica currently ranked third in the world, one place above England after winning a historic silver medal at the Birmingham 2022 Commonwealth Games, it will be a big test for England as they look to start the year on a high.
The Netball Quad Series then returns as England take on South Africa, Australia, and New Zealand, which are all live on Sky Sports from January 21- January 25.
Taking place at the International Convention Centre in Cape Town, the same venue that will host the World Cup later this year, it gives these four top sides their first taste of what atmosphere to expect come August and their first chance to see how their main competitors for that World Cup trophy are performing.
The Red Roses lost out to Australia in last year's final and will be hoping, come January 25, they will be lifting their first-ever Quad Series trophy.
Following the international action, the Vitality Netball Super League season starts on February 11 as Manchester Thunder look to defend their title.
They will once again face stiff competition from the likes of Bath, Leeds Rhinos, and Loughborough Lightning as they bid to reach finals day on June 11.
Just a couple of months later, the year then reaches its climax as the Netball World Cup gets underway in Cape Town, which is all live on Sky Sports from July 28 to August 6.
Netball World Cup 2023
Group A: Australia, Tonga, Zimbabwe, Fiji
Group B: England, Malawi, Scotland, Barbados
Group C: South Africa, Jamaica, Wales, Sri Lanka
Group D: New Zealand, Uganda, Trinidad and Tobago, Singapore
England will face Scotland, Malawi and Barbados in the group stages of the 2023 Netball World Cup, with Australia Tonga, Zimbabwe and Fiji in Group A, South Africa, Jamaica, Wales and Sri Lanka in Group C, and New Zealand, Uganda, Trinidad and Tobago and Singapore in Group D.
"It is very exciting to be at this stage of the competition, with all 16 teams confirmed," said Liz Nicholl CBE, President of World Netball.
"My congratulations to all the teams that vied for success in the qualifier tournaments.
"It was a joy to see the matches broadcast widely around the world, reaching new audiences, and giving our sport the visibility it deserves.
"It is Africa's time to shine."
Netball in 2023: Key Dates
Vitality Netball International Series - January 11-15 2023
Netball Quad Series - Jan 21 - January 25 2023
Vitality Netball Super League- season starts February 11 2023
Vitality Netball Super League Grand Final - June 11 2023
Netball World Cup - July 28 - August 6 2023
Next summer's tournament will be held in South Africa and is all live on Sky Sports from July 28 to August 6.