George Fisher
Saracens Mavericks and England netballer
George Fisher on her Christmas holidays, family and fitness ahead of the Netball Superleague Super 10
Last Updated: 25/02/19 2:04pm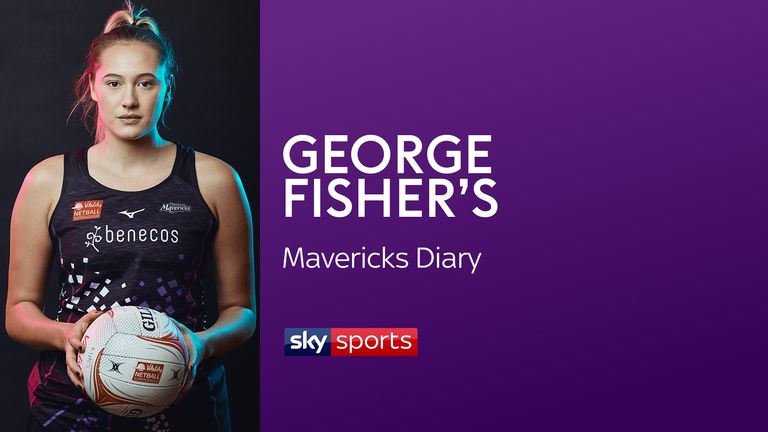 Family time is the best time and I feel so lucky to be able to spend time with my family at Christmas.
We've just spent the last 11 days in Goa, India and I can honestly say I have fallen in love with the place! The simplicity of life and the genuinely lovely people made the beauty of Goa even more enjoyable.
I did, however, learn the hard way that the cuteness of hundreds of dogs and cows roaming free should be taken with a healthy dose of 'watch your step!'
Who'd have known that cows like to visit the beach too. The time was filled with phenomenal food, beautiful sunsets and Fisher family excitement on finding out the people there even know what netball is!
Though far away from home, I've been keeping up with all the exciting news happening back home and see several of the netball family have got engaged and married over the holidays! Congrats to all!
I may have been taking time to enjoy Christmas with those most important to me, but I did not take my foot of the pedal completely as the Vitality Netball Superleague kicks off this weekend so I've been following my S&C programme to the letter. I'm not sure I would recommend the local gyms in Goa but nothing beats training in the sun! Work commitments meant I had to fly home from this break earlier than the rest of the family so I can get back to court training with Mavericks ready for Super 10 this Saturday.
I cannot tell you how excited I am for Super 10 this weekend. All 10 Superleague teams playing under one roof. There has been so much player movement this season it will be a great opportunity to see how the different teams are gelling and playing together and an opportunity to show everyone what you've got. My first ever Super 10 was with Mavericks in 2016 at the age of 17 with a crowd of over 7,000 - the biggest I'd ever played in front of. It was an amazing experience and my 17-year-old self couldn't believe it, we also took the win which we will be looking to repeat this Saturday.
The entire squad has been training hard in pre-season, which started back in September. It's been important for us to spend as much time as we can together both on and off court. I'm getting to know some of the girls better and I'm pretty sure some of them are sick of me and my sense of humour by now! I know Gabby is (only joking she's had a long time to get used to me!).
September feels like a lifetime ago and everyone is ready and desperate to get our 2019 campaign underway. We've had a few pre-season friendlies which has been a useful way to try out different combinations and get an idea of where we're standing.
Mavericks' mission this season - to WIN! That goes without saying but obviously before you reach the target you have to overcome the hurdles so beating Manchester Thunder on Saturday will be our first goal and working our way into the top four will be the next and ultimately lifting that cup come Superleague Finals Day. We have a super strong and tight squad this season and we've been working hard on areas of development over the preseason period. We are well aware of the strengths of other squads, but we are going to stay focused in our Mavericks bubble!
And so a new chapter will begin on Saturday - back in the team where it all began for me. I feel like my game has grown just as much as I've grown up over the past two years away from Mavericks and my passion is as strong as ever. I will take this back to Mavericks with me and leave it all on court. There are a lot of exciting things to come for Mavericks and I am excited to be able to take you on this journey with me this season and give you an insight into what it's like to play in this league.
A huge 2019 for netball on Sky Sports gets underway on Saturday, January 5 with all 10 teams in action, coverage on Sky Sports Mix, Arena and Main Event begins at 10.45am