Maurice Harris' amazing one-handed TD reception in the corner of the endzone for the Washington Redskins was voted your favourite play from Week 10 in the NFL!
Trick play TDs, deep balls dropped on a dime and stunning one-handed grabs; Harris came up against stiff competition, but won at a canter with 46% of the vote, comfortably beating out Doug Baldwin (23%) into second place.
Click on the video above to watch our pick of the top five best plays from Week 10 of the 2017 season and then see more on the five options below...
A) DOUG BALDWIN - 54-yard reception, Seahawks @ Cardinals
Week 10's top plays got off to a stellar start on Thursday night as Russell Wilson incredibly evaded pressure - as he does - and picked out Baldwin deep down the left sideline, who hauled in a spectacular catch, as he does.
B) MAURICE HARRIS - 36-yard TD reception, Vikings @ Rams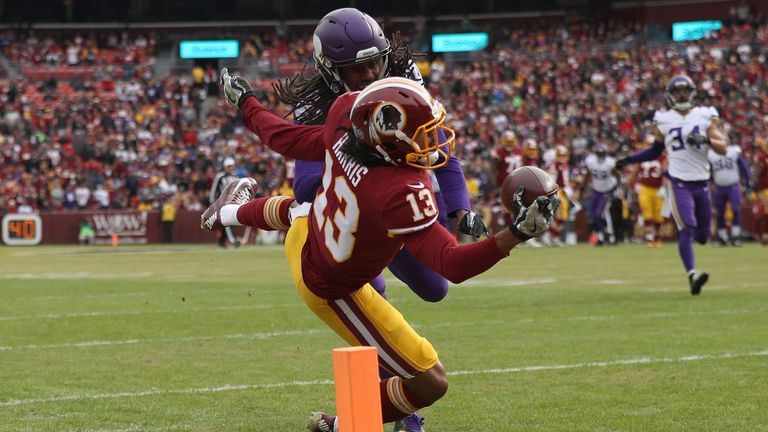 This week, it was Redskins receiver Harris' turn to show his circus-catching skills as he hauled in this 36-yard pass from Kirk Cousins for a touchdown. Under pressure from the covering Vikings defender, and dangerously close to going out of bounds, Harris somehow still manages to claw in the catch one-handed and get into the endzone for the score.
C) COREY GRANT - 56-yard TD off fake punt, Chargers @ Jaguars
The Jaguars were back to their trick-play best on Sunday, scoring a touchdown off a fake punt in their 20-17 overtime win over the Chargers, with Corey Grant taking a direct snap all the way 56 yards to the house.
D) A.J. BOUYE - 51-yard interception return, Chargers @ Jaguars
Grant's score wasn't the only impressive play from Jacksonville's latest win, with their defense once again on great form. This clutch Bouye interception came in the big moment, when the Chargers had the ball deep into overtime, and his return down to the goal line helped set-up the game-winning field goal.
E) JARED GOFF - 94-yard TD pass, Texans @ Rams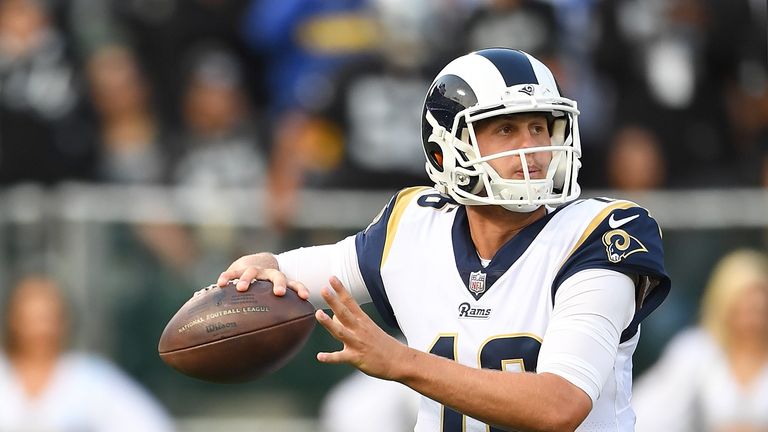 Goff has been airing it out over the last few weeks! This was his third straight game of over 300 yards, with him proving particularly efficient on the deep ball with his speedy set of receivers. It was Robert Woods who was the beneficiary here, slipping coverage to get on the end of this 94-yard score.
We'll bring you the best plays of every week in the NFL for you to vote on like above, so check back in on Tuesday next week to see the very best Week 11 has to offer.
Follow the 2017-18 NFL season with us on Sky Sports and through our website skysports.com/NFL also our app for mobile devices and iPad, or follow our Twitter account @SkySportsNFL