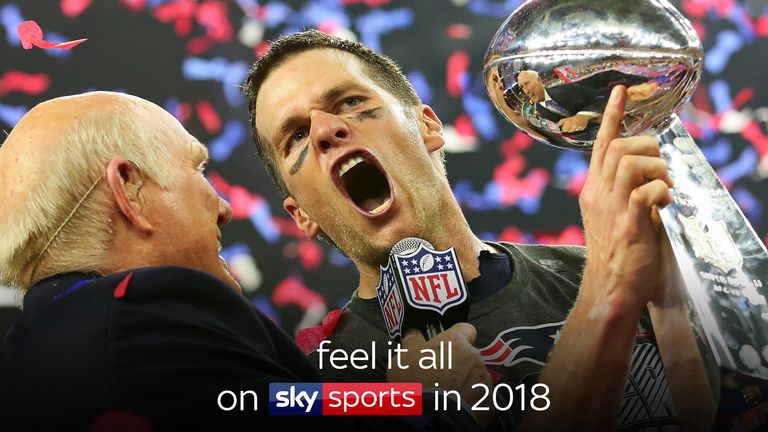 It doesn't get any bigger than the Super Bowl!
Once again, Sky Sports will bring you live coverage of the biggest global sporting event, from Minnesota on Sunday, February 4.
Hopefully, the drama is as gripping as last year's, which saw the New England Patriots pull off the greatest comeback in Super Bowl history, rallying from 28-3 down to the Atlanta Falcons in the third quarter to ultimately triumph 34-28 in overtime.
Will Tom Brady and the Patriots get back to the big game again this year, as they go in search of a record-equaling sixth Super Bowl success? Or will the current owners of that record, the Pittsburgh Steelers, have something to say about that? And what about the Minnesota Vikings? Can they become the first team to play a Super Bowl at their home stadium?
Well, you can watch every round of the playoffs with Sky Sports to find out...
The road to Minnesota begins with Wild Card weekend, where the No 3 seeds in both the NFC and AFC host the No 6 seed, and the No 4 ranked teams entertain the No 5 seeds. Follow the drama on Saturday, January 6 and Sunday, January 7.
The Divisional Round follows a week later, on Saturday, January 13 and Sunday, January 14 as the No 1 and No 2 seeds in each conference - fresh from a bye week - host the Wild Card winners. Then, our Super Bowl finalists are confirmed with the NFC and AFC Championship games on Sunday, January 21. Who will make it this year?
Before the Super Bowl, we will also bring you live coverage of the Pro Bowl - where the best players in the league, voted for by the public compete against each other - on Sunday, January 28.
Plus, the NFL coverage on Sky Sports in 2018 does not just end with the Super Bowl. We will be following the 2018 NFL Draft from Dallas in Dallas - first round on Thursday, April 26 - where the brightest and best college talent in the U.S. start the journey to becoming the league's next big stars, following in the footsteps of recent draftees Carson Wentz, Jared Goff, Leonard Fournette and Deshaun Watson.
Then, get ready to do it all over again, as the 2018 NFL season starts on Thursday, September 6.
Stay across the NFL with us on Sky Sports and through our website skysports.com/NFL also our app for mobile devices and iPad, or follow our Twitter account @SkySportsNFL
Take on the Super Bowl Challenge to see if you can pick the winner of the big game, with terrific NFL prizes up for grabs.