American Football Expert & Columnist
Pick Six Conference finals: Brilliant Tom Brady and Nick Foles on fire
Last Updated: 24/01/18 4:05pm
That's it. A very dramatic playoff series has drawn to a close and we now know the two combatants for Super Bowl LII in Minneapolis on Sunday February 4.
There will be plenty of storylines and sub-plots to delve into over the next 13 days as the New England Patriots prepare to take on the Philadelphia Eagles.
But, for now, here are six big takeaways from the Conference Championships on Sunday...
Pats never know when they are beaten
All historically great sports teams have physical talent, of course, but what they have in a greater abundance is a refusal to lose and a mindset that means they never quite know when they are beaten.
Manchester United had that unique skill at the height of their powers under Sir Alex Ferguson. How often did we see them seemingly down and out only to score a late goal in 'Fergie Time'?
The Patriots are the same way. In last year's Super Bowl they were down by 25 points to the Atlanta Falcons and still found a way to win. On Sunday, they trailed by 10 in the fourth quarter and faced a third-and-18 against one of the best defenses in the game.
Not a problem for Tom Brady. He converted that into a first down, led the Patriots to a pair of late touchdowns and they are now preparing for an NFL record 10th Super Bowl appearance.
Brady is special
I dipped my toe into Twitter overnight and it seems a great many neutrals have had enough of Brady's magic and would like to see another team represent the AFC in the Super Bowl.
The fact he manages to make so many neutrals feel like that time and again is an indication of how well Brady is doing his job. He already has five Super Bowl rings in his trophy cabinet, yet he remains as hungry as ever.
Like all true champions, Brady was at his best with the stakes at their highest. After throwing for just 152 yards through the first three quarters, Tom Terrific hit on nine of his next 14 passes for 138 yards and two touchdowns, guiding his team back to some very familiar territory indeed.
Jags come up short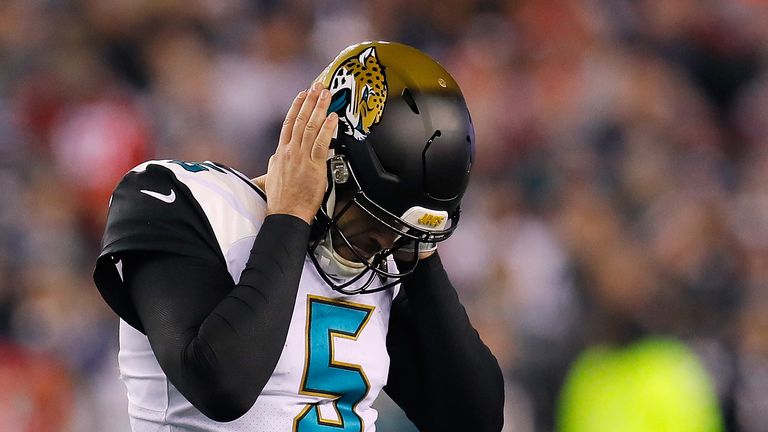 Oh, Jacksonville! What might have been! You had the Super Bowl champions on the ropes and needed just one more punch - probably on that third-and-18 play in the fourth quarter - to put them down for good.
This one is going to sting for the confident and brash Jags because I think they genuinely felt they were the better team on Sunday night. They dominated for large periods of the game but just couldn't put the Patriots away.
The Jags and their fans will point to some questionable officiating decisions and the fact that New England were somehow only flagged once the entire game. They will also suggest that an early whistle robbed Myles Jack of what would have been a stunning defensive touchdown.
But they also have themselves to blame - I think they played not to lose in the final period and their six second-half points left New England with plenty of time to hang around and find a way to secure the win.
Jacksonville were one of the feel-good stories of 2017 and they are loaded with young talent. They will be back.
Foles on fire
I don't think anyone saw the potential laugher of the night coming from the NFC. The meeting between the Philadelphia Eagles and Minnesota Vikings was supposed to be a tight, low-scoring and competitive affair.
But back-up Eagles quarterback Nick Foles blew the lid off that theory with the best game of his NFL career to date. Foles hit on 26 of his 33 throws for 352 yards, three touchdowns and no interceptions.
It was total dominance from Foles as he worked beautifully in conjunction with his receivers, and I think the play-calling of head coach Doug Pederson and offensive coordinator Frank Reich put him in great positions time and again.
Foles, who was washed up and contemplating retirement a little while ago, is now heading to the Super Bowl to take on the current quarterback king of the NFL. What a story!
Looking at the wrong defense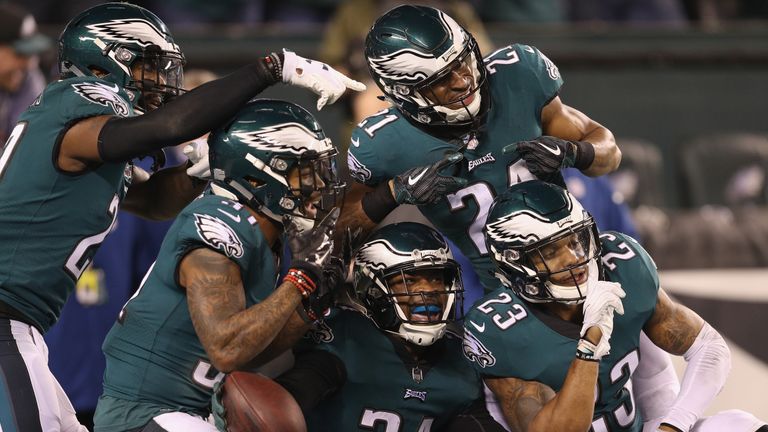 As we went through our pre-game build-up on Sunday evening, we spent a great deal of time talking about two defenses that were ranked one and two in the NFL… the Vikings and Jaguars.
We should have been paying more attention to the Eagles, who produced a smothering display to hold Minnesota to just seven points on the very first drive of the game.
Philly's front seven comes at the quarterback from all angles and is loaded with athletic difference-makers. And the back end has come together very nicely under defensive coordinator Jim Schwartz. It won't be easy, but this unit can make life very difficult for Brady in the Super Bowl.
Top seed matters
When we move towards the end of each regular season in the NFL, you will hear me talking at great length about teams chasing the No 1 seed in each conference. Playing postseason games at home and being the top seed on your side of the draw is a big thing.
Nine of the last 10 top seeds have reached the Super Bowl and this title game in Minnesota will be the fourth in five years to feature both number ones. The only top seed in the last five years not to reach the Super Bowl was the 2016 Dallas Cowboys.
That's why New England's win over Pittsburgh in Week 15 was so huge, because it gave them the inside track on home-field advantage. And that's why teams will be furiously chasing that No 1 spot when the regular season begins all over again in September.
Watch Super Bowl LII between the New England Patriots and Philadelphia Eagles live on Sky Sports Action from 10pm on Sunday, February 4.
Sky brings you all the build up from Super Bowl LII through our website skysports.com/NFL also our app for mobile devices and iPad, or follow our Twitter account @SkySportsNFL