Seattle Seahawks coach Pete Carroll praises QB Russell Wilson
By Shona Duthie
Last Updated: 11/10/18 8:51pm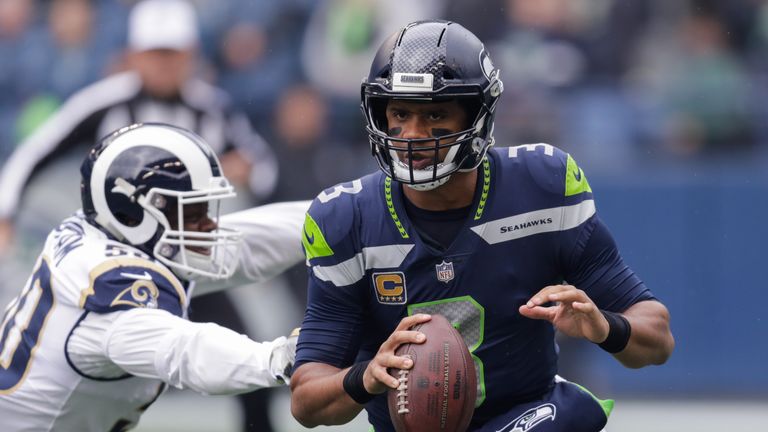 Seattle Seahawks coach Pete Carroll has praised quarterback Russell Wilson for "taking advantage" of their found again running game ahead of their match against the Oakland Raiders at Wembley, live on Sky Sports.
Seattle finished the 2017 season 23rd overall in rushing yards averaging 101.8, but this year they have jumped up to eighth, so far, averaging 122.4 yards, according to ESPN, with Chris Carson as their main man.
The Seahawks went 0-2 at the start of the season, losing to the Chicago Bears and the Denver Broncos on the road.
However, they then went onto win back-to-back games against the Dallas Cowboys and the Arizona Cardinals before the heartbreaking 33-31 loss last week to the Los Angeles Rams at CenturyLink.
In September, Carroll stated Wilson was "over-trying a little bit" but speaking ahead of Sunday's game, the head coach has insisted this comment was taken out of context.
"That was really overplayed," he said. "That was not a big deal at all. He is a great competitor he always tries really hard.
"It just came out like it was a big deal but it wasn't. He has been playing great doing everything we want, complementing what we are doing with the running game.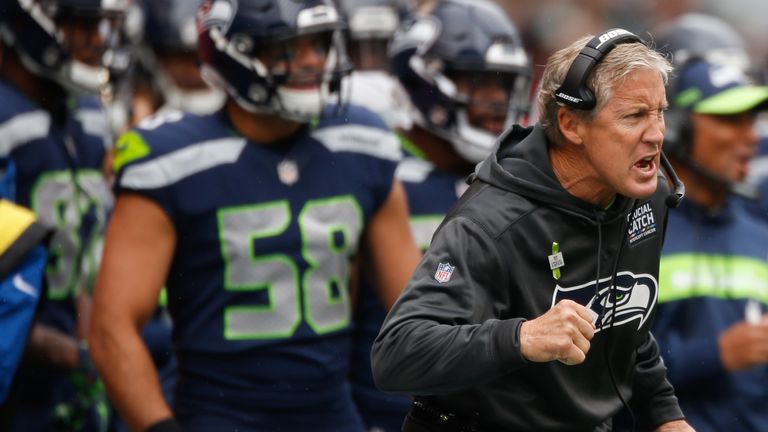 "It is continuing to get better and improving and Russ really takes advantage of that with the action passes and the moves that we do with it. He's doing great."
According to stats on Pro Football Focus, Wilson was 8-of-11 on play-action passes for 142 yards, two touchdowns and a passer rating of 154.4, ranking second among quarterbacks last week against the Rams.
When asked about how the running game affects their play, Carroll said: "We have always been seeking this kind of balance you are seeing now for years. We have always been in the same mentality because of the philosophy of it.
"The running game does fit with the defence and does fit with the special teams, it all fits together.
"And when you can close the circle with an aggressive, tough running game then you can really make your style known.
"So it's a great formula, it's always been a winning formula for us, we have just always been a little bit out of it for the first couple weeks of the season.
"We got going and got back on track and we can feel the connection of the whole team trying to win a football game and it does affect the entire style of the way we play."
Follow the 2018-19 NFL season with us on Sky Sports and through our website skysports.com/NFL also our app for mobile devices and iPad, or follow our Twitter account @SkySportsNFL.