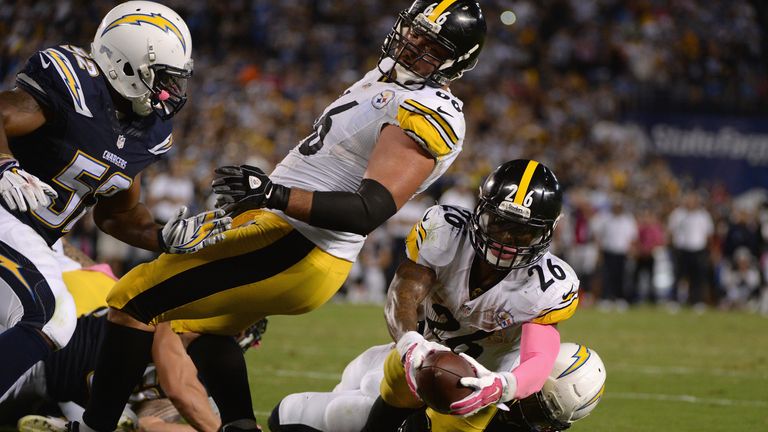 Brave play-calling from coach Mike Tomlin helped the Pittsburgh Steelers claim a 24-20 win over the San Diego Chargers without the need for overtime.
Le'Veon Bell dived into the endzone for a touchdown with just five seconds remaining in the game at Qualcomm Stadium, with Tomlin deciding to go for seven points rather than settle for a chip-shot field goal that would have set up an extra period.
Bell rushed for 111 yards on 21 carries, and had four receptions from an inefficient Michael Vick, but it was the last of his yards that proved most important as the Steelers improved to 3-2 on the season.
They trailed to an early Chargers touchdown, Antonio Gates marking his return from suspension by hauling in a 12-yard pass from Philip Rivers.
But it was Rivers to blame when Pittsburgh claimed a 10-7 half-time lead, the San Diego quarterback having a pass picked off by Antwon Blake, who ran it back 70 yards for a touchdown.
Josh Lambo levelled the scores with a field goal and Rivers linked up with Gates for a second touchdown to give the Chargers a 17-10 lead with eight minutes remaining.
Vick, who completed only 13 of his 26 pass attempts, picked up a large chunk of his 203 passing yards to bring the scores level again, hooking up with Markus Wheaton for a 72-yard touchdown seconds later.
Lambo put the Chargers back on top with 2:59 remaining on the clock, hitting a 54-yard field goal, but that gave the Steelers one final drive to try and avoid defeat.
Vick found Darrius Heyward-Bey for two key catches and he then rushed for 24 yards before hitting Heath Miller on a key third-down play to get the Steelers to the goal-line with five seconds left.
But rather than opt for the field goal, Tomlin lined Bell up in a wildcat formation and the running back just got the ball over the line before he was grounded to snatch victory for the Steelers.
"We have to run the football. We have Le'Veon Bell. We had an opportunity to win the game,'' Tomlin said. "We're on the road in a hostile environment, we've got to play to win and that's what we did."