Super Bowl 50 on Sky Sports: Everything you need to know
By James Dielhenn
Last Updated: 11/01/17 10:48am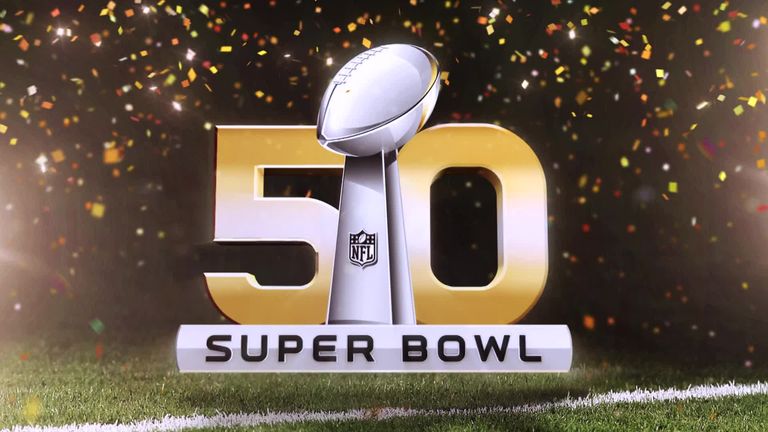 Super Bowl 50 is nearly upon us and Sky Sports will be covering every angle with a week of build-up plus unrivalled access to the game itself.
The Carolina Panthers will take on the Denver Broncos in the grandest occasion in American sports on Sunday but our live coverage extends far beyond game-day.
Here's a guide of how you can enjoy the Super Bowl with us…
Super Bowl Sunday
Our live coverage of the game itself begins at 10pm on Sunday February 7 on Sky Sports 1 HD and Sky Sports 3 HD, so buckle up and enjoy the ride! And yes, Coldplay's half-time entertainment will also be live.
All your favourite Sky Sports experts will be providing their valuable analysis - Neil Reynolds, Dara Kennedy, Jeff Reinebold and Super-Bowl winner Shaun Gayle will be in San Francisco with us.
Not a Sky Sports subscriber? Fear not, you can still watch the Super Bowl via NOW TV by selecting a Day Pass to just see the game, or a Week Pass to absorb the unique atmosphere of the build-up.
By purchasing a Sky Sports Day Pass for £6.99 or Sky Sports Week Pass for £10.99, you can enjoy access to all seven Sky Sports channels and watch on a TV with a NOW TV Box or on a range of devices.
The Super Bowl is also available in pubs nationwide - find your closest venue by visiting skypubfinder.com but ensure you avoid disappointment by calling ahead to check they are showing the game.
Keep an eye on www.skysports.com/nfl or your Sky Sports app on mobile devices or iPad, where the minute-by-minute coverage of the game will be covered. We'll be running a live blog of Panthers v Broncos featuring instant score updates, all the best pictures and videos of the crucial moments.
Our Twitter account @skysportsnfl will keep you aware of everything that's happening throughout Super Bowl Sunday.
What's happening all week?
We've got an entire week's worth of unique documentaries and fascinating behind-the-scenes scoops in advance of Panthers v Broncos.
The Pro Bowl is live from midnight on Sunday January 31 on Sky Sports 1 HD - the annual All-Star bonanza is exactly what we need to get in the mood for the Super Bowl a week later.
The Super Bowl On Demand section will be live from Sunday January 31 with all the documentaries that will air later in the week. It will also include dedicated boxes for highlights of Broncos and Panthers games, Hard Knocks series 2013, 2014 and 2015, NFL Greatest Games series and NFL Football Life series.
A series of The Timeline films will be broadcast from Monday to Thursday at 9pm on Sky Sports 3 HD. Below are the episodes on offer.
The Timeline films
Mon Feb 1: The Merger
Tues Feb 2: Tale of Two Cities
Wed Feb 3: Favre Returns
Thurs Feb 4: Jersey Guys
You should also keep your eyes peeled for more enjoyable historic programming, looking back at the glorious history of the Super Bowl and the legendary games and players of years gone by.
More Super Bowl week shows
Wed Feb 3, SS3, 10pm: Top 10 Dynasties
Thur Feb 4, SS3, 10pm: Top 10 Super Bowls
Fri Feb 5, SS3, 9pm: 50 Super Bowl Stories
Fri Feb 5, SS3, 10pm: Top 10 Super Bowl Plays
Sat Jan 6, SS3, 8.30pm: Super Bowl I: The Lost Game
And don't forget Sky Sports News HQ will be live in San Francisco all week bringing you behind-the-scenes stories as they happen.
Remember, Super Bowl 50 is live on Sunday February 7 from 10pm on Sky Sports 1 HD and Sky Sports 3 HD but keep checking @skysportsnfl and www.skysports.com/nfl for updates!