Dan Vitale speaks to Sky Sports ahead of the 2016 NFL Draft
By Jonathon Moar
Last Updated: 26/04/16 12:08pm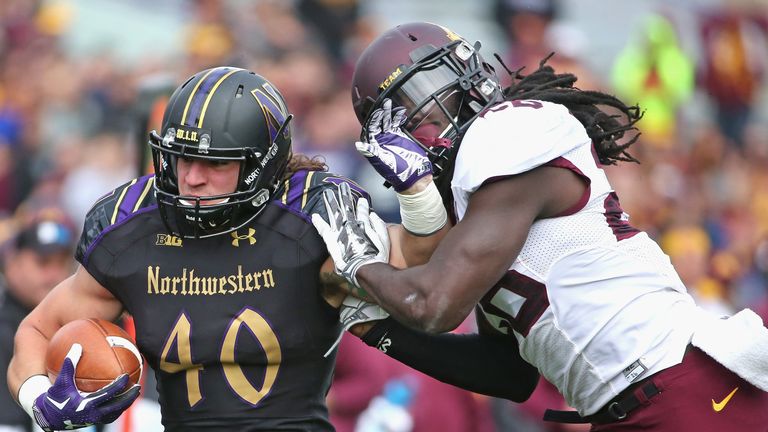 Most of the attention on the 2016 NFL Draft is focused on who will go first, who might trade and which players could fall from the first round.
You could sometimes be forgiven for forgetting that there will be 253 picks made, as opposed to just the 31 on day one in Chicago.
There is an array of talented players waiting in the wings for their big chance. Players who do not get much attention on the home straight to the event, but have the same opportunity to become just as successful - Tom Brady is a prime example.
One such player who will be looking to make a big impact from a late-round selection is Dan Vitale, and he might just be one of the most intriguing 2016 prospects of them all.
Officially listed as a fullback, the former Northwestern player is so much more than that.
In college, Vitale played the 'superback' position - a role unique to Northwestern, combining the work of a fullback, running back, wide receiver and tight end.
"In high school, I wasn't really a running back or a fullback. When I was getting recruited by Northwestern, I saw they had this superback position and it really made my eyes pop open," Vitale told Sky Sports.
"In college, they told me as soon as I came that the two smartest players on the field had to be the quarterback, and the superback.
"I had to know not only just the plays and what routes I was running, but every block. I had to know everything, except what the quarterback was reading. You have to have a high football IQ.
"So now that I get the opportunity to transition this role and what I've really embraced onto the next level is cool, it's really special. I think a lot of teams are really seeing the potential this position has in itself."
Vitale recorded 33 receptions for 355 yards and four touchdowns in his final year in college, numbers you certainly would not normally associate with a conventional fullback.
But in terms of numbers, it was at the NFL Combine in February that the American football world really began to wake up and take notice of his athletic ability and just what he could offer.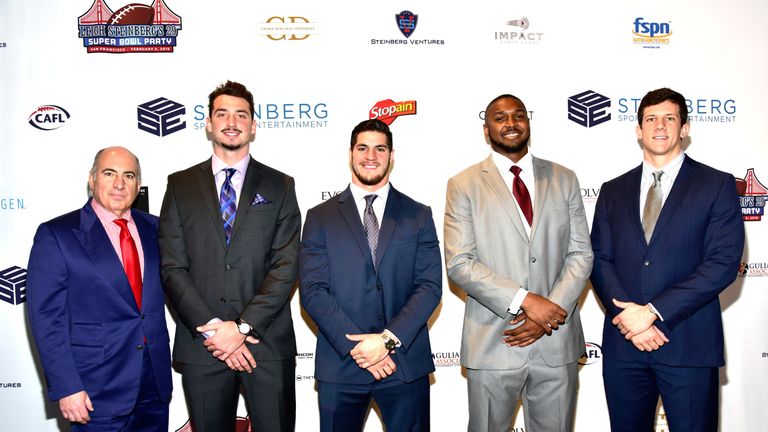 Just for starters, Vitale ran his 40-yard dash in 4.60 seconds - a better time than 16 defensive backs. His bench-press test beat all but four offensive and defensive linemen.
He recorded better times than Heisman Trophy winner Derrick Henry on five out of seven athletic tests, and put up a faster 60-yard shuttle than Will Fuller - renowned as one of college football's fastest players.
Despite his remarkable Combine showing, Vitale said that he was not as content as many would think.
"Personally, I was happy, but I wasn't satisfied," he added.
"My phone was blowing up, people saying 'great job', but on a personal level, I've always done better in a lot of those tests.
"I was testing better at my training facility. Don't get me wrong, I wouldn't say I was disappointed. I know I did well, but I'd say I was happy, not satisfied."
With just days to go until the Draft, rumours of where Vitale could potentially end up continue to circulate.
The Tampa Bay Buccaneers are reported to have shown a strong interest in recent weeks, while the New England Patriots also appear keen.
Vitale, as you would expect, was not willing to divulge too much information on what teams have been saying to him, but did acknowledge that the Patriots would be a good fit for his talents.
"I will just say that most teams ask me to keep quiet, but on a personal level, I think it'd be pretty cool to play there (in New England)," he added.
"The way they run their offence is pretty cool, I think they could use a guy like me. At this point, I've done everything I possibly can to show all the teams what I can do. This is definitely the most stressful part - just sitting around and waiting for draft day."
Just like the teams, the fans and the hundreds of other NFL hopefuls, Vitale will have to wait until the weekend to see where the next step in his football journey lies.
But wherever it may take him, he revealed that getting the chance to experience the game in other places, such as in London, is something he would love to do.
"I've had a chance to get to Europe before. It's something that I'd like to experience again and show everyone what American football is all about.
"I'd absolutely love to do that - it might be a really long flight, but it's something I'd be really excited to do."
You can follow the 2016 NFL Draft on Sky Sports 1 from midnight on Thursday and with us here all week on www.skysports.com/nfl