New England Patriots 41-25 Buffalo Bills
Revenge is sweet for New England Patriots as Tom Brady dominates and Gronk sets new franchise TD record in 41-25 victory over Buffalo Bills
Last Updated: 30/10/16 9:59pm
Tom Brady threw four touchdown passes as New England made amends for their early season defeat to Buffalo with a dominant 41-25 week eight win.
After suffering a 16-0 week four shut-out to Rex Ryan's Bills, the Patriots were out for revenge and despite falling behind to an early field goal produced an impressive offensive display for record a fourth straight victory and a big divisional success.
Brady's blistering form since his return from suspension continued as he threw for 315 yards and four touchdowns, including the familiar route to freescoring tight end Rob Gronkowski, who picked up his record breaking 69th touchdown.
Bills added some gloss to the score with a late touchdown but without LeSean McCoy and Sammy Watkins they lacked a cutting edge and slipped to a second successive defeat.
In 140 characters - Revenge is sweet for New England Patriots as Tom Brady dominates and Gronk sets new franchise TD record in 41-25 victory over Buffalo Bills.
MVP - Brady's numbers are hard to beat but Rob Gronkowski has changed the game at tight end - not only did he grab another touchdown but he also put up 109 yards.
Scoring Summary
| | | |
| --- | --- | --- |
| 1st Quarter | | |
| NE 0-3 BUF | FG - D Carpenter 23yd | |
| NE 7-3 BUF | TD - D Amendola 9yd pass T Brady | Extra point - S Gostkowski |
| NE 14-3 BUF | TD - C Hogan 53yd pass T Brady | Extra point - S Gostkowski |
| 2nd Quarter | | |
| NE 14-10 BUF | TD - M Gillislee 3yd run | Extra point - D Carpenter |
| NE 21-10 BUF | TD - R Gronkowski 53yd pass T Brady | Extra point - S Gostkowski |
| NE 24-10 BUF | FG - S Gostkowski 51yd | |
| 3rd Quarter | | |
| NE 31-10 BUF | TD - J Edelman 12yd pass T Brady | Extra point - S Gostkowski |
| NE 31-17 BUF | TD - T Taylor 26yd run | Extra point - D Carpenter |
| NE 38-17 BUF | TD - L Blount 1yd run | Extra point - S Gostkowski |
| 4th Quarter | FG - S Gostkowski 32yd | |
| NE 38-25 BUF | TD - J Williams 1 yd run | 2pt conversion - N O'Leary |
Game-changer - Chris Hogan's first quarter touchdown coming so soon after Danny Amendola's set the tone for the Patriots. The two-score advantage kept them clear of the Bills who were never able to close the gap.
Stat of the game - 69. Rob Gronkowski broke the franchise record of Stanley Morgan when he got on the end of Brady's 53-yard pass.
The Game
Patriots head into their bye week as firm favourites to claim Super Bowl honours in Houston after yet another dominant display from Brady and his array of attacking options as five different players ran in touchdowns.
It all started brightly for the Bills who took the lead through Dan Carpenter's early field goal and some bright early play from Mike Gillislee who was starting for the injured McCoy.
Gillislee was to make the endzone for the Bills opening touchdown, but it came in the second quarter and the Patriots had already moved clear.
Firstly Brady connected with Danny Amendola to put the Pats 7-3 in front and Chris Hogan added a second soon after, connecting with Brady's 53-yard pass to double the visitors advantage.
And the Patriots put the seal on a dominant first half when Steven Gostkowski made a 51-yard field in driving wind, just moments after Dan Carpenter had missed from similar range.
In the second half the Patriots wasted little time in underlining their position. It took Brady just one minute to drive up the field and he found Julian Edelman for the touchdown that extended the Patriots advantage.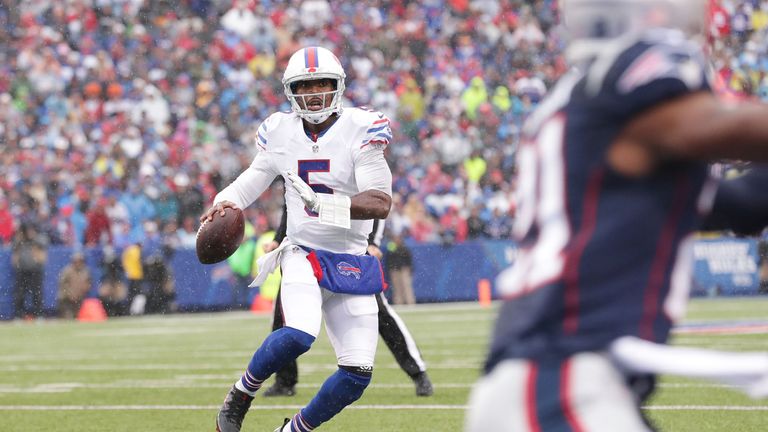 Buffalo refused to lie down and Tyrod Taylor found enough room to wriggle in for the Bills second touchdown of the game - a rare high point for the quarterback who completed just 19 of 38 passes for 183 yards and no touchdown receptions.
New England were having no such trouble as once again they hit back to extend the advantage, Brady finding Blount for his fourth different receiving touchdown and with the game all but done the future Hall of Famer sat out the final moments.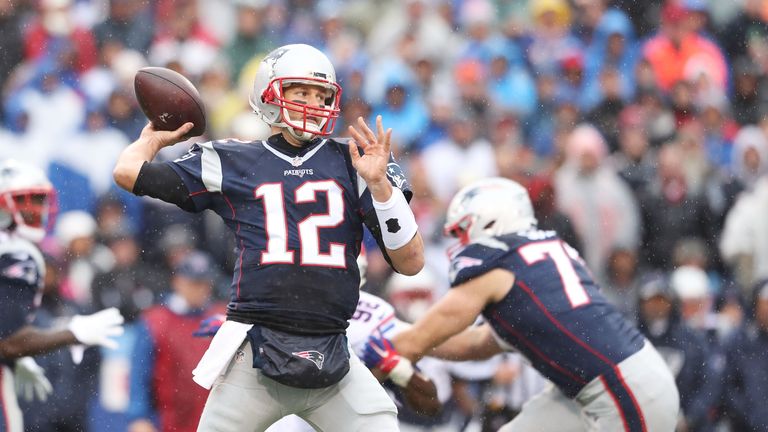 Buffalo had the final say thanks to Jonathan Williams' close-range touchdown run and a two-point conversion but it was too little too late as New England had already done enough to secure a commanding victory.