Tennessee Titans edge out Denver Broncos to keep their AFC play-off hopes alive
Marcus Mariota and DeMarco Murray inspire Titans to victory in tight contest
By Raz Mirza
Last Updated: 11/12/16 10:08pm
Tennessee Titans kept their play-off hopes alive thanks to a damaging 13-10 victory over Super Bowl champions Denver Broncos at Nissan Stadium.
The loss was a bitter blow for last year's winners Broncos, who remain unsure of their own play-off ambitions and drop to 8-5 for the season in the AFC West, while the Titans improved to 7-6.
In 140 characters
Tennessee Titans kept their dreams of extending their season alive thanks to a third straight home win and are still in the thick of a three-way battle for the AFC South.
MVP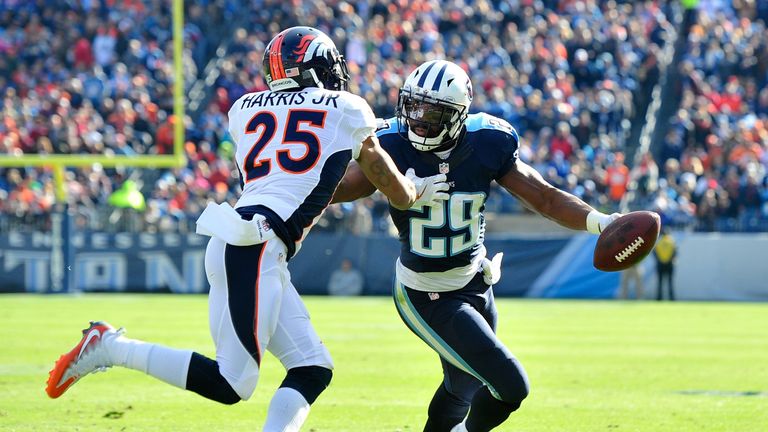 Tennessee running back DeMarco Murray made 21 carries and ran for 92 yards with a touchdown.
Mariota's day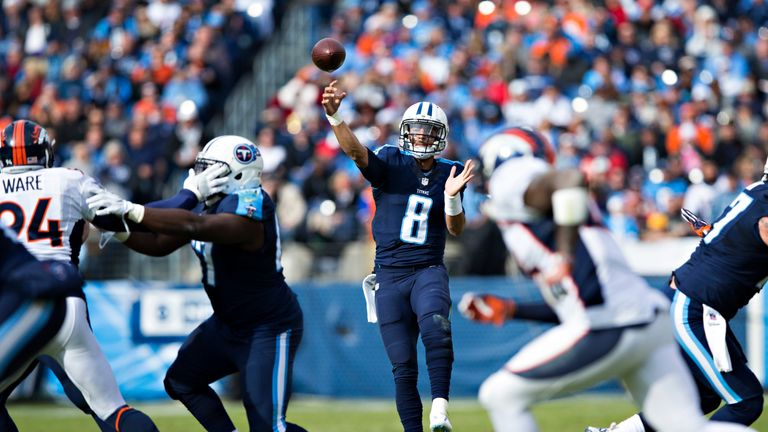 Marcus Mariota threw for only 88 yards in his worst game passing this season. He did become the first Titans quarterback with at least 3,000 yards passing in a season since Matt Hasselbeck in 2011. Mariota also ran eight times for 38 yards.
Stat of the night
When Denver running back Justin Forsett had the ball ripped from him by Rashad Johnson and recovered by Jason McCourty it was the first forced fumble by the Tennessee Titans' defence and the first forced recovery by them - and it came in week 14!
Scoring Summary
| | | |
| --- | --- | --- |
| 1st Quarter | | |
| DEN 0-7 TITANS | TD D.Murray 1 yd. run | Extra Point - R.Succop |
| DEN 0-10 TITANS | FG R.Succop 53 yd | |
| 2nd Quarter | | |
| DEN 0-13 TITANS | FG R.Succop 41 yd | |
| 4th Quarter | | |
| DEN 7-13 TITANS | TD E.Sanders 3 yd. pass from T.Siemian | Extra Point - B.McManus |
| DEN 10-13 TITANS | FG B.McManus 34 yd | |
The game
Tennessee quarterback Mariota has thrown two or more touchdowns in his last eight games leading into their latest encounter and they made a blistering start as an 11-play drive in a little over six minutes resulted in a touchdown for DeMarco Murray.
The Titans then produced their first forced fumble of the season and in the resulting drive Ryan Succop nailed a successful 53-yard field goal to extend their lead to 10-0 by the end of the first quarter.
Mariota was at the centre of another Tennessee drive, which ate up much of the second quarter. The home side ran for 19 plays, making 74 yards in 8:04, but were forced to eventually settle for a 41-yard field goal, which Succop made in swirling wind.
Both teams came to blows during the play as Denver cornerback Aqib Talib picked up a personal foul after going after Titans wide receiver Harry Douglas in retaliation for a low blow on his teammate Chris Harris Jr.
Denver failed to make anything from their possession in the final minute, which meant they were shut out in the first half for the first time since November 2015 vs Kansas.
Although Trevor Siemian made a third-down conversion for the first time in the game during an uneventful third quarter, they still failed to get on the scoreboard.
They did get on the board to set up a grandstand finale as Siemian found Emmanuel Sanders in the end zone with Brandon McManus' kick successful.
McManus then reduced the deficit to three points after a successful 34-yard field goal.
But it was game over with 53 seconds to play when A.J Derby fumbled possession to hand Tennessee a huge victory as they improved to 7-6 on the season.
The last Super Bowl team to miss the play-offs the following year was Baltimore in 2013 and Denver are now in danger of joining them on that unwanted list.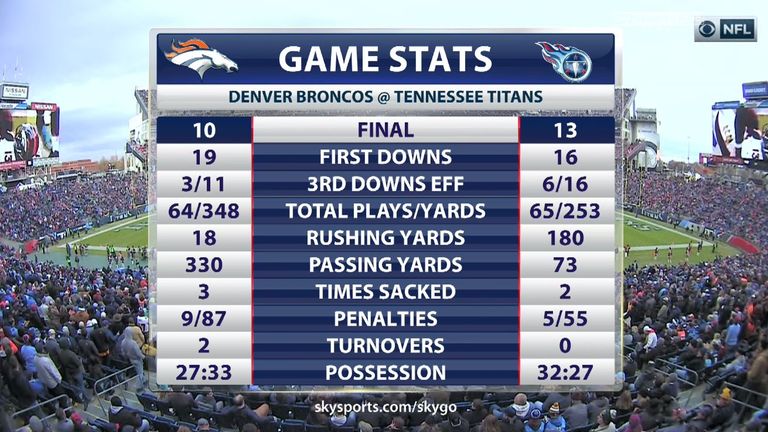 Don't forget, you can watch the Ravens @ Patriots in the Monday Night Football, live on Sky Sports. Upgrade to Sky Sports now and get six months half price