Tom Brady leads a list of seven NFL veterans who enjoyed outstanding seasons
By Keith Jackson
Last Updated: 06/01/17 5:05pm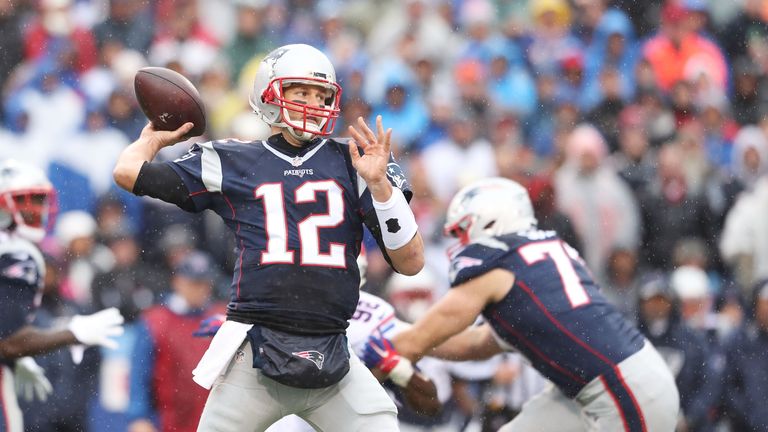 Much of the focus on the 2016 regular season was on a number of emerging youngsters, but we have picked out seven veterans who made telling contributions in the twilight of their careers.
Tom Brady, QB, 39
There have been many quarterbacks over the years who can still perform at the highest level when approaching 40, but Brady continues to be a class above and comfortably guided New England to the top seed in the AFC ... again!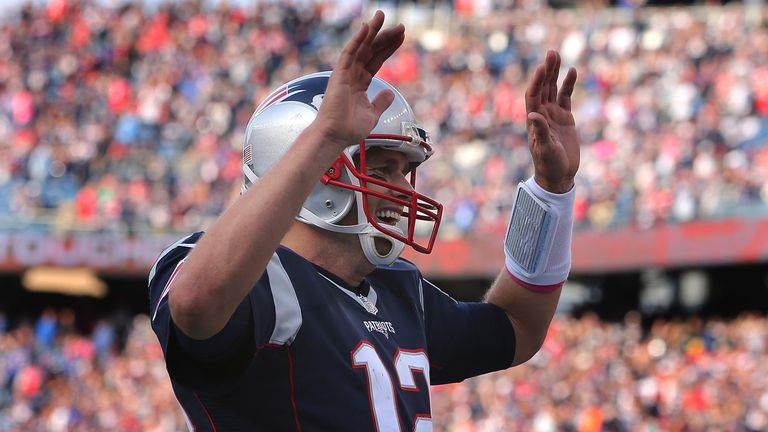 After watching Jimmy Garoppolo impress under centre during his four-game suspension at the start of the season, Brady took the reigns against hapless Cleveland in week five and roasted the Browns secondary to the tune of 406 yards and three touchdowns.
That set the tone for another outstanding campaign for the 17-season veteran as he threw for 25 further scores and surpassed 3,500 yards at an average of close to 300 yards per game, and he was picked off just twice.
Brady ended the regular season with a quarterback rating of 112.2, with only Atlanta's Matt Ryan (117.1) and Garoppolo (113.3) ahead of him in the rankings, and there seems to be little reason as to why he should contemplate retirement if he keeps this up.
Drew Brees, QB, 37
Putting up you best numbers since 2013 is a commendable achievement when you are just shy of your 38th birthday, although Brees was forced to air the ball more than he would have liked thanks to a porous New Orleans defence.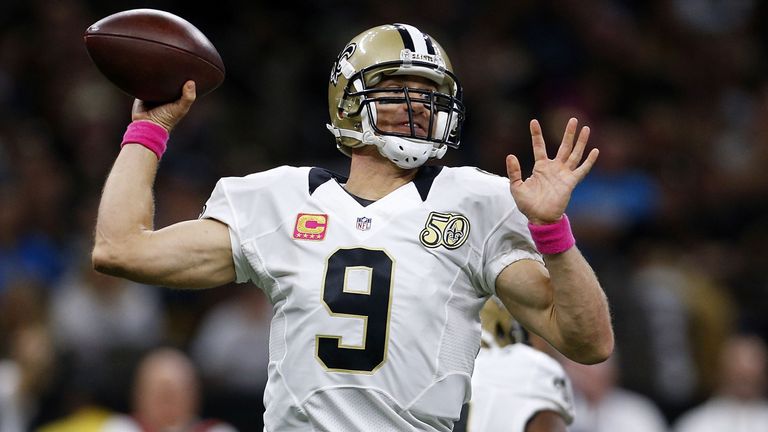 The Saints veteran, who has missed only two regular season games since leaving the Chargers 10 years ago, celebrated his 16th season with 37 touchdown passes, the fourth highest total of his career, while he also threw for over 5,000 yards for the fifth time and spread the ball around 14 different receivers.
Rookie Michael Thomas was the main beneficiary with 92 catches, but Brees will not feature in the post-season - or the Pro Bowl - as the Saints finished 7-9 with the team giving up 454 points - only the 49ers had a worse record in the NFL.
Frank Gore, RB, 33
Being 33 years of age is virtual pensioner status in running back terms, but Gore defied the odds to rush for over 1,000 yards for the ninth time in his 12-season career.
The Indianapolis workhorse ran in four touchdowns and added another four scores as a receiver having never caught more than three TD passes in one season, and his famed dependability was again evident as he lost only one fumble.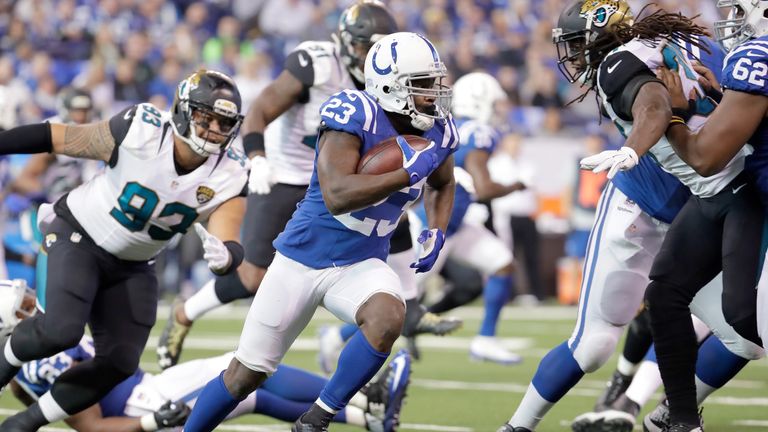 Gore, the first Colts running back to pass 1,000 yards rushing for nine seasons, was happy to handle the bulk of the workload while conceding most of the goalline carries to Robert Turbin, who powered into the end zone seven times from short range.
The former 49ers hero stayed injury free once again and has now started an incredible 92 consecutive games, and Gore is also one of only two players in NFL history to have amassed 1,200 scrimmage yards in 11 separate seasons - a record shared by Randy Moss.
Larry Fitzgerald, WR, 33
Which NFL wideout notched the most receptions in the NFL in the regular season? Antonio Brown? Odell Beckham Jr perhaps? How about a 33-year-old Arizona veteran whose best days were supposed to be past him?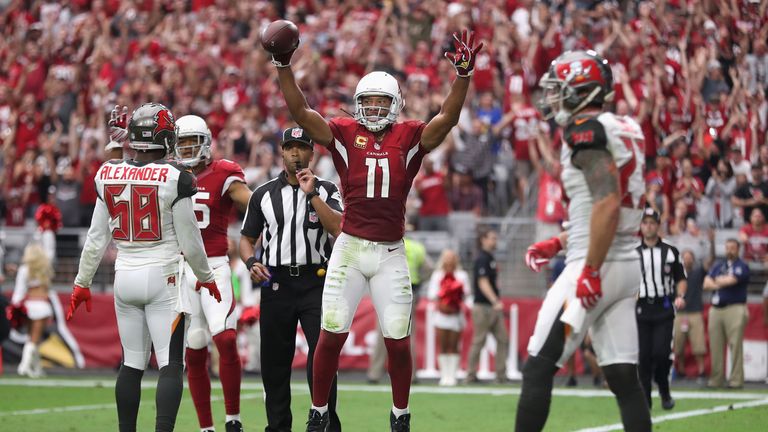 The evergreen Fitzgerald hauled in 107 passes as he completed another ever-present season for the Cardinals, the second-highest total of his career and only two short of his 109 catches in 2015.
Fitzgerald showed no signs of slowing down in his 13th season with the franchise and continued to be the "go to" receiver for Carson Palmer, with star running back David Johnson (80) the only other player to make more than 40 catches.
Fitzgerald is now only 611 receiving yards short of 15,000 for his career, while he also became only the 10th player in NFL history to reach 100 touchdown receptions, a landmark he reached with two scoring grabs in the season opener against New England.
Steve Smith, WR, 37
While Fitzgerald looks likely to extend his distinguished career, Smith decided to hand up his cleats after 16 seasons in the NFL following Baltimore's final-week defeat to Cincinnati.
Smith's numbers over the year were not outstanding - 70 catches for 799 yards and five touchdowns - but he looked as enthusiastic and lively as ever despite being aged 37.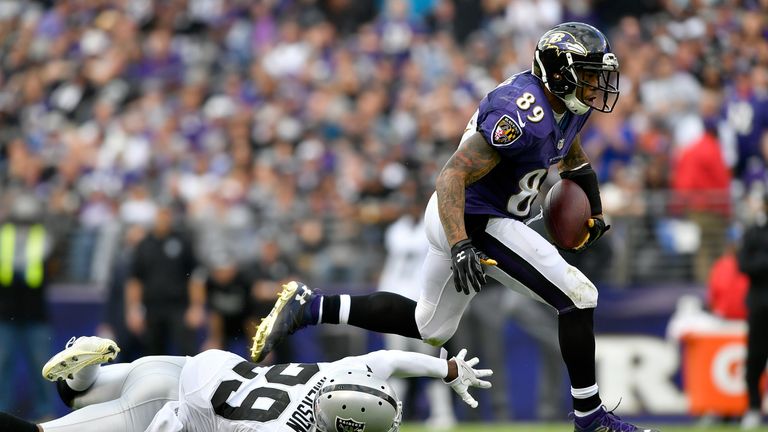 The Ravens stalwart contributed a number of key plays at crucial moments, including a superb 32-yard touchdown in the thrilling one-point victory over Philadelphia in week 15 which kept the Ravens in with a sniff of the play-offs.
The former Carolina favourite ended his career as one of only four players to record 1,000 catches, 14,000 receiving yards and 75 touchdowns, and he also emulated Hall of Famer Tim Brown in surpassing 13,000 receiving yards and 4,000 return yards.
Anquan Boldin, WR, 36
Eyebrows were raised in many quarters when Detroit brought in 36-year-old receiving veteran Boldin in July, but he became an instant fan favourite when he chose to wear the No 80 shirt instead of the 81 he had worn throughout his career as a mark of respect for retired Lions legend Calvin Johnson.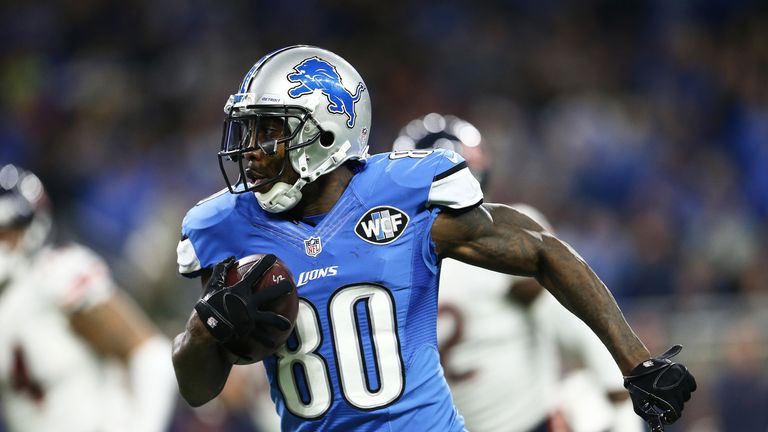 And the signing paid off for the team's offence, with Boldin emerging as a key threat in Matthew Stafford's sights and a dependable end zone target, grabbing eight touchdown passes for the first time since 2008.
Boldin 67 catches for close to 600 yards were second only to Golden Tate, and he scored three TDs in the pivotal five-game winning streak that effectively booked the Lions a place in the play-offs despite losing their last three.
Antonio Gates, TE, 36
There was precious little to shout about in San Diego this season, but the accomplishments of Antonio Gates lifted the fans' spirits during his 14th - and probably last - year with the Chargers.
The 36-year-old was again hampered by injury as he managed only nine starts, although he did feature in 14 games overall and hauled in seven touchdown passes among his 53 receptions.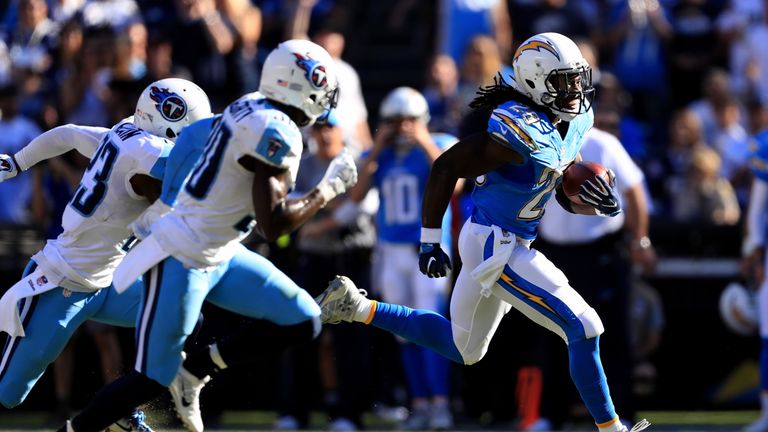 Gates scored in each of the final two games to reach 111 touchdowns, matching Atlanta legend Tony Gonzalez for the most in NFL history for a tight end.
But perhaps most importantly for the team going forward was that Gates was there to mentor Hunter Henry, who looks set for a stellar career as he collected eight touchdowns in his rookie season.