What next for New York Giants after nightmare 0-5 start to season?
By David Currie
Last Updated: 15/10/17 10:04pm
The New York Giants were a trendy Super Bowl tip for many people before the start of the season, yet somehow find themselves winless through five games.
They are one of three teams to start the year 0-5, alongside the Cleveland Browns and San Francisco 49ers, but unlike those two - tipped to struggle from the offset - this Giants outfit were on their way to the play-offs a season ago.
So where has it all gone wrong? We take a closer look at New York's nightmare start...
Injury woes
New York's season was all but over already, but the loss of marquee man Odell Beckham Jr to a season-ending broken ankle on Sunday was a crushing blow, and a sorry sight as he sobbed his way off the field.
But, the bad news wasn't exclusive to OBJ; the Giants lost as many as four - four! - wide receivers during the latest of their five defeats, to the Los Angeles Chargers, with Beckham, Brandon Marshall and Dwayne Harris all now out for the year, while Sterling Shepard - who continues to be monitored - didn't finish the game either.
Even with those guys, the offence wasn't a league-leader. In their run to the play-offs last year, the Giants were 26th in the NFL in points scored, that has slipped to 28th so far this season. Things don't get any easier either, with New York's next three games against the imposing defences of the Denver Broncos - live on Sky Sports Action, 1:20am, Monday morning - the Seattle Seahawks and Los Angeles Rams.
Quarterback play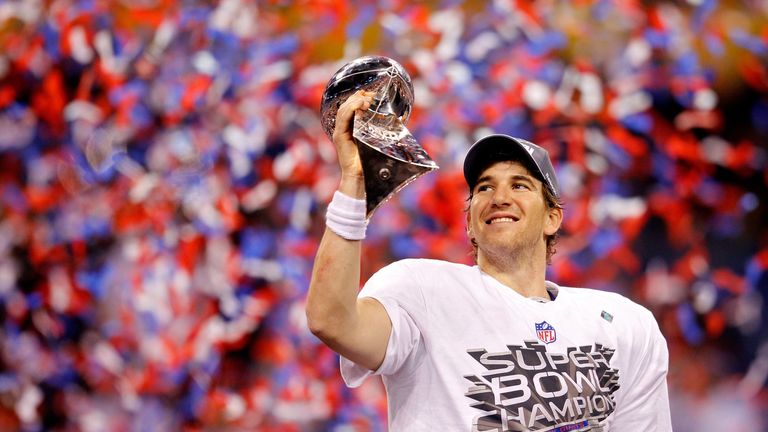 "If the Giants had Philip Rivers at quarterback, they'd have won more than the two Super Bowl rings they've got with Eli Manning." That's the opinion of former Chicago Bears defensive end Corey Wootton, when speaking to Sky Sports.
The two quarterbacks' successes and failures will forever be compared after going one and two - not without some controversy, either - in the 2004 NFL Draft. Manning was picked first by the then San Diego Chargers but, not wanting to play there, his temper tantrum forced their hand to do a trade with New York, who had picked up Rivers as collateral.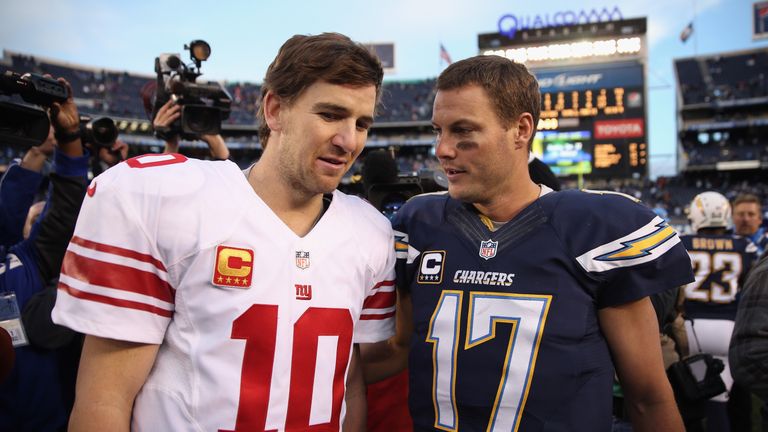 Rivers has had the misfortune to play on poor teams for the majority of his 11 years as a starter in the league and is widely considered one of the game's best not to have won a ring, while Manning benefited from stellar defensive units that contributed hugely to their Super Bowl successes in the 2007 and 2011 seasons, though that is not to sell Eli's two-time MVP-winning performances short.
It is fair to ponder, though, if the veteran QB is now holding this team back - Manning's yards-per-attempt has fallen year-on-year ever since the second of those Super Bowl wins, down from 8.4 to 6.6, with the exception of one spike in 2014. But like many other teams in the league, it seems like the Giants have little in the way of succession planning at the position - back-ups Geno Smith and Davis Webb are not the team's future.
Poor drafting
In an article for ESPN, Bill Barnwell highlighted that of all the 2016 season play-off teams, the Giants had the fewest players on their roster (four) that were drafted between 2009 and 2013. Compare that to the Green Bay Packers' high of 13 and you begin to see what the problem is.
"This should be the core of most teams' rosters, players who are finishing up their rookie deals and guys who get signed to extensions after developing into home-grown starters," writes Barnwell. Instead general manager Jerry Reese has bolstered the Giants roster with pricey free agent additions.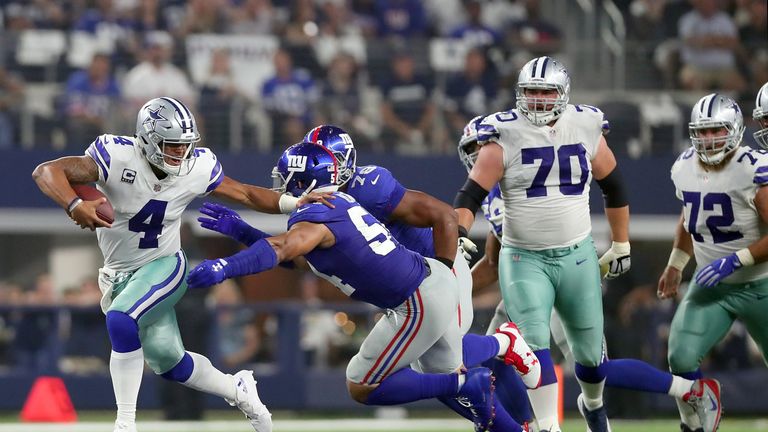 That worked last year, when Jason Pierre-Paul was re-signed and Damon Harrison, Janoris Jenkins and Olivier Vernon were all added to a defence that would go on to dominate. The Giants 'D' finished the season as the second-ranked unit in terms of points allowed per game (17.8) but in 2017 - the second year of their payday - that figure has regressed to 24.4 a game, good enough only for 24th place.
Also, that investment has had a further knock-on effect, with less salary cap space devoted to other positions of need, including the offensive line and…
Why no AP?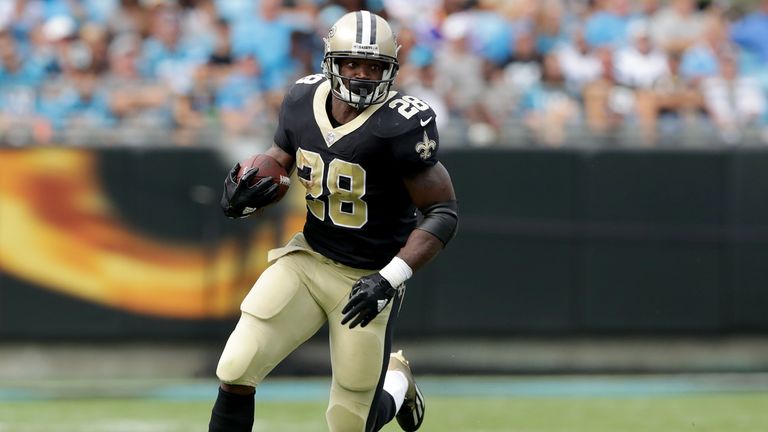 The Giants have desperately been crying out for a running back for a good few years - New York's last 1,000-yard rusher was, in fact, way back in 2012 when Ahmad Bradshaw eeked over the mark by a mere 15 yards. So, why did they not make a play for future Hall of Famer Adrian Peterson, as he was traded by the New Orleans Saints to the Arizona Cardinals on Tuesday?
New York were one team rumoured to be flirting with Peterson when he became a free agent earlier this year after 10 seasons with the Minnesota Vikings. They appeared to fit the bill; as mentioned, they needed a lead back, they are a big-name city fit for a big-name player, and they were the play-off/possible Super Bowl contender that Peterson, in his later years, wanted.
Instead, AP opted for the Saints, perhaps with New York's interest never at a serious stage. And though with a 0-5 start to the season, they'd have hardly been the most desirable of destinations for Peterson now, his desperation to get out of New Orleans - where he'd been severely underused - meant they could, and perhaps should, have made a move.
Head coach hot seat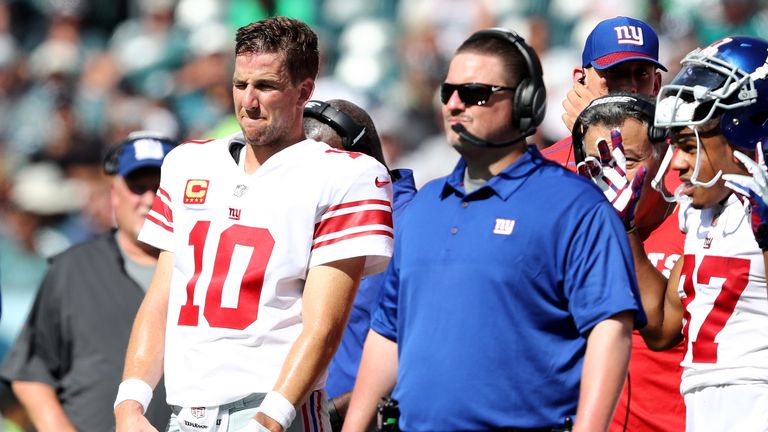 New York are not a firing franchise. "The Giants don't do the hot seat business," Sports Illustrated's Pete King told Sky Sports. The team's recent history supports that - the Giants have had only three head coaches over the past two decades - Jim Fassel (1997-2003), Tom Coughlin (2004-2015) and Ben McAdoo (2016-present).
The play-off run in McAdoo's first season in charge has likely earned him a stay of execution, but his seat has to be getting warmer by the second, ever since an ill-advised boat trip before their play-off defeat to Green Bay - one of numerous OBJ misdemeanours - that pointed to a lack of discipline under his leadership. There are also more football-focused concerns, particularly McAdoo's management of the offence as he clings on to play-calling duties from his days as their offensive coordinator.
"The Giants do have an in-house candidate in defensive coordinator Steve Spagnuolo," added King. "He is a very respected coach in their organisation, who has been a head coach with the Rams before, although he had a poor record there.
"But I think it is all a little early for that. The Giants are not a knee-jerk franchise. McAdoo is not in any trouble right now, though he will be if the season continues to cave. They'll let this season play out and see what happens."
Any road back?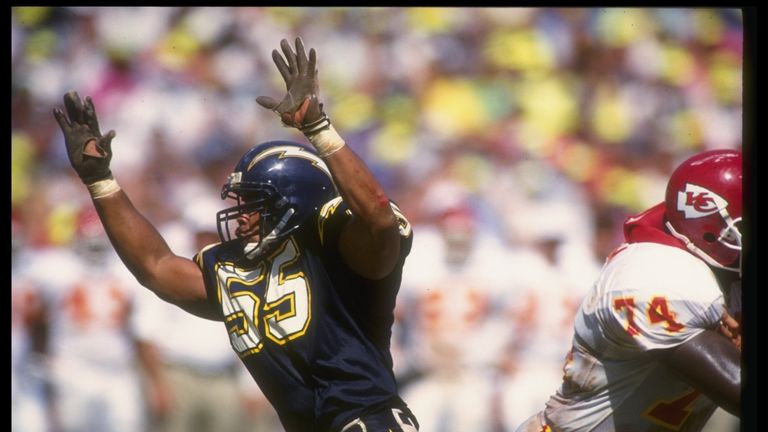 So what will happen? Back-to-back play-off trips is a near certainty not to happen - no team in NFL history has ever recovered from an 0-5 start to make the postseason. In fact, the 1992 Chargers are the only team to start 0-4 and make it, losing only once the rest of the year.
The 1970 Cincinnati Bengals can provide a crumb of comfort, perhaps, as they won their opening game before dropping six straight to start 1-6, only to then win out the rest of the season to sensationally reach the play-offs.
But New York's own personal history points to further struggles. In the Super Bowl era, this is only the fourth time that the Giants have started a season 0-5, following further barren years in 1976, 1979, 1987 and 2013. On those occasions, New York would end the year 3-11, 6-10, 6-9 and 7-9 respectively. Another losing record looks likely for 2017.
Watch the New York Giants @ Denver Broncos on Sunday Night Football, live on Sky Sports Action (407) from 1.20am. But join us from 5.30pm for the two earlier games, Green Bay Packers @ Minnesota Vikings and Pittsburgh Steelers @ Kansas City Chiefs.
Follow the 2017-18 NFL season with us on Sky Sports and through our website skysports.com/NFL also our app for mobile devices and iPad, or follow our Twitter account @SkySportsNFL