Le'Veon Bell, Antonio Brown, Ben Roethlisberger: Can Pittsburgh Steelers' Killer Bs be stopped?
Last Updated: 14/01/18 5:37pm
Are the Pittsburgh Steelers primed for another Super Bowl run behind their 'Killer B' trio of Ben Roethlisberger, Le'Veon Bell and Antonio Brown?
The three will be in action when the Steelers take on the Jacksonville Jaguars - live on Sky Sports Action, from 5.30pm on Sunday - in the divisional round of the playoffs. But could this be their final chance to get their hands on the Vince Lombardi trophy as team-mates?
Roethlisberger is in his 14th year and pondered his NFL future last offseason. Brown is locked up for the foreseeable future, but Bell could be on his way out of the door this summer if he doesn't get the handsome contract he so desires.
Will the Steelers still go all the way this year? Sky Sports' Jeff Reinebold takes a closer look at Pittsburgh's Killer Bs...
Does Big Ben still have it?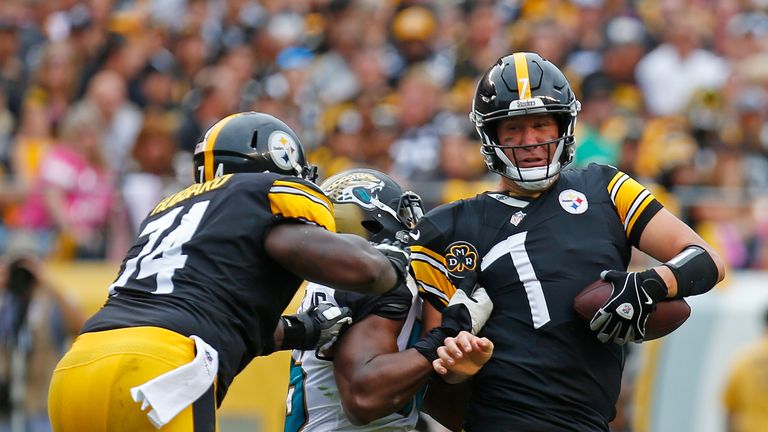 "Maybe I don't have it anymore", were Roethlisberger's words after throwing five interceptions against the Jaguars in a 30-9 defeat in Week Five of this season. He hadn't had a passer rating worse than his 37.8 mark since the 2006 season, and it looked like the walls could be caving in.
Reinebold argues, though, that some of the picks were "fluky", adding: "The two interceptions returned for touchdowns are ones that really shouldn't have happened."
Reinebold makes a good point. The first of those pick six interceptions was tipped and wobbled straight into the arms of Telvin Smith. The second, rookie receiver JuJu Smith-Schuster was up against Jalen Ramsey, and didn't "finish" the top of his route. The ball was again tipped, and Barry Church took it to the house. Perhaps the stat line looked uglier than it really was.
"It's a different Steelers team now", Reinebold says. "At that time, they didn't know what Smith-Schuster really was, and he's really grown over the season.
"They have Brown, Smith-Schuster, [Martavis] Bryant, Bell, and even Jesse James at tight end has played much better than earlier in the year."
Pittsburgh certainly did up their game after that defeat. They rattled off nine wins in the next 10 games. Roethlisberger threw 22 touchdowns, just seven interceptions, and didn't post a quarterback rating lower than 87.7.
"The unusual thing about the Steelers offense is that you've got four or five guys to cover, not one or two," adds Reinebold. "They have so many weapons across the board."
Will Antonio Brown star on return?
One of those weapons is Brown. For the fifth straight season, he recorded over 100 catches, 1,000 yards and eight touchdowns. He's in the top three all-time in receiving yards per game (86.2) behind only Julio Jones and Odell Beckham Jr. So, what makes him so special?
"How long have we got?" says Reinebold. "Great short-burst quickness. He catches the ball extremely well. He uses his hands, not his body, which gives him a greater catching range than most guys his size.
"His ability to get in and out of breaks is phenomenal - he can drop his hips and burst. He does all the subtle things that really good receivers can do."
Will the Jaguars double-cover Brown, or will they simply stick Ramsey or A.J. Bouye on him one-on-one? Jeff is excited for the chess match to unfold on Sunday.
"Is Todd Wash [Jaguars defensive coordinator] going to commit Ramsey to Brown and have him travel all over the field? If they do that, then Todd Haley [Pittsburgh offensive coordinator] will have to find creative ways to get him free."
While Brown seems to have recovered from a calf injury, Reinebold adds that "there is always concern with wideouts and leg injuries". The star receiver is also said to have been struggling with illness this week.
Reinebold coached Denver Broncos wideout Emmanuel Sanders at Southern Methodist University, and knows "those guys are real thin on the lower body".
"They are so fast and powerful, but they have to jam their foot into the ground on every single play and so any injury can affect how well they do that."
Will Le'Veon Bell stick around?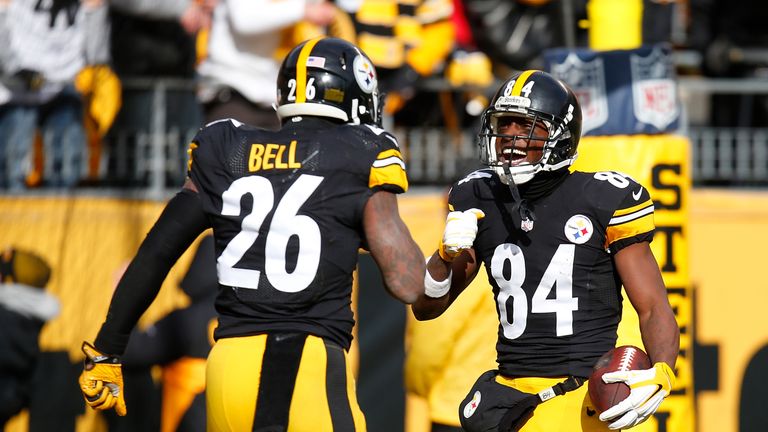 The final piece of the Pittsburgh puzzle is their star runner Bell. He lines up in the backfield, and out wide, and wins battles wherever he is. The NFL's all-time leader in yards-from-scrimmage per game is almost impossible to stop.
"He's one of the most unique backs I've seen in a long time," Reinebold says, likening Bell to old-time Steeler Franco Harris. "Harris was criticised because he wouldn't hit the whole immediately. Coaches tried to coach him out of it."
Bell similarly shows patience behind the line of scrimmage, dances elegantly amidst chaos all around him, then all of a sudden bursts through into daylight.
"He's the most patient runner in the league," adds Reinebold. "He has small feet on a big body, and with the vision, patience and ability to make cuts. It's incredible."
This season, Bell has touched the ball on average a whopping 27 times per game. He's a true game-changer at the position, and will be itching to prove himself against one of the toughest defenses in the league this weekend.
But Bell has come out to the media in the build-up simply asking to be "valued" by the Steelers when his contract comes to an end after this season.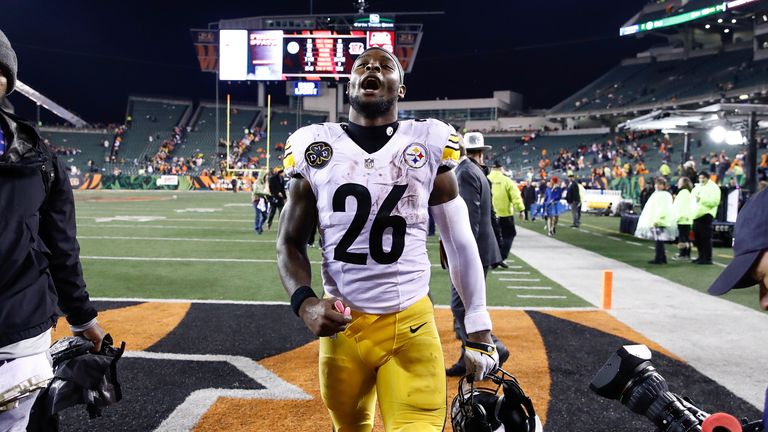 Not sure on the method and timing of that statement, Reinebold argues "when guys negotiate in the media, it can backfire. It puts the club in a bad light. However, there's no one in the league who appreciates Bell's value more than the Steelers. They are with him every day".
Would Reinebold bring him back?
"I would pay him, personally." If the Steelers do, then hopefully Sunday won't be the last time we are watching the Killer Bs in playoff action.
See the Pittsburgh Steelers play the Jacksonville Jaguars, live on Sky Sports Action from 5.30pm on Sunday night.

Follow the 2017-18 NFL season with us on Sky Sports and through our website skysports.com/NFL also our app for mobile devices and iPad, or follow our Twitter account @SkySportsNFL