San Francisco 49ers wide receiver Marquise Goodwin signs new three-year deal
By Andy Charles
Last Updated: 08/03/18 10:06pm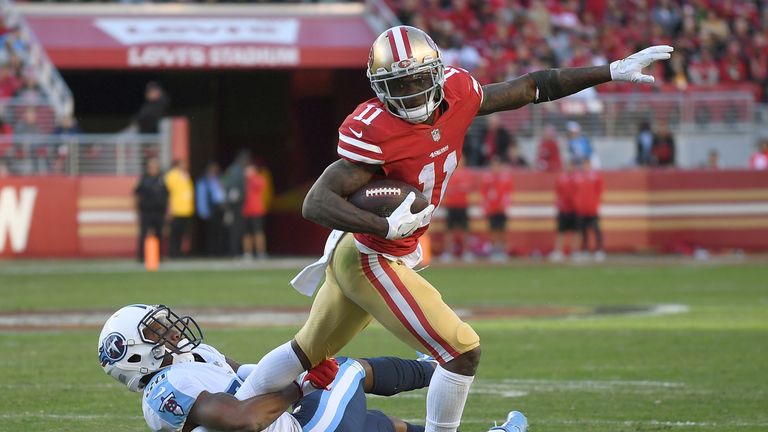 Wide receiver Marquise Goodwin has signed a three-year contract extension with the San Francisco 49ers.
Goodwin's new deal is worth in the region of $20m, with $10m of that guaranteed, and comes at the end of a season in which he narrowly missed out on topping 1,000 receiving yards for the first time.
The 27-year-old, a former track and field star, had 56 receptions for 962 yards last season but was denied the chance to reach 1,000 yards when he suffered a concussion in week 17.
Goodwin also went through two family tragedies during the 2017 season, scoring an 83-yard touchdown against the New York Giants a day after losing his infant child, who had been born prematurely, and then having to mourn the death of his father in December.
49ers general manager John Lynch said: "Marquise leads by example with a tremendous work ethic, a trait that helped him expand his repertoire as a football player and post his most successful season as a pro last year.
"Marquise earned this extension by coming in every day focused on doing his job and, as a result, he made himself and his team-mates better.
"From the minute Marquise joined our team, he has shown us everything we want to see in a 49er."