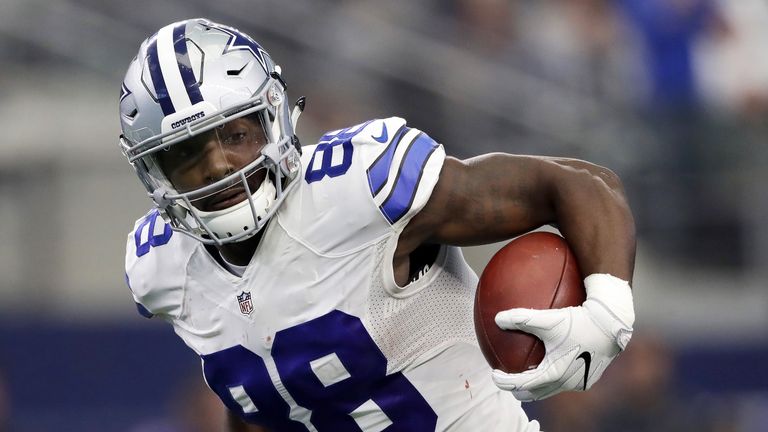 Dez Bryant has been released by the Dallas Cowboys, ending the wide receiver's eight-year stint with the team.
The 29-year-old, whose 73 receiving touchdowns is a franchise record, held his much-anticipated meeting with Cowboys owner Jerry Jones on Friday and a few hours later news of his release emerged via NFL Network Insider Ian Rapoport and was later confirmed by the franchise.
Cowboy nation I need you to know this wasn't my decision.. I will always love y'all... forever Dallas in my heart

— Dez Bryant (@DezBryant) April 13, 2018
Bryant is far from happy about his release and took aim at a few unnamed former team-mates on Friday, singling out some of those who are particularly close to head coach Jason Garrett.
Speaking to NFL Network, Bryant said: "I'll say this right here: I believe that 'Garrett guys' [are responsible]. I would say that."
When asked further if he thinks "Garrett guys" worked against him and his place on the roster, Bryant said, "Yeah, I believe that. I truly believe it.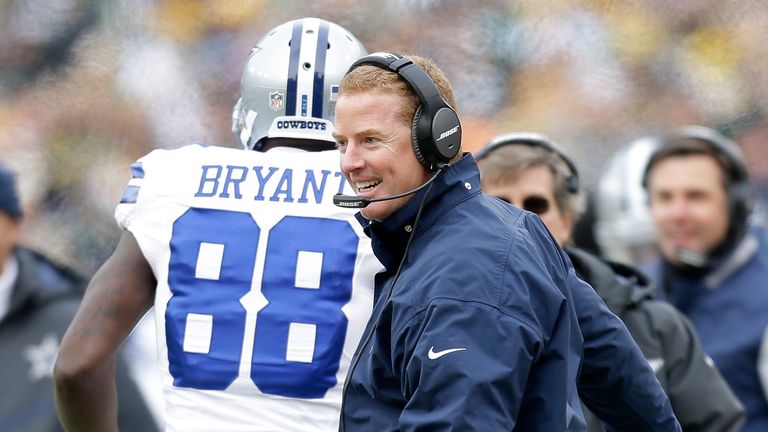 "I won't put no names out, but they know, and I want them to know I know. I'll shoot them a text message and let them know. Little do they know is, you know, they can wear that [captains'] 'C' all they want to, but in that locker room ... they know who they communicate with. Everybody knows where the real love is at. I'm not throwing anybody under the bus, but that's the difference between me and them."
Bryant has expressed frustration in the past about not being a team captain, an honour that went to Dak Prescott, Jason Witten, Sean Lee, Dan Bailey, Tyrone Crawford and Orlando Scandrick (who was released this offseason and joined the Washington Redskins) in 2017.
"I think me not being named a team captain was mostly on a personal level," he told NFL Network. "I'm just going to be honest because I don't understand why I wouldn't be a team captain. Like I said, you've seen my team-mates, you know? They don't even understand the decision."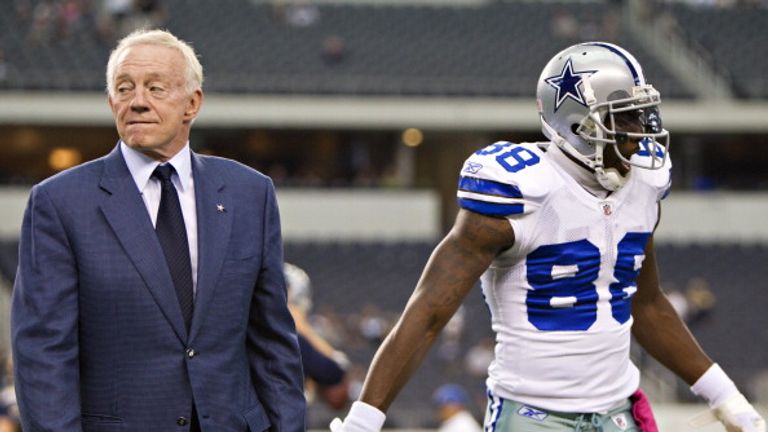 Bryant went on to say he would have been open to taking a pay cut to stay with Dallas "if it was offered," but added that he had concerns about his relationship with certain team-mates moving forward.
"The only question I was going to have for that was: Even if I did take a pay cut, am I going to be able to come into work and be happy?" he said. "Like, be able to enjoy it? Because I already got a feeling that this person don't like me, this person don't like me. I honestly don't know why. I guess because I am who I am."
Bryant also said that signing as a free agent with another NFC East team is a "huge possibility," as he hopes to play the Cowboys twice a year, referring to the situation as "very personal."
A USA Today report on Friday said Bryant is not on the Redskins' radar, but it's unclear if the New York Giants or Philadelphia Eagles would be interested.
Bryant's production has dropped off over the last couple of years following injury in 2015 and with the wide-out due $12.5m with a £16.5m cap hit for the Cowboys in 2018 a parting of the ways has looked to be on the cards via trade or release all off-season.
It is still a pivotal moment for Bryant, who has emerged as one of the NFL's leading wide receivers and the league's most eye-catching talents following a break-out year in 2011.
A run of three successive seasons exceeding 1,200 yards (41 touchdowns) ended with him being placed with the non-exclusive franchise tag after a stellar 2014 that saw him break Terrell Owens' franchise record of 15 TD receptions for the season.
It was a short meeting between #Cowboys owner Jerry Jones and Dez Bryant. After months speculation, Bryant was released and a marquee 29-year old free agent is on the market midway through April with several WR needy teams.

— Ian Rapoport (@RapSheet) April 13, 2018
The #Cowboys did not offer Dez Bryant a paycut. They simply released him. And no post-June 1 designation. … It is simply a clean start for Dallas and the organization.

— Ian Rapoport (@RapSheet) April 13, 2018
However, since signing a five-year, $70m extension in July 2015, Bryant has been limited to 150 catches for 2,035 yards and 17 scores across three seasons, missing 10 games over that span due to injury.
In a sparse wide receiver market, Bryant, the 24th overall pick of the 2010 Draft, becomes an unrestricted free agent and will likely emerge as a serious option for a string of needy franchises despite failing to top 1,000 yards in each of the last two years.
The Cowboys have signed former Jacksonville receiver Allen Hurns and former Chicago WR Deonte Thompson, as well as hosting some high-profile pre-Draft visits with receiving talent Christian Kirk, DJ Moore and Calvin Ridley.