Jacksonville Jaguars continue quest to become one of best NFL defenses of all time
Calais Campbell, Telvin Smith, Malik Jackson, Yannick Ngakoue, and Jalen Ramsey spoke exclusively to Sky Sports this offseason
By James Simpson - @JS_Football
Last Updated: 13/09/18 12:58am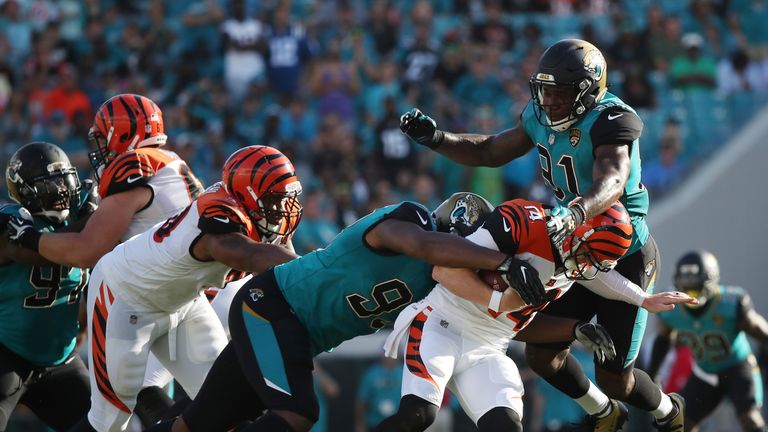 Jacksonville Jaguars defenders told Sky Sports during the offseason that they are aiming to be one of the NFL's greatest defenses.
Intense. Confident. Gritty. Fearsome. Unstoppable.
These are just some of the words used by Jacksonville's Calais Campbell, Telvin Smith, Malik Jackson, Yannick Ngakoue, and Jalen Ramsey to describe their defense.
In their 2018 opener against the Giants, the terrorising 'D' was at the forefront once again. Linebacker Myles Jack returned an Eli Manning interception 32 yards for a touchdown in the fourth quarter, while the group racked up two sacks, six quarterback pressures, and eight tackles for losses.
When most people think of this team, two things come to mind: The 'London Jaguars' (they have played five International Series games in the UK, winning the last three), and 'Sacksonville', the nickname given to the team's defense.
It was a unit that finished the 2017 season second in sacks, interceptions, total yards against, points against, and takeaways. They led the NFL in quarterback rating and passing yards against.
But the statistics alone aren't good enough. Their ambition is sky-high.
Being the best
Behind the dominating defense, the team went from a 3-13 record and no playoff wins in nine seasons to one game away from the Super Bowl. It could be seen as a success story, but the defensive players, led by three-time Pro Bowler Calais Campbell, are already aiming higher.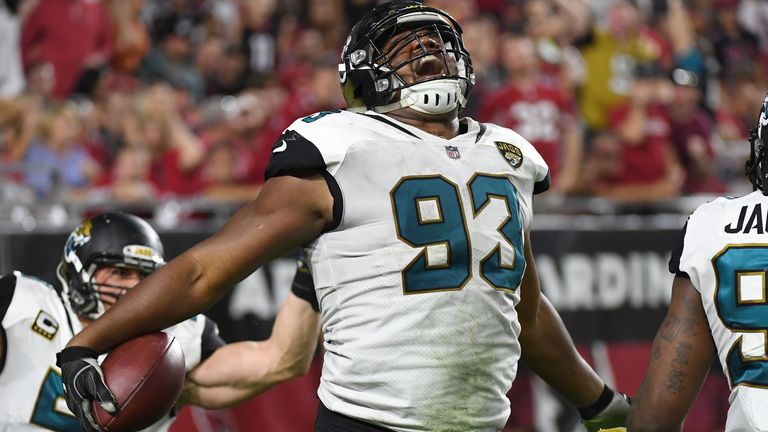 "I believe this defense is the best in the NFL," Campbell told Sky Sports. "At the end of the day, the way we work and the talent we have in our building, there's no doubt about it that we can be one of the best to ever play the game."
He acknowledged the other great defenses in the league and was sure not to "disrespect" them, but says his Jags are capable of something special.
"You go back to the '85 Bears, the '70s with the Vikings, the Oakland Raiders, some of those really good teams that the Steelers had, the 2013 Seahawks, the Broncos in 2015.
"Those are some really good defenses that have done incredible things and I really hope that this season we have coming up can compare to those teams."
Linebacker Telvin Smith, a 2017 Pro Bowler and second-team All-Pro selection, was not shy about his own ability and what this group is capable of.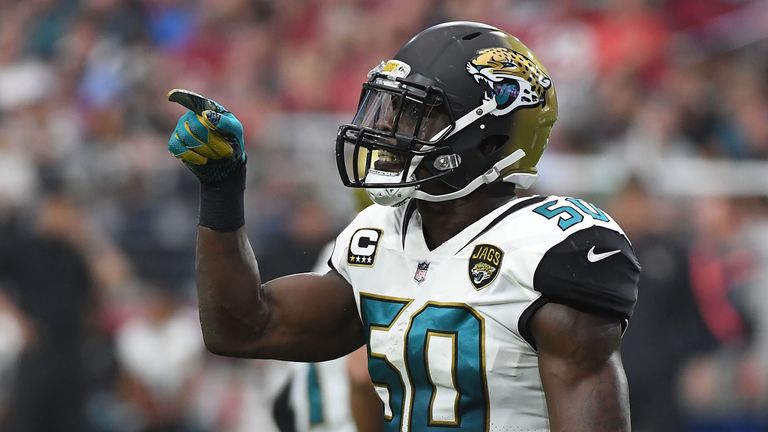 "I feel like I'm the best linebacker in the NFL, but I know we are the No 1 defense in the league."
One player who knows what it is like to play on a championship-winning defense is lineman Malik Jackson, who played for the dominant Denver defense - mentioned by Campbell - that found Super Bowl glory in 2015.
Jackson said when things are clicking, "we are unstoppable. We showed it all last season. We have a great chance of being one of the greats".
What makes them great?
The goal is clear: win the Super Bowl, and be a dominant defense along the way. But what actually is it that makes the Jaguars who they are? Why are they such a scary unit?
Yannick Ngakoue, another of Jacksonville's six defensive Pro Bowlers from last year, described them as a "fearsome, fast defense. We fly to the ball - all 11 men on the field".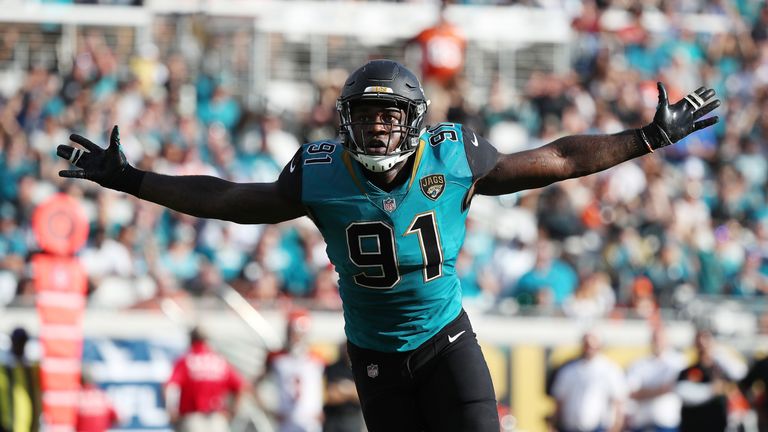 Campbell said: "We don't have a weak spot. We're very smart on every level, we're very talented at every level.
"From our safeties, our cornerbacks to our linebacks and our D-line - everybody has ridiculous speed, everybody's very tough and plays with a physical nature. We want to strike fear into teams.
"I really think we have six or seven guys who could be defensive player of the year on this defense."
That was echoed by Jackson, who followed Campbell with an almost word-for-word description.
"I think we have a lot of individual players that can make this team great. From our secondary, to our linebackers, to our D-line, everybody is stacked and as long as we can stay healthy, I think we can make a run for that No 1 all-time defense."
The trash talk
Clearly, talent isn't an issue for this team: one way they win is by simply being better than their opponents. But another is psychological: they love to talk.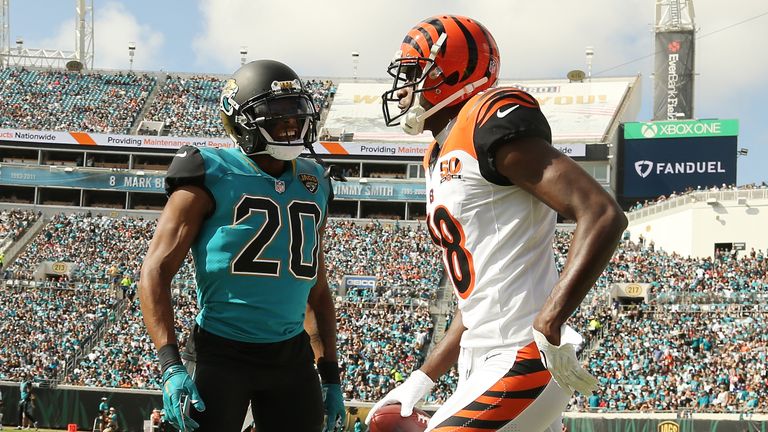 The trash-talk master - cornerback Jalen Ramsey - who claimed he "got inside" Steve Smith's head, called A.J. Green "soft", and said he didn't know who an upcoming opponent (Pittsburgh Steelers' Mike Mitchell) was, explained why all the talk works for him.
"Of course [I like to push their buttons]. Any type of advantage I can get against my opponent, I try to get. I talk a whole lot on the field, I try to get in their heads a little bit.
"I just really try to nag them all game long and hopefully, it gives me a little edge."
Jackson admitted he attempts to get inside his opponents' heads too.
"I talk a lot on the field," he said. "If I can get you thinking about me instead of what you're supposed to do, and upset at me, then I'm heading in the right direction - that means you're going to be messed up a little bit and overthinking stuff so I just try to get in your mind a little bit."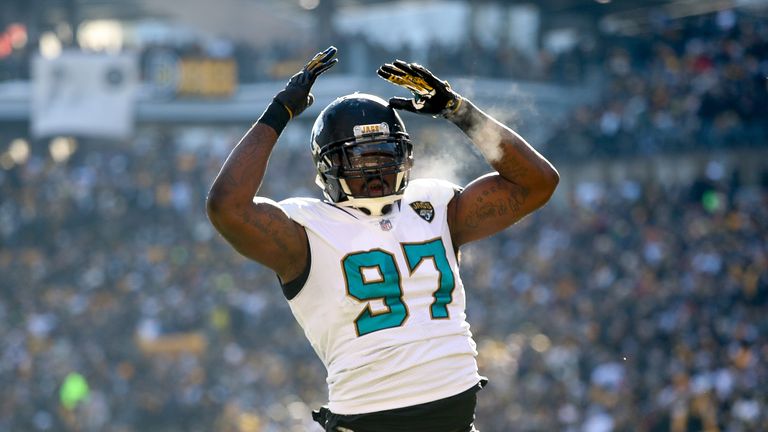 Campbell, who spent nine seasons in Arizona before moving to the east coast last season, sees the benefits of talking smack.
He said: "I love the fact that our team has that kind of emotional spirit where we get after people, we talk trash, we're wild out there.
"As long as we can control it, then I'm all about it."
What is next for the Jags?
Last season ended in heartbreak. Jacksonville blew a 10-point fourth-quarter lead to the Patriots in the AFC Championship game. But it's not just a bad memory for this team; it's motivation.
Campbell says he tries to forget about the loss, but takes confidence from the fact they got there. Now the core knows how to have success, because they've been there, he says. Smith argues their run gave not only the team but the fans, and even the city, a sense of pride to be from Jacksonville.
Ultimately, Ramsey says they are using it as fuel. "Immediately after [the game] is a lot of frustration, but now it is purely motivation," he said. "We're going to use it as motivation so we don't allow that to happen this year.
"We want to be hoisting that trophy up at the end of the year."
On Sunday, they have a chance to exact some revenge on the Patriots in Week Two, live on Sky Sports Action. Kick-off is at 9.25pm.
Follow the 2018-19 NFL season with us on Sky Sports and through skysports.com/NFL also our app for mobile devices and iPad, or follow our Twitter account @SkySportsNFL