NFL retain Wembley option for October game if Tottenham's new stadium is not ready
Last Updated: 27/07/18 8:57am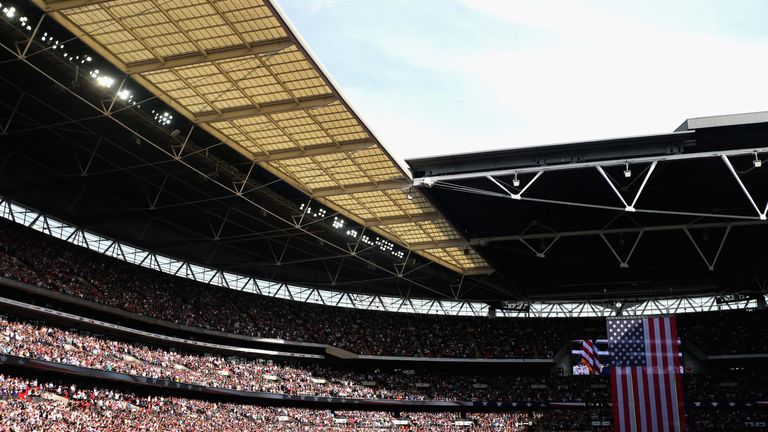 The NFL has confirmed Wembley is prepared to host October's game between the Seattle Seahawks and the Oakland Raiders should Tottenham's new stadium not be ready in time.
Tottenham are set to run a series of test events at their new stadium - firstly an U23s clash against Brighton on August 27 - and plan to welcome Liverpool in the Premier League on September 15.
The NFL said they are looking forward to playing at Spurs' new ground on October 14, with tickets set to go on general sale on September 4, but accept there is always an element of risk when it comes to the construction of stadiums.
As a result, Wembley Stadium remains a viable option, having held NFL games as part of the International Series every year since 2007.
A statement read: "We are looking forward to playing our first game at the magnificent new Tottenham Hotspur stadium on October 14, when the Oakland Raiders host the Seattle Seahawks. Hospitality ticket sales have been strong, with inventory selling out within minutes, and general admission sales will commence on September 4, as has always been planned.
"In the meantime, we will retain the option of playing the game at Wembley Stadium should circumstances relating to the new Tottenham stadium build make that necessary. Any new stadium construction has an element of timing risk, and our priority has always been to ensure that this great match-up can be played in London on the scheduled date and time."
Back in 2015, Sours announced a 10-year partnership with the NFL that will see the club host at least two American Football games a year at its new stadium.
The stadium, which is due to have a capacity of 62,062, will feature a retractable grass field for Premier League football with an artificial surface for NFL games underneath.
Spurs also confirmed both sports will have dedicated facilities, including separate changing rooms to accommodate the larger squads of NFL teams.