American Football Expert & Columnist
Neil Reynolds' NFL diary: Day one
Last Updated: 27/07/18 10:35am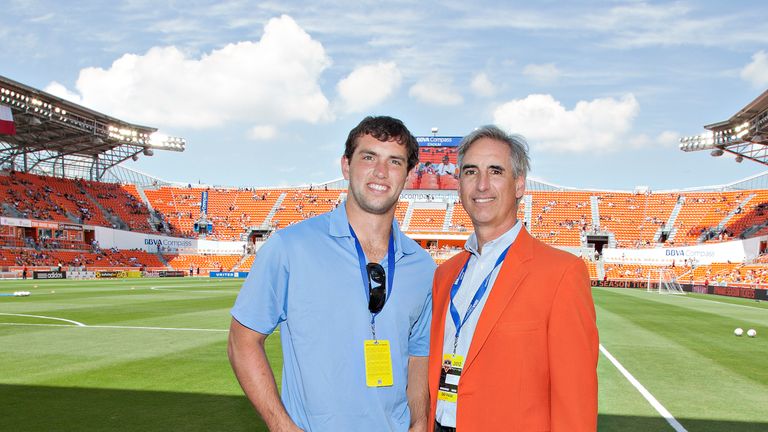 Day one of this training camp tour offered a chance to venture down Memory Lane while interviewing former NFL Europe president Oliver Luck for a documentary we will air on Sky Sports later this summer.
After the usual bright and early start to a first day in the United States, our crew - myself, producer Alex Mason and cameraman/intimidating man mountain Scott Drummond - made the 90-minute drive to Stamford, Connecticut, where Oliver is now over-seeing another ambitious start-up as the new CEO of the XFL, which is scheduled to begin playing in the spring of 2020.
Before I get to the XFL and the league's surprisingly modest and grounded goals, we had a chance to chat about Oliver's time in NFL Europe. He served as general manager of the Frankfurt Galaxy in 1991-1992, held the same position with the Rhein Fire in 1995 and was the league's president from 1996 to 1999.
Oliver told some great tales of how Europe wasn't quite ready to cater for a fully-fledged professional football team from an operational point of view in the early 1990s. He also talked about how his son, Indianapolis Colts quarterback Andrew Luck, grew up around the locker rooms of NFL Europe instead of the NFL and was obsessed with wearing the number five jersey sported by Frankfurt wide receiver Mario Bailey.
Incorporating my chat with Oliver, a day listening to media chatter in New York and an evening spent watching NFL Network after arriving in Nashville, here are some early training camp tour thoughts.
Five observations from training camp day one
The newspapers in New York have been full of Odell Beckham Jr. contract talk and the good news for fans of the Big Blue is that the Pro Bowl receiver has been in camp even without a new deal in place. OBJ has a good relationship with new head coach Pat Shurmur and loves team owner John Mara - so he has made a goodwill gesture by arriving and participating without the long-term contract he seeks. I get the feeling the Giants will do this long-term deal soon and those sentiments were echoed today by Mara, who said it will be "sooner rather than later".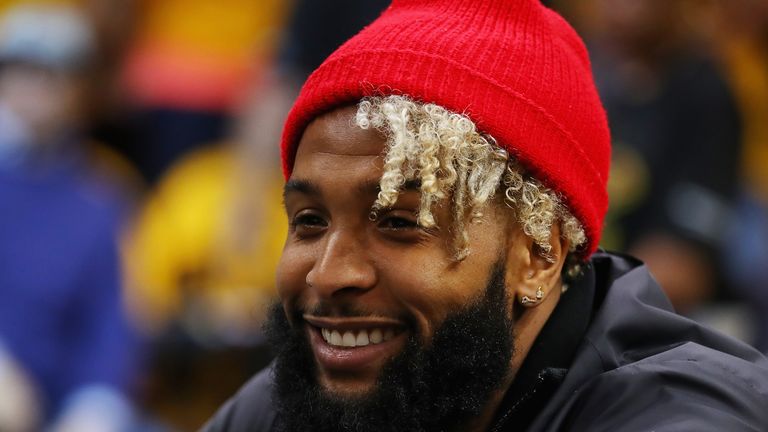 There is a feeling in the Big Apple that the Jets are going to be sneaky good, particularly on the defensive side of the ball with young safeties Jamal Adams and Marcus Maye patrolling the secondary. But, of course, the newspapers in New York are filled with quarterback talk and what once seemed nailed on as Josh McCown's job to lose could be wide open. A good training camp from Sam Darnold could see the rookie start, while a strong summer from Teddy Bridgewater could see him traded for a potential to be the number one somewhere else. This is a genuine quarterback battle in New York.
During our conversation on Thursday, Oliver paid tribute to the British NFL fans and admits he has not been surprised at all by the growth of the game in the UK and the fact that we get to see so many regular-season contests on our doorstep. That said, he does think regular season games should also be spread around Europe and taken to cities such as Frankfurt and Dusseldorf in Germany and Paris in France.
Those expecting the XFL to be a gimmick-filled league as per the first go around in 2001 will be disappointed when the eight-team competition gets off the ground in 2020. Oliver explained to me that the premise behind the league is not to rock up with a bunch of stunts but to further fuel the hunger for professional football. I do, however, think the XFL will play a much faster brand of football with games finishing well within the three-hour mark.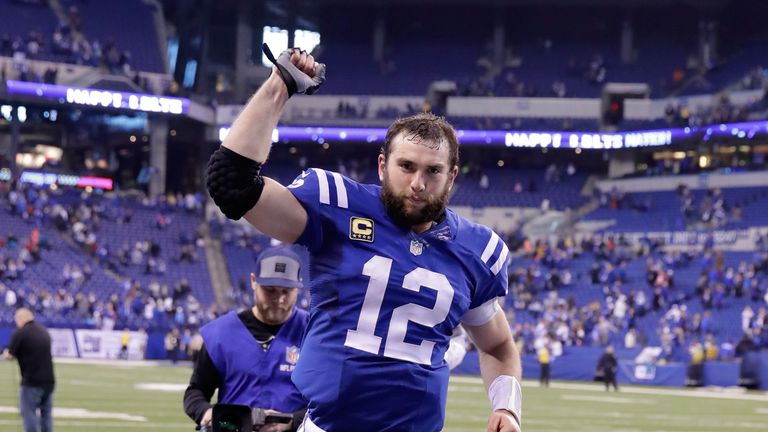 Oliver didn't spill too many beans on Andrew Luck but he did admit it had been "a rough couple of years" and that his Pro Bowl quarterback son had suffered a "very significant injury." So Oliver would have had one eye glued to his TV as Thursday marked the first day of Colts' camp. Andrew was not held back at all and even threw in 11 on 11 work. That is just one small step on the road to recovery, but served as very good news indeed for all NFL fans.
Quote of the Day I
"I believe this league can absolutely work. Our vision is not to compete with the National Football League. Anyone who thinks they can compete with the NFL is not going to win. We want to carve out a space in the spring to satisfy the desire of hardcore football fans who want more football." - XFL CEO Oliver Luck on the vision for the new league funded by WWE supremo Vince McMahon.
Quote of the Day II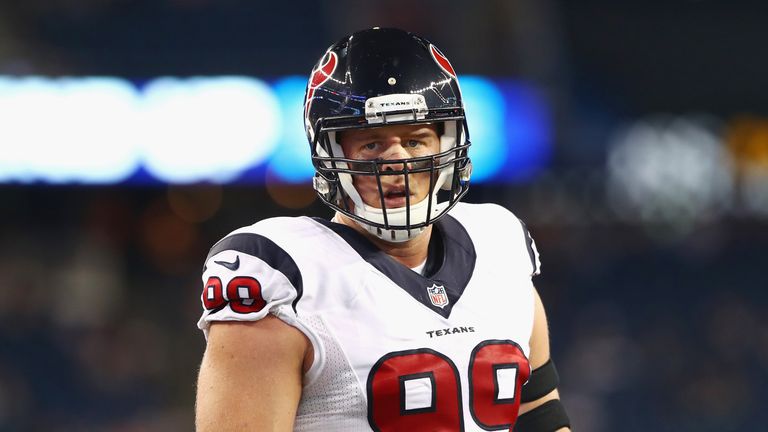 I feel good. That's all I'm going to say for now, but I feel good.
JJ Watt (via NFL Network)
Quote of the Day III
"We're trying to re-imagine the game and to have a fast-paced game with a high number of plays. We want a fast pace and high energy while minimising that down time. We have to re-imagine the game without it being gimmick. The American public doesn't want gimmicks in a game they have the utmost respect for. There is no room in our XFL games for gimmicks." - Luck on a different approach being taken by the XFL this time around.
Training camp finish that sentence
You know you're becoming a veteran of training camp tours when… you bring your own tea bags! Now, I don't want to set off some kind of international public relations storm. But our American friends don't really do great tea and this is something producer Alex is learning at a fast rate. When we met in the lobby of our New York hotel this morning, he sidled up to me and said: "Reynolds, have a look!" I didn't quite know what the package he was pulling out of his shorts pocket was going to contain. I needn't have worried - it was a bag of good old Yorkshire Tea (other brands are available). I must admit to being a little bit jealous for not having the same foresight and tremendous idea. I should know better as a veteran of such tours.
You know you're back on a training camp tour when… you're sat on a bench outside an airport waiting for a shuttle bus to your hotel. This has become a staple of these tours in recent years, normally around the midnight mark with no one but the homeless around for company. Today in Nashville, at least it was still daylight and after a good half an hour with no joy, we admitted defeat and grabbed a cab. But I sense this will become a theme in the coming days.
In Scott we trust!
As I mentioned at the top of this column, Scott Drummond is our gentle giant of a cameraman but he looks a real piece of work. At well over 6-4 and a former rugby player, Scott is not to be messed with and that might explain why, perhaps sub-consciously, we have sent Scott to do the asking all day today when something needed chasing up. That, again, is a trend set to continue!
Final Thought
The camps are open across America and this is one of the most wonderful times of the year. The sense of hope is so strong for all 32 teams that you can almost smell it. Deshaun Watson and J.J. Watt are back on the field for the Texans, Aaron Rodgers is firing fastballs for Green Bay and NFL Network is filled with wall to wall coverage. I'll get my first taste of a 2018 training camp on Friday by spending a day with the Titans. It should be fascinating and I will check back in with a diary piece from Nashville.