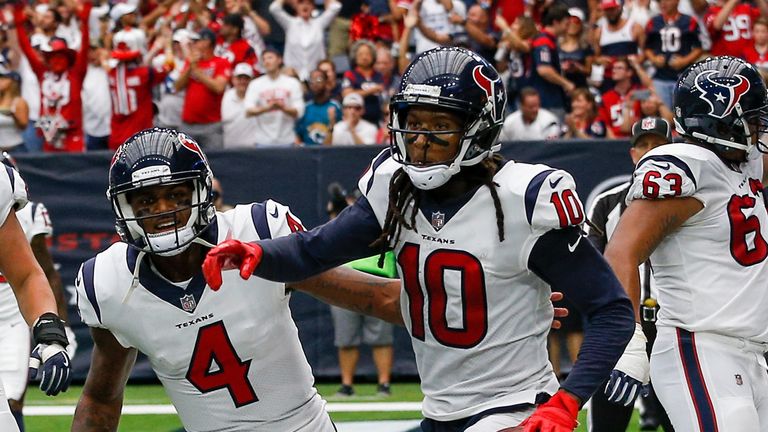 Follow all the excitement of the 2018 season by playing our new NFL Challenge game!
Each week you get to pick a passing offense, rushing attack, defense and special teams unit to pick up points for your team while, on top of that, you can select a quarterback, running back and wide receiver to score additional points. Register to play by clicking here.
Ahead of the start of the 2018 season, fantasy analyst for NFL.com Adam Rank has picked his team...
I am excited for the opportunity to play in the Sky Sports NFL Challenge. I felt like I hadn't embarrassed myself in "traditional" fantasy football. I'm excited for the chance to look like a fool again.
If you'll indulge me right now, I would like to share with you my picks for Week One. You may either use them as a guide, or probably better, fade my picks and find picks more worthwhile.
Detroit Lions passing offense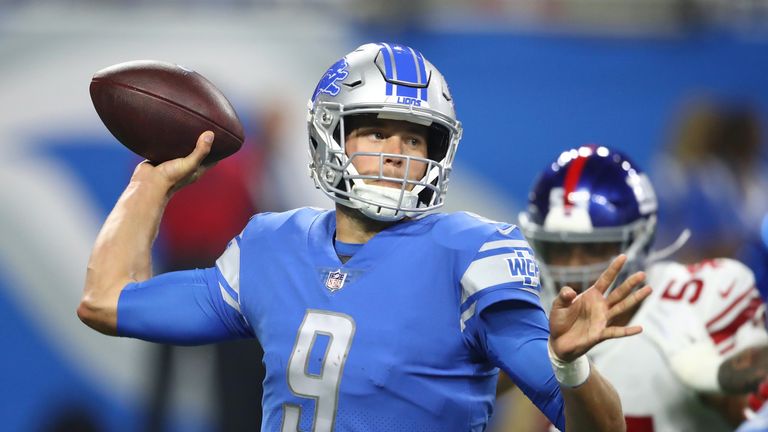 The Lions have had the worst rushing offense in the NFL since 2014. They have not had an individual player rush for more than 100 yards since Week 13, 2013 (Reggie Bush).
Matthew Stafford is amongst the best fantasy quarterbacks and ranked fourth last season with 565 pass attempts. He's got a great opportunity against the Jets, who allowed the most fantasy points to quarterbacks (per game) last year. So this seems like a reasonable selection, right?
Good. Because I feared I picked the Lions because famed Sky Sports presenter Laura Woods is an ardent supporter. (Lions and Arsenal, that's some combo.) But this is a good pick. No really!
Tennessee Titans rushing offense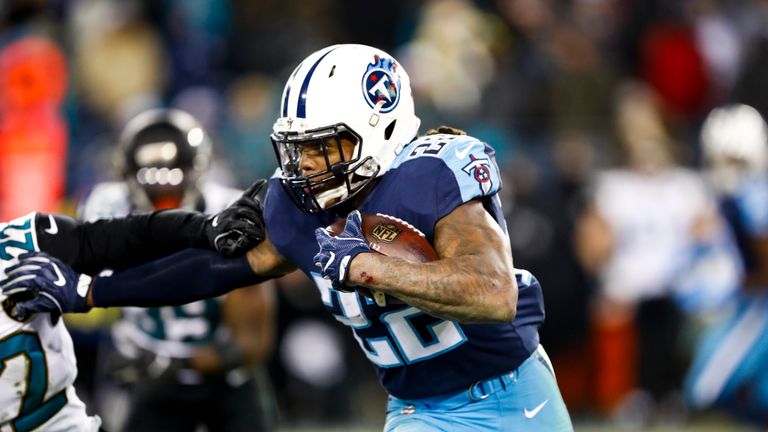 While "Exotic Smashmouth" might sound like an EDM DJ, it was actually the offense of former Titans coach Mike Mularkey. But there is new leadership in Tennessee, including offensive coordinator Matt LaFleur who came over from the Rams this offseason. But I'm still pretty comfortable with this pick.
New running back Dion Lewis led the NFL in yards per carry in 2017 (4.98) and led the league with 625 rushing yards over the last eight games of the year. Derrick Henry is also in the mix. Plus, I love to have a quarterback who will be able to add some rushing yards with his legs. Marcus Mariota struggled last season, but he's ditched the knee brace and should be ready to roll.
Baltimore Ravens defense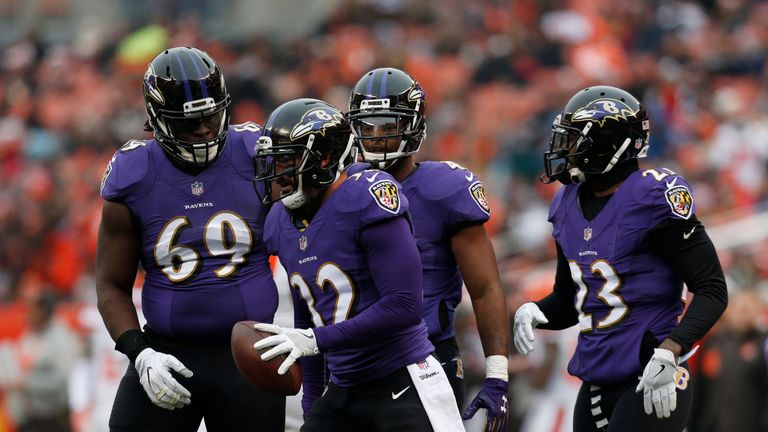 The Ravens defense is a solid pick just about any week. Put them up against Bills quarterback Nathan Peterman and it's hard to contain your excitement. Just in case you're trying to remember who Peterman is, he's the guy who threw 20 interceptions in one half against the LA Chargers last year. Now, obviously I jest, because it only seemed like 20 interceptions.
I'm actually looking forward to seeing Peterman play. On one hand, you have to admire his spirit. It's kind of like watching WWE jobber Heath Slater still determined to get back up off the mat, even after getting thrown around the ring by Braun Strowman. And I also admire the Bills insistence on going back to him. Like your friend who has a questionable hookup and tries to justify it by making him (or her) their significant other. It's fascinating.
Los Angeles Rams special teams and kicker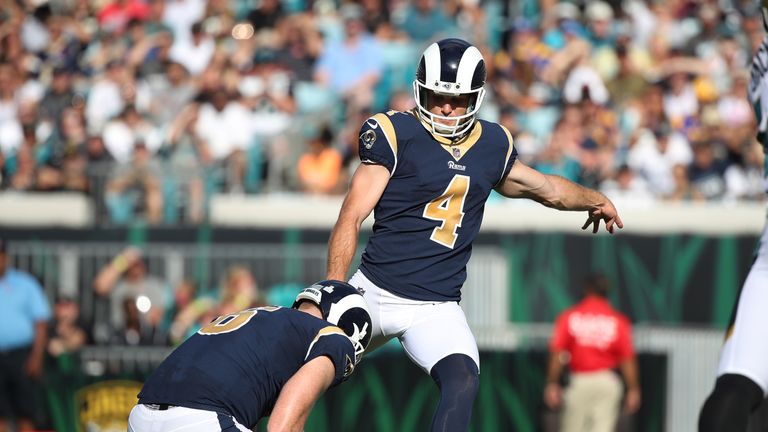 The Rams had three All-Pros on special teams last year. One of them, of course, was kicker Greg Zuerlein. Greg the Leg! A guy who is so good, I feel like The Arsenal could use him. (And I realize there is nothing more American than putting the "the" in front of a team name.)
He did have offseason surgery, even missed the final two games of the season. But I saw him down at Rams Park and he looked great.
Deshaun Watson, QB, Houston Texans (Captain)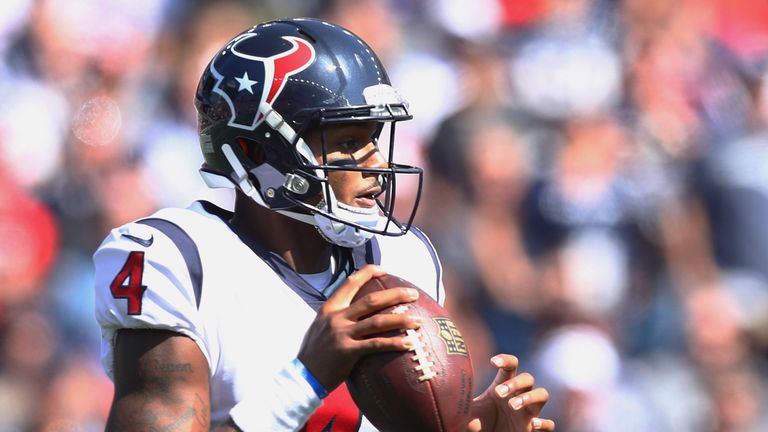 My initial instinct was to be a little cautious and look for players I might not use again, since you're limited to just five starts per player. But that's not as bad as it sounds. Let's say I start Watson five times, Aaron Rodgers five times this season and then mix in an amazing player like Mitch Trubisky for five. Fine. Drew Brees. But you get my point. Don't be afraid to make a huge splash. And that's exactly what Watson did against the Patriots last year.
The Texans had the top scoring offense by a mile last year when Watson played. Wait. By a meter. Fine. It was a wide margin. The Texans averaged 34.7 points when Watson played. Included in that stretch was a magnificent game against the Patriots. He threw two deep touchdowns (more than 20 air yards) in Week Three. The Patriots allowed just four other such deep passes all year. He was able to scramble around and avoid the Patriots pass rush, and I look for him to do it again.
Plus, the Patriots traditionally struggle in the first month of the season. And as a reminder, remember how Alex Smith torched the Patriots for 368 passing yards and four touchdowns to kick off the season last year.
And you know what, I'm making him my captain for double points, too.
Alvin Kamara, RB, New Orleans Saints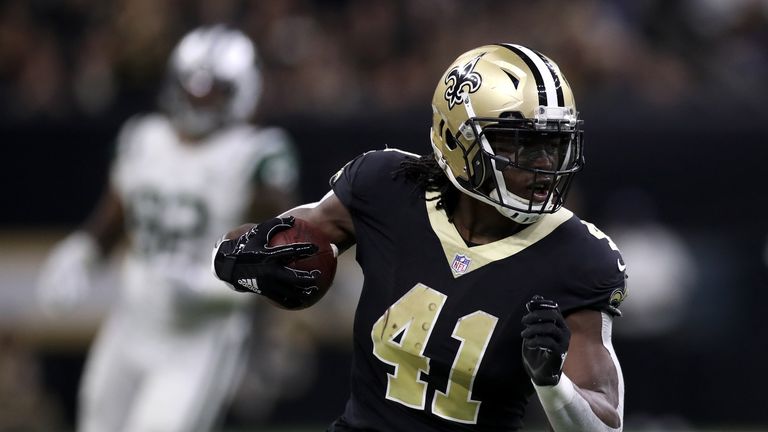 I was tempted to take Brees as my starting quarterback because it is a great matchup against the Buccaneers. But I'll roll with Alvin Kamara. He led the NFL in yard per carry (6.07) last year and was just the second rookie in NFL history with at least 700 rushing and 700 receiving yards in his debut season.
He also scored 13 touchdowns last year, and there are fears he could regress. But I'm not daunted, especially not with this matchup. The Bucs were among the leaders in points allowed to fantasy running backs.
DeAndre Hopkins, WR, Houston Texans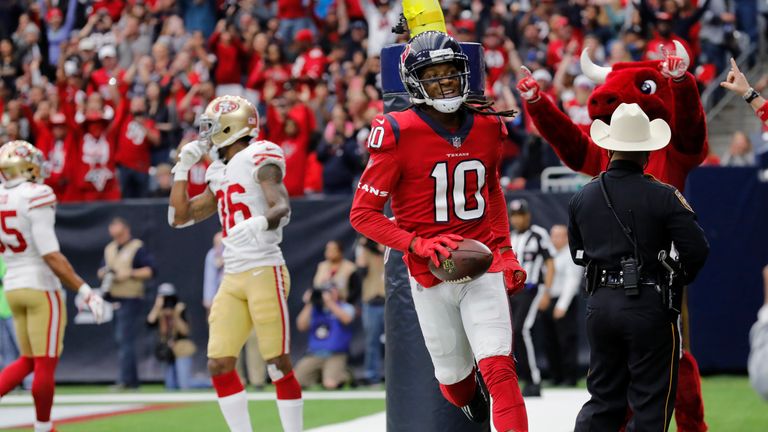 I'm just trying to get as many shares of that Texans offense this week, so I'm going to double-up with Hopkins. It's funny, though. As great as Watson played last year against the Patriots, Nuk (as we like to call him) was good. Not great. He had seven receptions for 76 yards.
But I'm not too concerned. (Obviously not, I'm playing him.) Hopkins had 13 receiving touchdowns last year, and seven of them came in the handful of games he had with Watson. Let's do this Texans stack. Not like we needed another reason to root against the Patriots, but that doesn't hurt, either.
Click here to register to play NFL Challenge.