Rams, Saints, Patriots, Chiefs: The NFL's final four offenses set to put on a show
Watch the Conference Championships live on Sky Sports USA (407) from 7pm on Sunday
By James Simpson
Last Updated: 19/01/19 6:12pm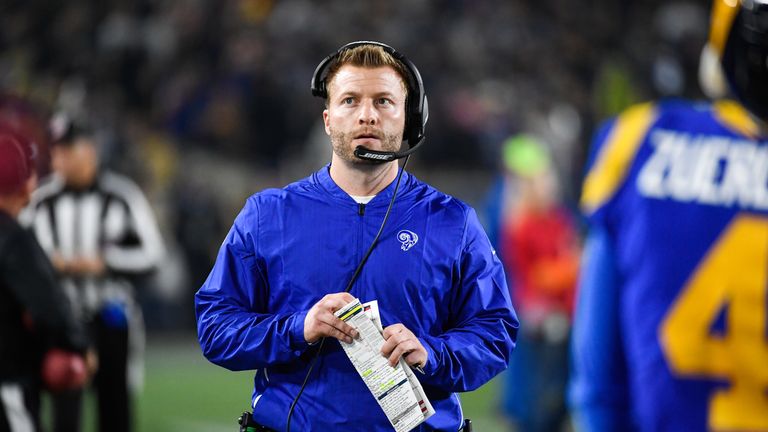 Does defense still win Championships?
Not anymore.
Last year's Super Bowl was special. The Philadelphia Eagles' victory over the New England Patriots broke records aplenty, including most yards by both teams combined (1,151), fewest punts (one) and most points scored by a losing team (33).
It was not an anomaly. Instead, it serves as a reminder that increasingly, offensive football wins in the NFL.
This weekend marks the first time in the Super Bowl era that the final four teams in the playoffs are the top four scoring offenses from the regular season.
The four teams average more points per game (31.8), total yards per game (404.8) and pass yards per game (277.5) than any other final four teams in the Super Bowl era. So, we've broken down what makes each of their offenses unique...
Los Angeles Rams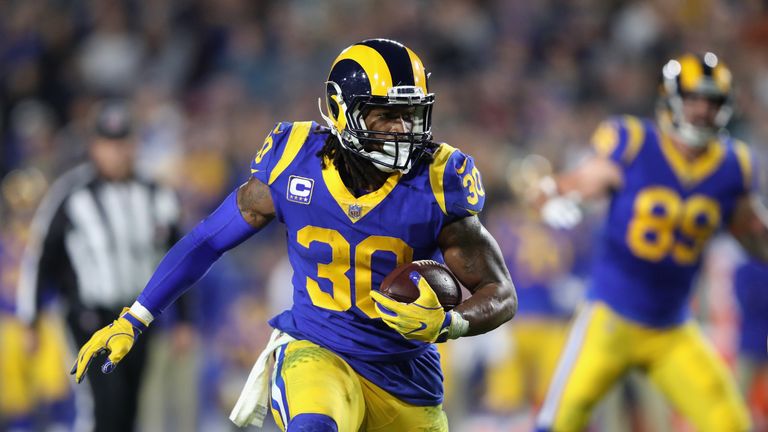 Los Angeles' miracle turnaround comes down to one man - head coach Sean McVay - and his outstanding ability to keep things simple. Hired as a 30-year-old before the start of last season, McVay became the youngest ever head coach, and promptly proved experience isn't everything.
He took the league's worst offense in 2016 (just 14 points per game) and made them the best a year later (29.9 PPG).
How did he do it? First, there was a revamp of the offensive line, which now consists of five top-quality starters including left tackle Andrew Whitworth who, at 37, is playing the best football of his career.
Watch how, on Todd Gurley's touchdown run against the Dallas Cowboys - on a day when the Rams set a franchise record with 273 rushing yards - Whitworth (No 77) gets a tremendous double block.
First, he takes care of the defensive lineman. Then, without hesitation, he moves up to the second level and leaves the safety with no chance to make a play on Gurley. Success starts up front.
McVay has worked wonders for Gurley and quarterback Jared Goff, who have thrived under him. Goff has averaged over 4,000 yards, 30 touchdowns, and a 100 passer rating during the coach's tenure, and Gurley has scored 40 touchdowns over the past two seasons, and added 2,500 rushing and 1,300 receiving yards.
But McVay also has a knack for making the seemingly complicated extremely simple. Looking at his offense, it might appear to be the workings of a mad scientist. They run 'packaged plays', allowing multiple players to make decisions after the ball has been snapped. Receivers move around pre-snap, and come flying across the formation on jet sweeps. But for the players, it is simple.
McVay will get his team to the line and talk to Goff about what he sees. Are there eight defenders in the box? Then we won't run into them. Are the safeties aligned deep? Let's throw the ball underneath. The Rams line up in 11 personnel (one running back, one tight end) almost exclusively, but there are so many options from that formation depending on what they see.
The Rams keep it simple, resulting in stunning success.
New Orleans Saints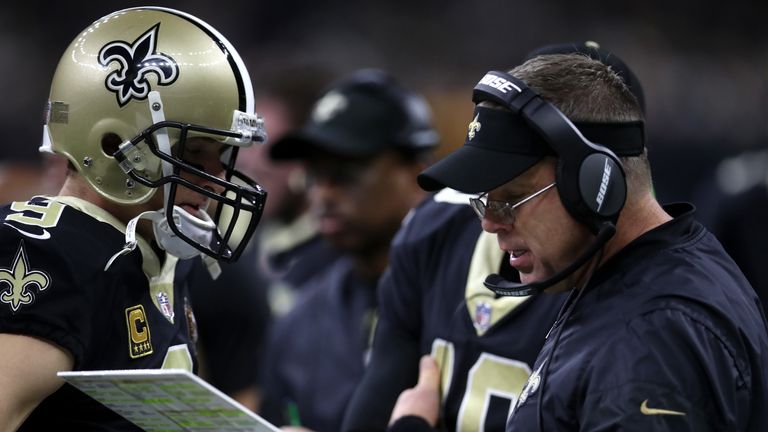 For the Saints, the keys are consistency and execution.
Behind head coach Sean Payton and quarterback Drew Brees, the Saints have occupied the first or second spot in total offensive yardage on six occasions in the last eight years. In terms of points scored, they have not dropped out of the top 10 since 2010.
This year, their offensive line has been fantastic - they allowed only 20 sacks this season, the second-fewest in the NFL, and the team's 26 rushing TDs ranked No 1.
Alongside that, Brees had the most efficient season of his entire career. His 74.4 percent completion percentage was a career-high - and an all-time single-season record - and his 115.7 QB rating bettered every other mark in his career too. And with a 62-yard bomb to Tre'Quan Smith in Week Five, Brees broke the all-time passing yards record with style. He will be a certain Hall of Famer and continues to play like it.
As a team, the Saints had just 16 giveaways all season and their success comes from outstanding players doing unstoppable things. Brees is pin-point with his passes, top receiver Michael Thomas is precise with his routes, running back Mark Ingram follows his blockers north and south, and do-it-all weapon Alvin Kamara is near impossible to defend with the ball in his hands or in open space.
The last time the Saints met the Rams - in Week Nine - New Orleans came out on top in the dome, and the execution from the big men up front was perfect. Brees dropped back 36 times, and was not taken down once. Rams defensive tackle Aaron Donald - who Payton called "the best defensive player today in football" - came into the game with 10 sacks in the five games prior, and managed 6.5 in the three after. But the Rams shut him down completely.
New Orleans also have a tendency to find your weak spot, and immediately take advantage. They will line up in funky formations with backup quarterback Taysom Hill to find an advantage. With interchangeable pieces, they cause confusion and chaos.
Then there is the gutsy and opportunistic play-calling. In their lone Super Bowl victory, trailing 10-6 at half-time, they surprised the Indianapolis Colts with an onside kick, turning the game on its head. Last week against Philadelphia, down 14-0 and needing a spark, they struck again, converting a fake punt with Hill deep in their own territory. Be prepared for anything from Payton.
Will the Saints be able to shut down Donald again on Sunday? And which Rams defensive player will have the target on his back?
New England Patriots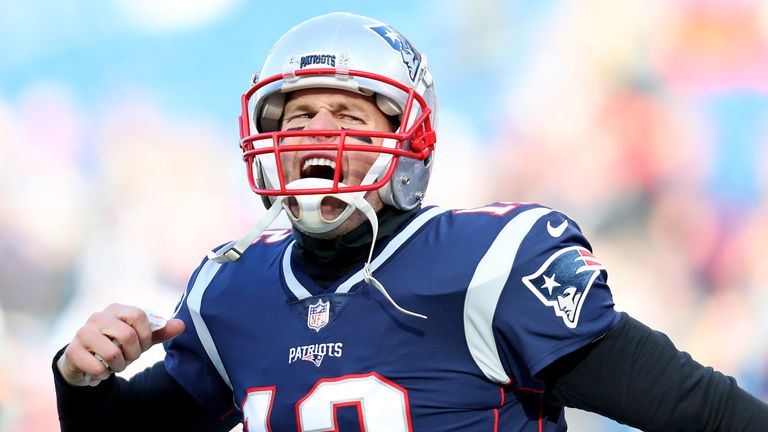 Since taking over in the 2001 season, Tom Brady has made the playoffs 16 times, the AFC Championship game 13 times (and the last eight in a row), the Super Bowl eight times, and has won five of them. How on earth have him and head coach Bill Belichick managed to keep it up?
Adaptability is the key for the Patriots, who have done whatever it takes over the years to beat their opponents. As opposed to being a one-dimensional, "do things our way" offense, they utilise matchups. Any given player, on any given week, could be the go-to guy.
We need to look no further than last week for an example of this. Having achieved great success against the Baltimore Ravens by utilising extra defensive backs to slow down Lamar Jackson and company, the Los Angeles Chargers decided to stick to that game plan against the Patriots.
Naturally, New England took advantage. During their first-half domination, they regularly lined up in 21 personnel (two running backs and one tight end) with fullback James Develin and tight end Rob Gronkowski in to block. Against these big bodies, the smaller defensive players for LA had no chance.
Watch how - on all three of Sony Michel's touchdowns - the Patriots run him right behind Develin (No 46) and Gronkowski (87) who take care of business and pave the way for their rookie runner.
Last postseason, there were big performances from Dion Lewis, Brandin Cooks and Danny Amendola. All three are no longer with the team, but it just leaves room for someone else to step right in. It's the 'Patriot Way'.
In the divisional round this year, Michel had a hat-trick of touchdowns, James White had a record-tying 15 catches, and Julian Edelman racked up 151 yards. It doesn't matter where you come from: if you can line up and win your matchup, the Pats will take advantage.
What is in store on Sunday? Tom Brady and Bill Belichick will certainly have something up their sleeve.
Kansas City Chiefs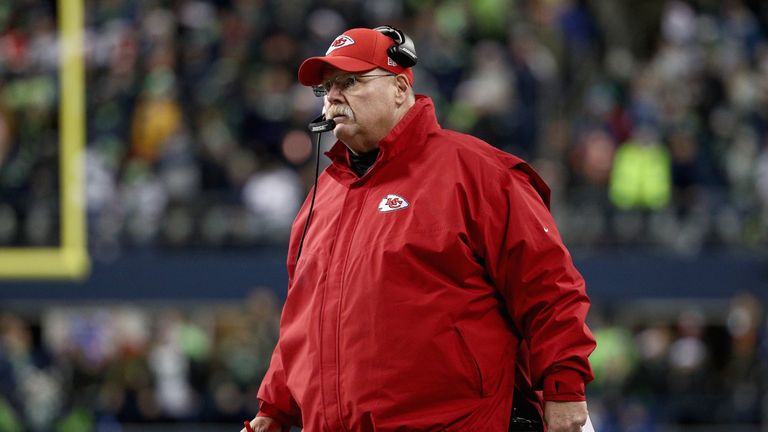 This year's NFL MVP is surely Kansas City's second-year star quarterback Patrick Mahomes.
For any player to accomplish a 5,000-yard, 50-touchdown season in just their first year as a full-time starter is simply insane, and he did it with style. He is only the second player ever to reach such single-season marks, after Peyton Manning.
There was the left-handed pass. The no-look pass. The fourth down sling across his body to Tyreek Hill with the game on the line against Baltimore. Even last week, he managed to 'curl' a ball around two defenders to fit in a pass to Travis Kelce.
His 50th touchdown, aptly, came on an 89-yard deep strike - Demarcus Robinson the recipient - in the second half of a Week 17 win over Oakland, after he'd kicked off the day with a 67-yarder to Hill in the first.
For a long time, Aaron Rodgers has been undoubtedly the answer to: "who has the best arm in the NFL?" Now, there is a debate. And even though the Patriots might be the masters of scheming, individual players can overcome it with their brilliance.
However, plenty of credit should also go to head coach Andy Reid, and the supporting cast around the young superstar QB. Reid has the most ever wins by an NFL coach who hasn't won a Super Bowl, taking his teams - Philadelphia and Kansas City - to the playoffs in 14 of 20 seasons in charge. The Chiefs have reached the postseason in five of six, but for Reid to be held in the highest regard, he needs to secure a Lombardi Trophy.
He's been to the Super Bowl before, with a trio of Donovan McNabb, Brian Westbrook and Terrell Owens at his disposal, but was beaten by, yes, the Patriots in 2005.
This time Reid has Mahomes, Hill and outstanding tight end Travis Kelce as his offensive weapons. Hill is the speedy, deep threat perfect for Mahomes, while Kelce continues to wow - seven grabs for 108 yards last week, following on from a third-straight season of over 80 catches and 1,000 yards.
The Chiefs scored the most points (35.3 per game) in a truly sensational season of offensive football. Can their superstars be stopped on Sunday?
Follow the 2018-19 NFL playoffs with us on Sky Sports and through skysports.com/NFL, also our app for mobile devices and iPad, or follow our Twitter account @SkySportsNFL.