New England Patriots vs Los Angeles Rams: Who are the Super Bowl finalists?
By James Simpson
Last Updated: 24/01/19 5:33pm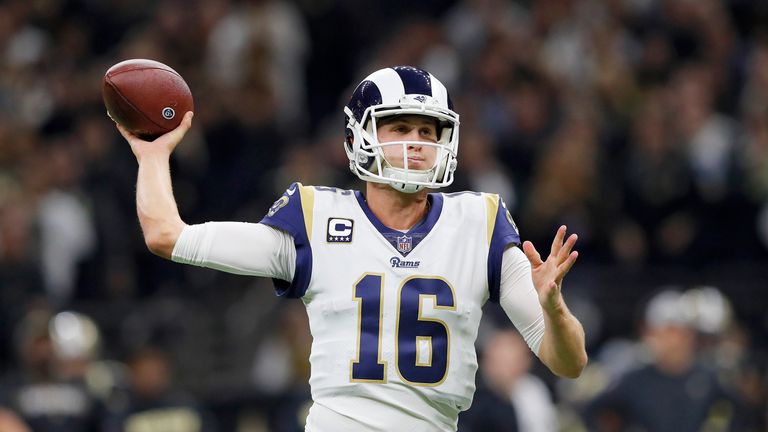 What do you need to know about the New England Patriots and Los Angeles Rams, the two teams competing in this year's Super Bowl?
Championship weekend was a wild one, as - for the first time in NFL history - both games went to overtime. The Rams came through with a dramatic win in New Orleans and the Patriots edged out the Chiefs in another classic, meaning Super Bowl LIII will feature a match up of two great franchises.
Here, we break down both of the Super Bowl finalists...
New England Patriots
Super Bowl History
The current era of success for the New England Patriots is arguably the greatest of all time and the level of sustained supremacy may never be matched. Since 2001 - the first season with Bill Belichick and Tom Brady leading the way - the Patriots have won their division 16 times, made the AFC Championship game 13 times, and now reached the Super Bowl nine times. With a victory in Atlanta, they will have a record-tying sixth Vince Lombardi Trophy.
Quarterback - Tom Brady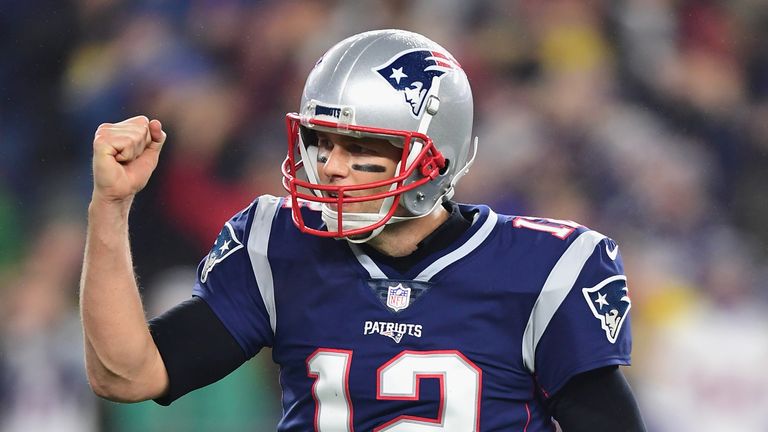 Quite simply, the greatest of all time. Brady is at or near the top of the lists in every important statistical category for quarterbacks in the regular season: all-time passing yards (fourth), passing touchdowns (third), passer rating (fourth) and top for basically everything in the postseason: passing yards, completions, touchdowns and wins (by far).
Time and time again, he comes up with astonishing drives on the biggest stages. He truly is a joy to watch.
Coach - Bill Belichick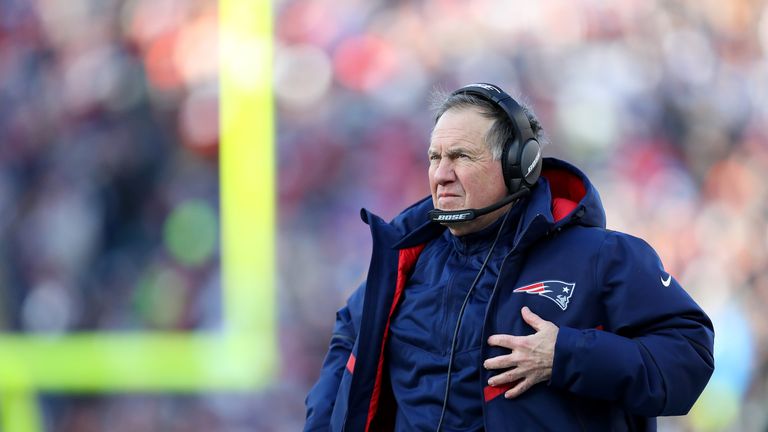 Belichick simply always finds a way to get it done. He is the longest-tenured head coach in the league right now, and his success has been spectacular. After losing in last year's Super Bowl, many people thought the Patriots' dynasty might be over. When they started 1-2, the chatter continued. After another pair of defeats in December, they were all but written off for this season's Super Bowl. But it is the Patriots!
Although everyone loves to hate New England, what they have done in the past couple of decades should be admired. Whatever the situation, whatever the stage, whoever the opponent, Belichick will exploit their weaknesses and shut down their strengths.
Offense
Against the Kansas City Chiefs, the Patriots ran 94 offensive plays. Only one went for negative yardage, and that was a Tom Brady kneel-down at the end of regulation. That tells you how good this team is at execution and the "little things". Similarly, they ran 94 plays compared to KC's 47 and dominated time of possession. They are outstanding at football's fundamentals.
Brady is surrounded by a trio of great runners in Sony Michel, James White and Rex Burkhead, but don't overlook the brilliance of blocking fullback James Develin. On the outside, Julian Edelman always comes up big in the most important moments, Rob Gronkowski will be a Hall of Fame tight end, and receivers Chris Hogan and Phillip Dorsett are capable of being game-changers. They are so tough to defend.
Defense
The Patriots don't officially have a defensive coordinator, but linebackers coach Brian Flores calls the plays, and has been excellent at it. He is largely rumoured to be leaving to take over the Miami Dolphins after the conclusion of this season.
As usual under Belichick, New England don't have a team full of Pro Bowl players and superstars. Instead, they have solid players who "do their jobs". Their secondary might not get enough credit - cornerback Stephon Gilmore is playing at an extremely high level.
Los Angeles Rams
Super Bowl History
The Rams - who have flipped between Los Angeles and St Louis, most recently returning to California in 2016 - have one Super Bowl win and two losses. Coincidentally, their last appearance will have come 17 years to the day of Super Bowl LIII, and was a 20-17 loss to New England, in Super Bowl XXXVI.
Quarterback - Jared Goff
After the Rams traded up to take Goff with the No 1 overall pick in the 2016 NFL Draft, his first season didn't turn out quite as planned. He had an 0-7 record as a rookie, threw just five touchdowns to seven interceptions, and ended the year with a 63.6 passer rating. Since the arrival of head coach Sean McVay, though, Goff has been fantastic.
In two seasons under McVay, Goff has averaged over 4,000 yards, 30 touchdowns, and a 100 passer rating. He certainly has the arm talent, and has grown in confidence and composure a lot over his time under his super-smart head coach. With the win on Sunday, Goff became the youngest QB to ever win an NFC Championship game.
Coach - Sean McVay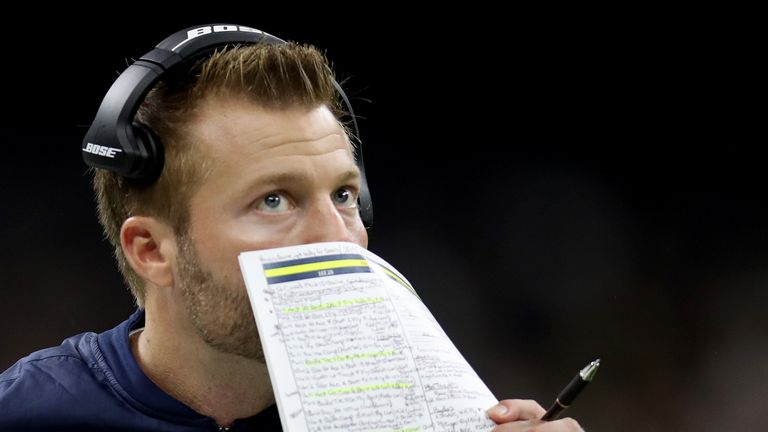 Speaking of youth, at 32, McVay will be the youngest head coach in the Super Bowl when he takes to the sideline in Atlanta. He was the youngest ever head coach hire in 2017, but he's proved experience isn't everything.
In two seasons, he has taken his No 1 overall pick to an elite level, drastically changed and improved the offensive line, helped running back Todd Gurley manage 40 touchdowns, and come first and second in points per game in either year. There's plenty to be excited about for Rams fans!
Offense
McVay keeps things simple, often using the same set of players on the field, but has a fantastic way of fooling defenses with his calls. Goff has thrived from having McVay communicate to him after the offense is lined up, and the coach - like Belichick - is able to find a weakness.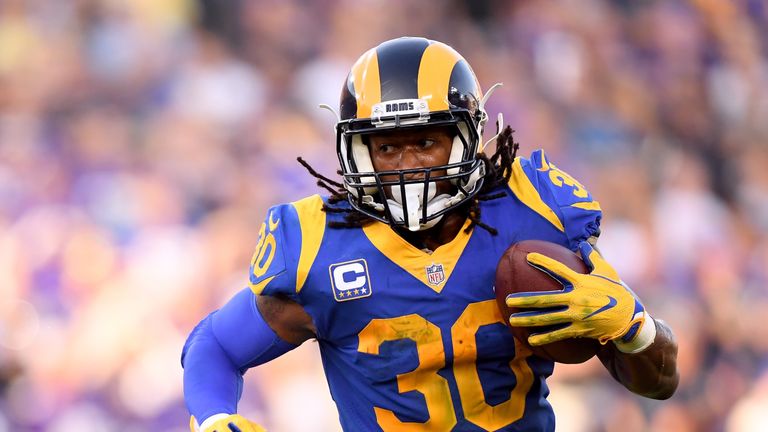 It helps having an outstanding offensive line, led by 37-year-old Andrew Whitworth, and Gurley, who was named the NFL's Offensive Player of the Year last season. This year, however, after Gurley suffered a late-season injury, a pleasant surprise has been backup C.J. Anderson. In four games as a Ram, he has 466 yards and four touchdowns, and has kept Gurley off the field. Receivers Brandin Cooks and Robert Woods are special in their own right.
Defense
Of the two teams, Los Angeles certainly have the bigger names on D. Last season's Defensive Player of the Year - and four-time first-team All-Pro - Aaron Donald is the most destructive defensive tackle we have seen in years. It's astounding for a DT to rack up the amount of sacks he has, and he led the league with 20.5. He can ruin an opposing offense.
Next to Donald, Ndamukong Suh is more than capable of beating his opponent, as is pass-rusher Dante Fowler Jr, who has excelled since joining from the Jaguars. In the secondary, the Rams have ball-hawks, including trash-talking, confident cornerbacks Aqib Talib and Marcus Peters.