Antonio Brown accused of rape in civil lawsuit
"We are taking it very seriously all the way through the organisation," says Patriots coach Bill Belichick
Last Updated: 11/09/19 11:36pm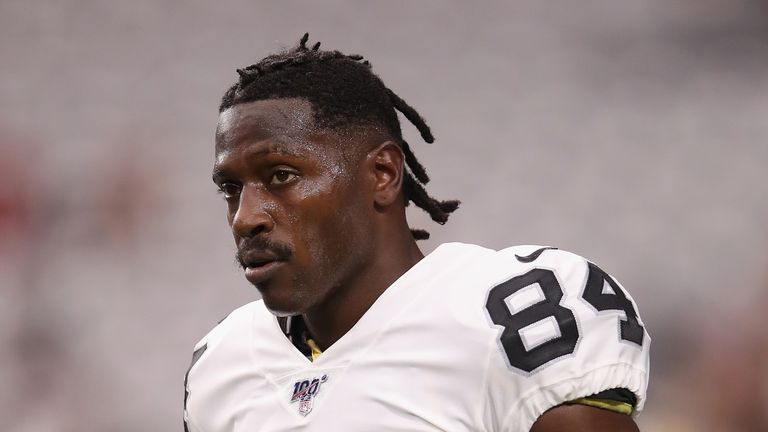 New England Patriots wide receiver Antonio Brown has denied rape accusations, after a civil lawsuit was filed by the player's former personal trainer in Florida.
Brown is accused of three separate sexual offences by Britney Taylor, who decided to forgo her right to anonymity, between 2017 and 2018.
The 31-year-old denied all three alleged offences, which are said to have happened between 2017 and 2018, through a statement issued by his lawyer.
The seven-time Pro Bowler claims any sexual activity between the two was entirely consensual and believes the lawsuit is financially motivated.
The lawsuit seeks "compensatory and punitive damages", stating that Ms Taylor, 28, "has suffered near-daily panic attacks and suicidal ideations" since the alleged incidents.
Darren Heitner, a lawyer representing Brown, told The Associated Press his client plans to countersue.
Super Bowl champions New England confirmed the NFL will be investigating the incident.
"We take these allegations very seriously," the Patriots' statement said of the lawsuit against Brown.
"Under no circumstance does this organisation condone sexual violence or assault. The league has informed us that they will be investigating. We will have no further comment while that investigation takes place."
Patriots coach Bill Belichick confirmed Brown is expected to practice with the team for the first time on Wednesday afternoon.
Belichick declined to comment on additional questions about Brown, including his status for Sunday's game at Miami.
"On Antonio's situation, both Antonio and his representatives have made statements so I am not going to be expanding on any of those," Belichick said.
"We have looked into the situation. We are taking it very seriously all the way through the organisation."
Brown was originally traded from Pittsburgh to Oakland in the offseason. But a bizarre foot injury, fights with the NFL over his helmet, skipping practices, multiple fines, a run-in with Raiders general manager Mike Mayock and his social media posts ultimately led to the decision to release him.
He agreed to a deal with the defending Super Bowl champions hours after the Raiders granted his request and let him go.