NFL franchise Washington to drop 'Redskins' name and are working to develop new one
Washington: "Today, we are announcing we will be retiring the Redskins name and logo upon completion of this review"
Last Updated: 14/07/20 7:47am
NFL side Washington have officially dropped their 'Redskins' name and logo, prompted by pressure from the Native American community and team sponsors.
The franchise launched a review of the team name after multiple sponsors wrote to owner Daniel Snyder threatening to remove signing and end financial agreements, including the stadium naming rights deal with FedEx.
And a statement from the franchise on Monday read: "On July 3rd, we announced the commencement of a thorough review of the team's name. That review has begun in earnest.
"As part of this process, we want to keep our sponsors, fans and community apprised of our thinking as we go forward.
"Today, we are announcing we will be retiring the Redskins name and logo upon completion of this review.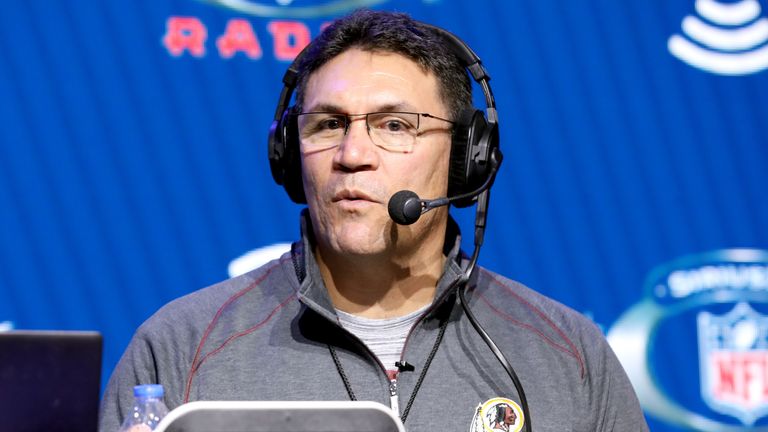 "Dan Snyder and Coach Rivera are working closely to develop a new name and design approach that will enhance the standing of our proud, tradition rich franchise and inspire our sponsors, fans and community for the next 100 years."
The franchise began using the Redskins nickname in 1933, when it was based in Boston and previously called the Braves. Team owner George Preston Marshall moved the club to Washington in 1937.
Team owner Snyder stated in the past that he would not change the name under any circumstances but has now softened his stance.
The team did not provide a date for when the ongoing review would be completed.
Washington quarterback Dwayne Haskins tweeted: "As a kid who grew up in the dmv (District of Columbia, Maryland, Virginia) it'll always be #HTTR (Hail to the Redskins) but looking forward to the future."
Three potential nicknames gaining traction
Sky Sports News reporter Richard Graves says there are three nicknames which have attracted particular popularity among fans as a decision is now to be made on what will follow the franchise's former name and logo.
"This is a big moment in the history of the Washington organisation. It comes around a week and a half after we learned of a letter being penned by investment firms and signed by their shareholders before being sent to some of the NFL's biggest commercial partners, asking them to distance themselves from the team unless they can bring pressure for them to drop their nickname.
"FedEx, one of those partners, became the first to make their position clear. They did request that Washington drop their nickname and shortly after that we learned from majority shareholder Dan Snyder that Washington were going to undertake a thorough review.
"Ten days later and now it's official. Both the nickname and the logo are to be retired - the question remains, what will come in their place?
"There are three nicknames which seem to be gaining traction. The Washington Warriors, the Washington RedWolves certainly seems to be popular with the fans, but the most intriguing one possibly would be the Washington RedTails - and that would be a nod of the head to African American fighter pilots who fought for their country in World War Two and politically it would be a very shrewd move."
Moss: Choosing new name will take time
Former Washington Pro-Bowler Santana Moss says it's going to be a difficult task for the franchise to choose the right name but they must decide on one which the fans will feel willing to get behind.
Moss said: "You have to kind of mesh with everyone else, regardless of what name you come up with. It has to be something that's catchy, it has to be something that the fans will be eager to say this is something that I want to stand behind.
"Then you have to know that that's going to be what we edge into our new legacy, what we want to be represented and called - and that's why I think the process is going to take a little longer than what people might want.
"I think the best thing they can do is do what they're doing in retiring the Redskins name and hopefully use this whole week to figure out what they want to do about their new name."