Fouzia Madhouni: NFL Flag ambassador, cancer survivor and academy coach in Morocco talks to Her Huddle
Fouzia Madhouni on her role as a coach at her football academy in Morocco: "I know that being a coaching mentor for a generation is going to impact their whole lifestyle"; Her Huddle celebrates the stories of women working in and around the NFL - available as a podcast below
Last Updated: 11/01/23 7:03pm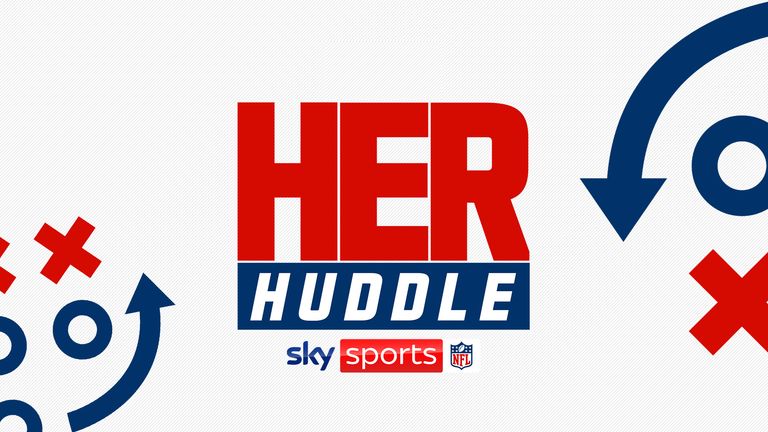 On the latest Her Huddle podcast, Hannah Wilkes and Phoebe Schecter spoke with Fouzia Madhouni, a truly inspirational figure who is a global ambassador for NFL Flag, a cancer survivor and an entrepreneur who set up a football academy for girls in her home country of Morocco.
Madhouni also spent time in the US at the NFL's New York office this season, as well as with the Green Bay Packers.
Detailing how her love for the NFL started, Madhouni told Her Huddle - the latest episode available below - about the challenges she faced when growing up and how they formed the inspiration for her coaching academy.
"I came from the wrong social class," she said. "I couldn't afford much to play American Football, so I was always put on the sideline.
"I wasn't the sort of person who could ask my mum for money and she'd give it to me. I was working hard, washing dishes, in order to play football. That's why I'm trying to give access to people in order to make it easier for them to play.
"They made it clear [in my youth] that the sport was only for men. I didn't like that, so then I founded the Jaguars team.
"We were the first team to play a game in Morocco against men. We didn't win that game, but at least we played - we felt so happy about it."
Madhouni's ambitions were almost derailed when diagnosed with cancer, but her determination helped not only in her recovery but also to see the project through.
"It was really hard," she said. "Especially when you're sick and everybody thinks you're not going to make it, and you are talking about big ideas.
"I was telling my family that I would be opening an academy when I was sick. They were all trying to comfort me somehow.
"My mum cries every time when I say that, because they all thought I wasn't going to make it."
And in terms of the work the academy does, as well as her ambitions for the future, Madhouni added: "It's about the values of football they can gain from the game.
"We are trying to open doors for them, not only in trying to help them play the game and have fun, but also in improving their language skills - English, French - as well as their athletic skills.
"They opened my eyes on a lot of things. I know that being a coaching mentor for a generation is going to impact their whole lifestyle.
"I want to be there for them, help them and keep breaking barriers and making history in Morocco and Africa."
Madhouni signed off finally by saying: "One day I'm going to be a professional coach somehow." You certainly wouldn't put it past her.
Her Huddle is a new show to celebrate the stories of women working in and around the NFL. Subscribe now on: Apple Podcasts | Spotify | Spreaker