Justin Herbert and Los Angeles Chargers face familiar pain with time running out for Brandon Staley
The pressure is mounting on Los Angeles Chargers head coach Brandon Staley after a sucker-punch defeat to the Green Bay Packers; Week 12 kicks off with a Thanksgiving triple-header this Thursday followed by the first ever Black Friday game, live on Sky Sports NFL.
Last Updated: 20/11/23 4:15pm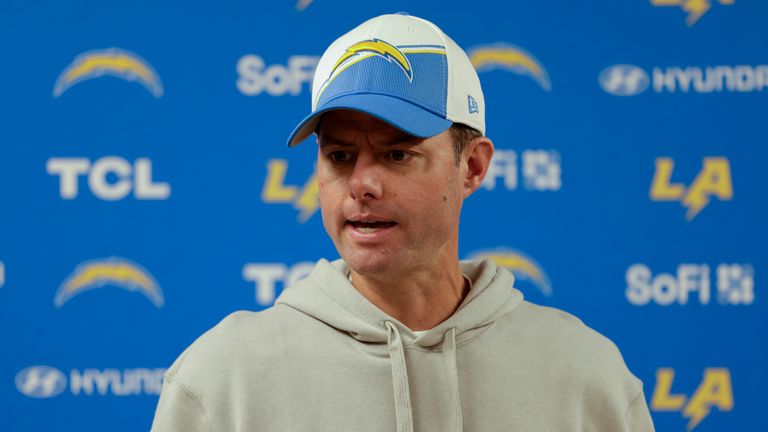 Justin Herbert's time is being wasted and Brandon Staley's time is almost up as the Los Angeles Chargers swallow another painfully familiar dose of one-score torment. The NFL's festive period has begun, and so too the countdown for some of the league's most under-pressure figures.
The Chargers could be likened to the friend that turns up at five-a-side sporting Copa Mundials, with a hairband on, sock tape hugging their next-to-non-existent shin-pads and black Nike gloves to top off the ensemble. The optics point to a gifted technician, until they sky the five-yard gimme teed up by the Justin Herbert of the team following a marauding run during which he has slalomed beyond three defenders.
For the fifth time this season they came out second-best in a one-score game as they were beaten 23-20 by the Green Bay Packers, another blunder-stricken performance dropping them to 4-6 and shoving the playoffs further out of their flailing reach. Herbert has now suffered a quarterback-high 22 one-score defeats since entering the league in 2020 as the sixth overall pick.
Game-on-the-line mistakes were made, Staley was spikey in his press conference and even the most mellow Herbert could hide his frustration no longer as he slammed the ball into the ground after a delay of game penalty with his team trailing in the fourth quarter.
The Chargers aced the task of finding their franchise quarterback to succeed Philip Rivers while others around the league have hopped aimlessly between make-shift solutions and ill-guided decisions. Four seasons later, their record with Herbert is a measly 29-30 and on course for consisting of just one 10-win campaign.
Quentin Johnston had the chance to be the hero on the final drive of the game when he bought himself two strides of separation on a sideline fade, Herbert rotating his hips and gliding a cross-field dagger into the path of his teammate, only for the rookie wide receiver to let it slip through his fingers. He would have been home free for the touchdown to win it.
Keenan Allen had been sucked into his team's error-prone ways earlier in the game when he dropped an easy catch at the goalline, while Austin Ekeler was guilty of fumbling at the Packers' two-yard line. And having left Green Bay staring at third-and-20 while trailing 20-16 with four minutes to play, the Chargers gifted the hosts a new set of downs when Asante Samuel Jr was flagged for pass interference on Dontayvion Wicks, who moments later bounced off two weak tackle attempts to race away for 35 yards and help tee up Romeo Doubs' 24-yard game-winning touchdown. Chargers epitome.
"Everybody is squeezing the club too tight," said former NFL head coach Jason Garrett on Sunday Night Football later in the evening.
Staley will be the one to pay the price. He had moved next door from the Rams to the Chargers in 2021 shimmering as one of the league's most eloquent and innovative defensive minds, branching from the Vic Fangio tree accredited to the modern NFL's most prominent scheme. Staley was all about inviting the run with light boxes, dropping two high safeties and rotating coverages post-snap as a means to fogging the field read of the NFL's top young quarterbacks while challenging them to rein in their aggression in favour of patient, slow-burning drives. Of course, the results would be different without an Aaron Donald with whom to clobber up front.
It will be his famed defensive DNA and its ensuing downfall with one of the league's most expensive units that goes down as the story of Staley's time in charge, punctuated by the one-score margins they could not lean their way and a blown 27-point lead against the Jacksonville Jaguars in last season's playoffs that continues to linger with a bitter after-taste. Even if it wasn't the defining hindrance on Sunday.
Since Staley's arrival the Chargers defense ranks 28th in EPA/play (expected points added) having allowed a third-most points per game in that time. They sit 31st in total yards allowed in 2023, last against the pass, 25th in scoring and bottom 10 in pressure rate. They have also now shipped 957 yards of offense over the last two games following last week's 41-38 loss to the Detroit Lions.
Jordan Love recorded his first 300-yard passing game in the NFL, and the Packers put up more than 20 points for just the third time this season. With Samuel's PI call, the Chargers have now allowed teams to convert on third-and-15-plus on six occasions this season. To add to matters, star pass rusher Joey Bosa was carted off in tears with a foot injury.
Any cracks that might have already been there appeared to have widened in his post-game press conference when Staley passionately defended his play-calling duties.
"I have full confidence in our way of playing," said Staley. "Full confidence in myself as the play-caller and the way that we teach and the way that we scheme. Full confidence in that. We've got to bring this group together and do it consistently and that's where it's at. You can stop asking that question. I'm going to be calling the defenses, so we're clear. So you don't have to ask that again."
Staley had not taken kindly to a question earlier this season over whether the memory of their post-season collapse was continuing to have a lasting impact on the team. The, perhaps unjust, reality being that one or two icy moments with the media will ultimately outweigh what had been refreshing outlooks on fourth-down analytics and aggression, and the gravity of an efficient running game that touted an intriguing mind to lead the Herbert era early on his tenure.
But the Patrick Mahomes effect is real. Teams fortunate enough to find their stalwart quarterbacks are terrified of squandering some of their finest years or setting back their development or falling behind the pack amid a time of AFC disparity.
With Herbert comes a weekly supply of the impossible, that must no longer go unrewarded. He crams passes into the tightest of slits and torpedoes sturdy coverage by way of supreme accuracy and the most venomous zip of any quarterback in the league (see his touchdown pass to Allen on Sunday). Hash-to-field-side cross-body heaves are customary to an arm that need not obey the high school equivalent of 'don't pass across your own penalty area', as are the tilt-and-flick daggers to find open men from skewed off-platform launch points and the back-foot dunks to defy pocket pressure. Herbert should be going toe to toe with Josh Allen, Mahomes, Joe Burrow, Lamar Jackson, Tua Tagovailoa and Trevor Lawrence every postseason; his untapped upside will force the Chargers' hand with Staley in January.
Decisions are to be made, and decisions should have already been made, across the league. The New York Jets neglected to decide that moving forward with Zach Wilson in the absence of Aaron Rodgers would waste an entire season of their Championship-calibre defense. The Pittsburgh Steelers must decide that an offense led by Kenny Pickett, who has thrown two touchdowns passes since the start of October, is holding back an upper-tier defense led by Hall of Fame-bound pass rusher TJ Watt.
David Tepper, consumed by the fear or quarterback purgatory since Cam Newton, must decide how patient he will allow himself to be with Frank Reich and Bryce Young amid uneasy murmurs of back-room division over the No 1 pick in Carolina. The new owners of the Washington Commanders must decide whether they wish to start afresh with a new head coach to replace Ron Rivera, whose team are 4-7 and just shipped three touchdowns to still-lives-with-his-parents New York Giants third-string quarterback Tommy DeVito.
Staley is a bright and brilliant footballing mind whose eye for defensive intricacies has made for to-be-admired clinics, but far too infrequently with the Chargers. Herbert's talent dictates soaring expectations, and Staley looks like he will take the fall for the splintered progress.