NFL Challenge: Fantasy analyst Adam Rank's Week Four picks
Sticking with the Kansas City Chiefs and the NFC South...
Last Updated: 26/09/18 1:50pm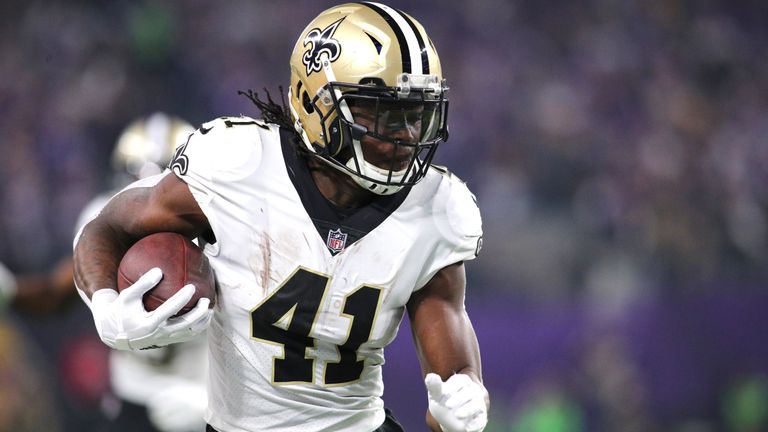 Fantasy analyst expert Adam Rank takes on the NFL Challenge, picking his team for Week Four...
Each week you get to pick a passing offense, rushing attack, defense and special teams unit to pick up points for your team while, on top of that, you can select a quarterback, running back and wide receiver to score additional points. Register to play by clicking here.
Adam Rank: Week Three points
| | |
| --- | --- |
| Total points | 132 |
| Chiefs passing offense | 30 |
| Patriots rushing offense | 8 |
| Bears defense | 15 |
| Packers special teams | 5 |
| Patrick Mahomes, QB (Captain) | 60 |
| Jordan Howard, RB | 14 |
| Tyreek Hill, WR | 10 |
Congratulations to all of you who started the Buffalo Bills offense over the past weekend. Seriously, the Minnesota Vikings mailed it in harder than Nicolas Cage in "The Wicker Man" and I say this as a huge Cagefile.
As a Chicago Bears fan, I should have known better than to trust the Vikings in any sense. But it wasn't a terrible overall week thanks to the Kansas City Chiefs.
In my lineup for Week Four...
Atlanta Falcons passing offense
Matt Ryan and the Falcons racked up 359 passing yards, compared to just 48 rushing yards. Most of that could be considered game-script. But with Devonta Freeman battling an injury, it's something that could linger for the coming weeks so I would want to cash in as much as possible. The Falcons have increased their output in every game this season.
A big reason why could be rookie Calvin Ridley. One of the top wideouts coming into the draft last year, he's made a huge impact as a burner who will help stretch the field for the Falcons. Ryan's five touchdown passes came when targeting his receivers outside the numbers. No quarterback has thrown more than three touchdowns outside the numbers in a single game since 2016. I won't expect this every week, but I'm confident in the Falcons passing attack, especially at home against the Cincinnati Bengals.
Los Angeles Chargers rushing offense
The cool thing about the Chargers in this format, as compared to traditional fantasy, is that you don't have to make the difficult decision to start Melvin Gordon or Austin Ekeler. You get both of them. The NFL running back version of a shot and a beer.
Gordon had a season-high 80 rushing yards against the Rams in Week Three. He also scored a touchdown. Only Todd Gurley has scored more scrimmage touchdowns this season. Ekeler didn't do much against his Los Angeles rivals, but I'm willing to give that up to the matchup, as the Rams are one of the most complete teams in the league currently. The matchup against the 49ers this week should be wonderful. Kareem Hunt scored a pair of touchdowns against this defense in Week Three.
Chicago Bears defense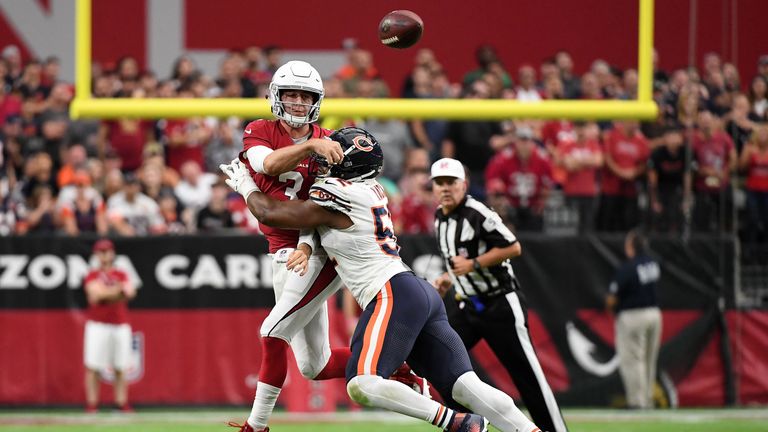 I'm rolling with the Bears for another week. Khalil Mack and the Bears made life miserable for the Arizona Cardinals in Week Three. And it's funny, it was a slow start as they allowed two early touchdowns to Sam Bradford(!) before settling in and ending his time as an NFL starter. Rookie Josh Rosen was summoned late in the fourth quarter and it appears the torched has been passed in Arizona.
The Tampa Bay Buccaneers have played well, but the Pittsburgh Steelers questionable defense raised doubts about the longevity of Fitzmagic on Monday night (I know, Tuesday morning). The Bears should deliver the final verdict this week.
Kansas City Chiefs special teams
I know I'm loading up my Chiefs now while they are still hot. Don't feel like you need to save these hot teams for the future. They are good now, so use them. It's like having a nice sweater. If the weather calls for it, then use it, you don't know when the chance will happen again. Seriously, I live in California. I have sweaters I haven't worn in years because the weather rarely changes. So if it's ever 17 degrees or below, I just go for it. And that's right, I was talking Celsius. Even though I'm American, I realize this measure of weather makes much more sense.
Patrick Mahomes, QB, Kansas City Chiefs (Captain)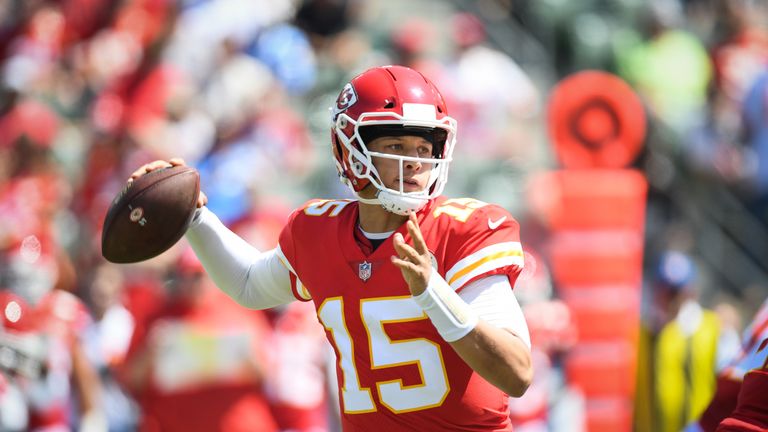 I mean, how can you not? You're on a hot streak, you have to roll with it. Remember that time you were at the blackjack table and you decided to walk away because you were winning too much? No, of course not, because you would never do that. Again, I know, maybe we should spread these out. But if somebody gives you a bag of crisps (I'm really trying here, guys), you eat the whole bag. That's what I'm doing. I don't care if I burn up all five of my usages, why save them? Next week is promised to nobody. Look at what happens every week, cash in.
By the way, did you know the Chiefs have topped at least 38 points in three consecutive weeks? The only other team to do that were the 1967 Colts and the 2007 Patriots, both of which I believe lost the Super Bowl. But some great teams and the Chiefs are matching it. Mahomes has 13 touchdowns, no interceptions and a passer rating of 115.5. This start is incredible! People want to put him in the Hall of Fame already, it's nuts. I wasn't alive when the Beatles became a thing. I have to believe it was like this.
Alvin Kamara, RB, New Orleans Saints
Kamara had a career-high with 16 rushing attempts against the Falcons last week and netted 66 rushing yards. He had an incredible (and again a career-high) 20 targets(!) for 15 receptions and 124 receiving yards. It was one of the most impressive games I've seen from a running back, although I almost hesitate to call him a running back. He's a guy who lines up in the backfield but runs passing routes. It's incredible. It's almost risky to trust this matchup because the Saints will be playing outdoors this week in the Meadowlands. But again, I'm not going to get too cute. If there's a circumstance where the weather turns dire and an adjustment needs to be made, so be it. Mark Ingram is back after this week, which shouldn't kill his production, but it's also the last time he'll be a solo act before becoming part of an ensemble cast. Like "The Office" and - if I can real talk you for a moment - I hate to say it, but early-years Steve Carrell "Office" beats David Brent. I'm sorry if this hurts you. I hope we can still be friends.
Michael Thomas, WR, New Orleans Saints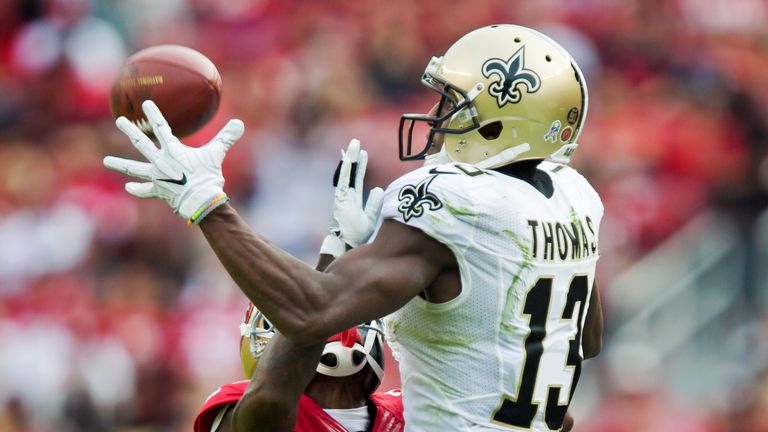 Drew Brees has thrown the ball to Thomas 40 times this season. Thirty-eight of them were receptions! This guy is on an incredible pace to obliterate the single-season record for receptions. He almost literally catches everything. The only thing that has that kind of consistency is my toddler coming up to me every day and asking to watch "Coco" on Netflix. I'm not kidding, this kid is obsessed with that movie. I'm similarly moved by Thomas' production this season.
Click here to register to play NFL Challenge.