Simon Veness and Tom Shaw look at new batch of NFL rookies
Simon Veness asks NFL guru Tom Shaw which rookies will make their mark during the new season.
Last Updated: 02/08/13 2:12pm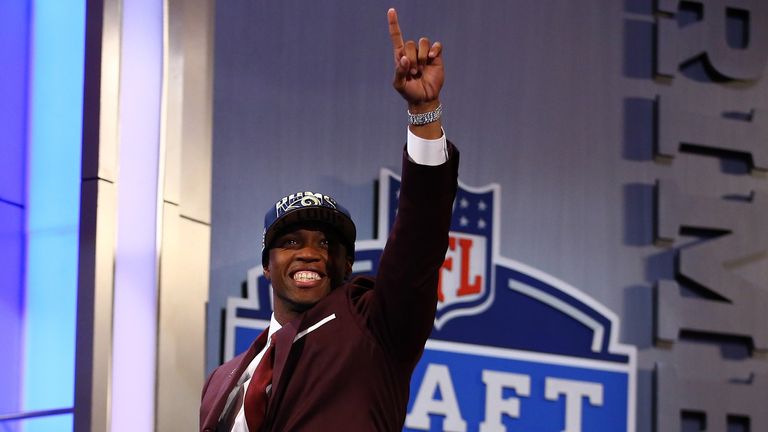 All the teams are back in pre-season practice mode, reporters are scouring training camps for every spit and cough, and the first warm-up outing - the annual Hall of Fame Game - is only a few days away.
The NFL media are positively bursting at the seams trying to assess the initial impacts of free agent signings, draft picks and returning stars, and, while there isn't a lot to go on just yet, there are certainly some interesting signs (including an NFL insider branding New York Jets rookie quarterback Geno Smith "embarrassing" for his general conditioning. Could that team became the first four-ring circus in sporting history?).
Yes, we are definitely ready for some football. And we are even keener for some genuine football insight, hence I took my notebook to the ESPN Wide World of Sports here in Orlando this week to consult my good friend and NFL guru Tom Shaw of the Coach Tom Shaw academy (who had four first-round picks in last April's draft for those who remember this column).
Tom has been keeping close tabs on things this summer, and is ideally suited to assessing the 'hits' and 'misses' of the draft, and which rookies are likely to have most impact once the action gets real in September.
For those who remember the big Day One Radio City Music Hall shindig three months ago, it was not spectacular in terms of the skill positions. There was only one quarterback taken - Buffalo's surprising reach for Florida State's EJ Manuel - and just three wideouts. Not ONE running back heard his name called in Round One for the first time since 1963, and the lone tight end was Notre Dame's Tyler Eifert.
Offensive linemen (nine of them, including three of the first four) led the way, along with the bulldozers who face off against them, the D-lineman (another nine). We had seven defensive backs and two linebackers, making for an exceedingly workmanlike look to the Draft's headline day.
Of course, there will be standout players from the lower rounds - and Coach Shaw has been looking at those, too - but it is the first-rounders who will be expected to make the biggest impression, and there is good news for St Louis, Kansas City, Philadelphia, Pittsburgh, Detroit, Seattle and, just possibly, the Jets.
Those in the 'Things to Worry About' department include the Bills (Tom is still shaking his head at the Manuel pick), Tennessee and, of course, the Jets.
Learn
First off, Shaw believes it is going to be hard for many of the first-round offensive linemen to make their mark because that is the toughest place to start. "A good veteran defensive lineman can suck you in and make you look silly. There's a lot to learn and not a lot of time in which to do it. But some of them look like they will be up to it.
"Eric Fisher at Kansas City is a player I know well. He has a chip on his shoulder, even though he was the first pick. He is big, strong, explosive, powerful, no body fat; he has the work ethic and dedication of a skill player because he grew up as a wide receiver, who turned into a tight end and then a lineman as he grew. He has that 'I don't want to be last' mentality, which is not usually that of an offensive lineman. He is very intelligent, too."
So, advantage Chiefs on that score. Equally, the Eagles look like they have hit the jackpot with Lane Johnson. "Lane is like Eric," says Shaw. "He was also a tight end and has that work ethic. He is a super-freak and he can fly; someone like that can make a difference, especially for a team like Philly."
The Steelers also chose wisely in their No. 17 slot, as they picked another of Tom's protégés, linebacker/lineman Jarvis Jones. "Jarvis could be the first Pittsburgh rookie to start as a defensive lineman. If he makes the starting team, he will be a game-changer because he will have really earned that spot.
"He is a football player first because he studies his opponents and figures out their weaknesses. When I watched him play at college he always made a difference and I just have a feeling he will play right away. He has great coaches and he was here training this summer with the likes of Ike Taylor and learning from them, so he has a head start on what to do."
Shaw is also high on Atlanta and their first-round pick, University of Washington cornerback Desmond Trufant - "good kid going into a great situation" - and believes the Jets drafted well in grabbing offensive lineman Brian Winters in the third round to shore up a major weakness. "He has an opportunity to start this season and he will fight and compete. I know how hard he is working."
Other lower-round potential stars, according to the NFL guru, are Detroit's Corey Fuller, a real speed merchant out of Virginia Tech (and a former track star who made a spectacular transition in two college years at receiver) and Greg Herd, Seattle's free agent pick-up in May who could provide much-needed cover for the oft-injured Percy Harvin.
Pittsburgh also landed another potential gem in linebacker Vince Williams, a sixth-round pick out of Florida State - "He has the ability to just flat out out-work people," says Tom - while Kawann Short, Purdue's ferocious defensive lineman, could be a big hit for Carolina.
Phenomenal
Shaw's main hope for a major impact this year, though, is Tavon Austin, the No. 8 pick from West Virginia who could have found the ideal home in St Louis. With Sam Bradford urgently looking for some home-run-hitting weapons, Austin could just be a genuine Rookie of the Year contender.
Tom has seen a lot of him at his coaching school, and says: "I believe this kid is going to be a phenomenal player who can change the outcome of a game at any time. He reminds me of guys like Deion Sanders and Terrell Buckley when they also played special teams.
"Tavon will outrun the majority of the defence and can score at any point. He can make backs miss and he can take it the distance, as a returner or receiver. He can also line up at running back. The Rams just need to get the ball in his hands as often as possible.
"He obviously still has a lot to learn and he has to build a rapport with Bradford, but once the quarterback gets him the ball, he doesn't need anyone to block for him. He has one guy to beat and has the best opportunity to score."
The bottom line, though, is that it is increasingly tough for rookies to make an impact in today's NFL, with the restrictions on practices and all-important reps-in-pads. "If you start and become a player who makes a difference, you have really done something," insists Shaw. "For a rookie even to have their name mentioned sometimes is a pretty big deal.
"But teams still need their top picks to pan out. You can't afford any misses. And the top 10 have got to become stars. That's why I can see struggles ahead for the likes of Dee Milliner at the Jets and Chance Warmack at Tennessee. I just think they were drafted too high. And EJ Manuel at Buffalo? I just don't see it. I hope I'm wrong, but that has problems written all over it."
Of course, these are still the earliest of days. The first shots of the phony war - the pre-season - have yet to be fired and the inevitable injuries can also shape a team's season before we get to the serious action (witness the Eagles losing Jeremy Maclin and Baltimore already being without Dennis Pitta).
But Rookie Watching is certainly going to be hugely interesting in the next few weeks and months - and we haven't even mentioned Menelik Watson and Lawrence Okoye yet!