American Football Expert & Columnist
Wild Card Pick Six: Mariota miracle, Brees' best and Cam concussion debate
Last Updated: 08/01/18 3:55pm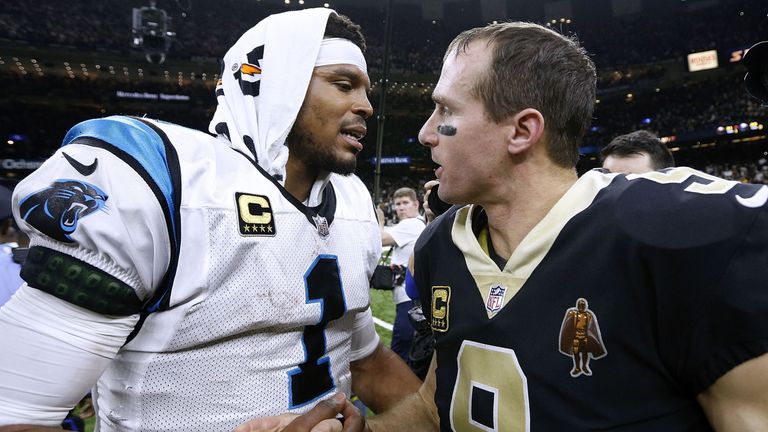 What a fun weekend that was in the Sky Sports studios!
The NFL served up four compelling playoff games on Saturday and Sunday that were peppered with enough storylines to keep us chatting until the divisional round next week.
As the Tennessee Titans, Atlanta Falcons, Jacksonville Jaguars and New Orleans Saints advanced to the elite eight, here are the headlines and stories that caught my eye during a very enjoyable Wild Card Weekend...
Brees can still sling the rock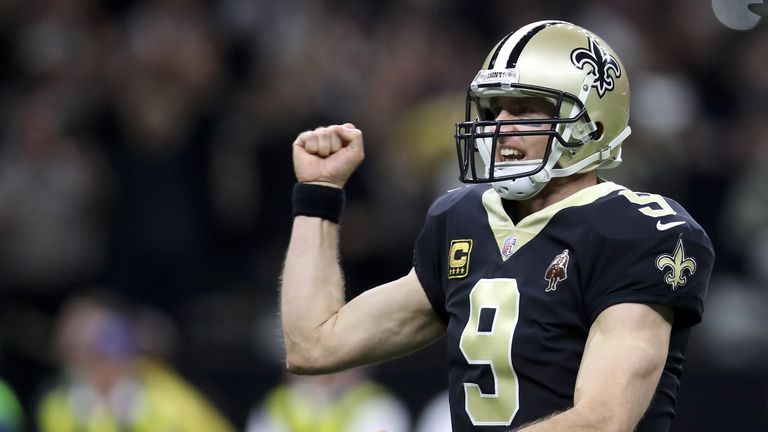 This season has seen Drew Brees record his lowest totals for pass attempts per game (33.5), yards per game (270.9) and touchdowns (23) since joining the Saints in 2006. It has not been a problem given the prolific form of running backs Mark Ingram and Alvin Kamara.
But, on Sunday evening, the Carolina Panthers marched into the Superdome intent on shutting down the first pair of running backs in NFL history to gain more than 1,500 yards apiece in a single season.
It didn't matter a jot to Brees as he reminded us all that he is still very capable of leading a Super Bowl charge in the Bayou. The future Hall of Famer threw for 376 yards and two touchdowns, putting on a clinic at the quarterback position. He remains undefeated in his postseason career at home in New Orleans (5-0).
The Mariota Miracle!
The comeback produced by the Titans on Saturday night was the most shocking aspect of the Wild Card game. Trailing 21-3 at the half to the red-hot Chiefs, Marcus Mariota seemingly started making it up as he went along and his playground football paid dividends.
The Titans produced an inspired second half showing to win 22-21, while the Chiefs imploded to lose their sixth-straight playoff game at home. It's hard to believe that Chiefs fans have not seen their team win a playoff game at Arrowhead Stadium since Joe Montana was under centre in January 1994.
Back to Mariota, who became just the second man in NFL history to throw a touchdown pass to himself. The Mariota Miracle kick-started the Titans' charge and he was ably supported by the power running of Derrick Henry and Kansas City's refusal to milk the clock with their own ground game. Why Andy Reid gave NFL rushing champion Kareem Hunt just five second-half carries is beyond me.
Here come the Falcons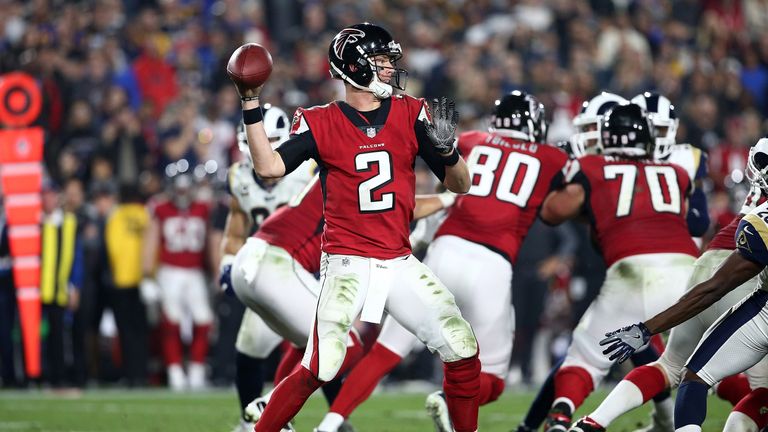 There was a lot to admire on the offensive side of the ball when assessing Atlanta's 26-13 road win over the Los Angeles Rams. Matt Ryan completed 70 per cent of his throws in the face of a fierce pass rush, Julio Jones had his moments and the Falcons controlled the clock to the tune of 37 minutes and 35 seconds.
But how about the form of that Atlanta defense? Dan Quinn's D held the Rams to a single touchdown and just 13 points. That was a special effort against an attack that averaged an NFL-leading 29.9 points per game during the regular season. Todd Gurley was nowhere to be seen and Jared Goff was uncomfortable all night long, and that is a credit to the Falcons.
Atlanta have now allowed opposing passers to compile a rating of 68.2 over the past three weeks and they have not faced mugs, taking on Drew Brees, Cam Newton and now Goff. But this speedy defense is packed with talent from front to back and their spine of defensive tackle Grady Jarrett, linebacker Deion Jones and safety Keanu Neal is especially strong. While their offense often gets so many headlines, this Falcons defense might yet spark a return run to the Super Bowl.
More needed from Bortles
Sitting next to a pair of Super Bowl champion defenders all weekend in DeMarcus Ware and Shaun Gayle has reminded me that defense does indeed win championships in the NFL. That said, the Jaguars absolutely must get more out of their offense if they are to advance past the Pittsburgh Steelers next weekend.
Quarterback Blake Bortles has plenty of doubters and he won't have silenced them with his showing in Jacksonville's 10-3 win over the Buffalo Bills - the lowest-scoring playoff game since 1997.
Bortles went 12 of 23 for just 87 yards and one touchdown on Sunday night. He just about redeemed himself by avoiding an interception (thanks to some drops from Buffalo defenders) and by rushing for 88 yards on 10 carries. But he simply has to do better. That beastly defense cannot be expected to hold every team to three points, especially the looming Steelers.
I don't think Jacksonville have alternatives at the quarterback position for the remainder of this season as back-up Chad Henne is merely serviceable. But I expect Doug Marrone and Tom Coughlin to go searching for a new answer once this campaign is done and dusted. And that search might begin next Sunday evening unless Bortles raises his game.
Rams will rebound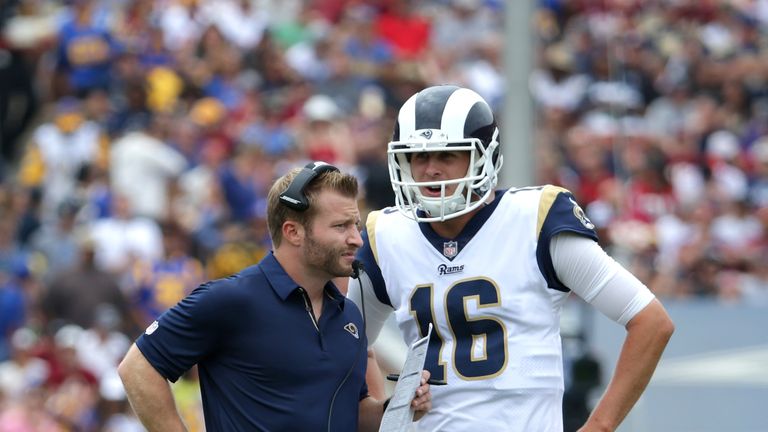 It was a rough night for the Rams as they lost while hosting their first home playoff game in Los Angeles since January 1986. But this team is in good hands with Sean McVay at the helm and I think this was the first of many upcoming trips to the playoffs.
The Rams went into Sunday's game with the Falcons having rested their best players in Week 17. They started out slow, looked rusty for large periods of the contest and maybe McVay will learn how to handle his squad rotation better in the future.
The entire squad will also have benefited from learning how to deal with the intensity of playoff football. The Falcons were the vastly more experienced playoff team on Saturday night and it showed. The Rams had just six players on the field with postseason experience.
It has been a memorable season for the Rams, McVay should be NFL Coach of the Year and good times lie just around the corner.
The concussion debate
What made Cam Newton's late and furious attempt to beat New Orleans on Sunday night even more noteworthy and headline-producing was the fact that he potentially should not even have been on the field.
Newton was hurt earlier in the quarter when he took a nasty hit to the head. As he attempted to leave the field, Cam dropped to one knee, looked woozy and was treated by medical staff. He was then briefly sent into the blue tent on the sidelines for a concussion evaluation, was out in a matter of seconds and was back in the game at the next opportunity for the Panthers.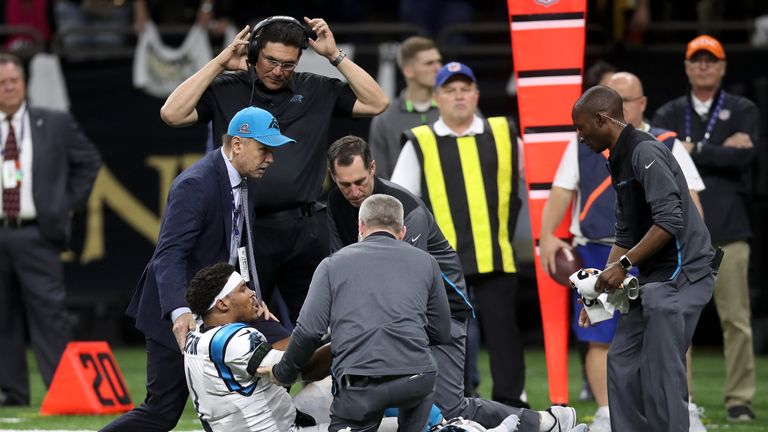 That doesn't go nearly far enough to complying with NFL concussion rules, which have been put in place to not only protect players from injury, but to protect them from themselves when their competitive juices are flowing.
By dropping to his knee on the field, Newton - by the letter of the NFL concussion policy law - must be taken to the locker room for an expanded evaluation. That never happened and whatever the reason, these kind of actions cannot be allowed to slip through the cracks.
Surely it is better to err on the side of caution? We cannot blame Carolina's team doctors on this one because there are independent concussion evaluators in the stadium who should be taking charge in that situation and not be letting the player and the team dictate proceedings. I don't think we have heard the last of this one.
Stay across the 2017-18 NFL playoffs with us on Sky Sports and through our website skysports.com/NFL also our app for mobile devices and iPad, or follow our Twitter account @SkySportsNFL.