American Football Expert & Columnist
Super Bowl LIII Pick Six: Tom Brady wins sixth after Patriots defensive masterclass
Last Updated: 06/02/19 1:49pm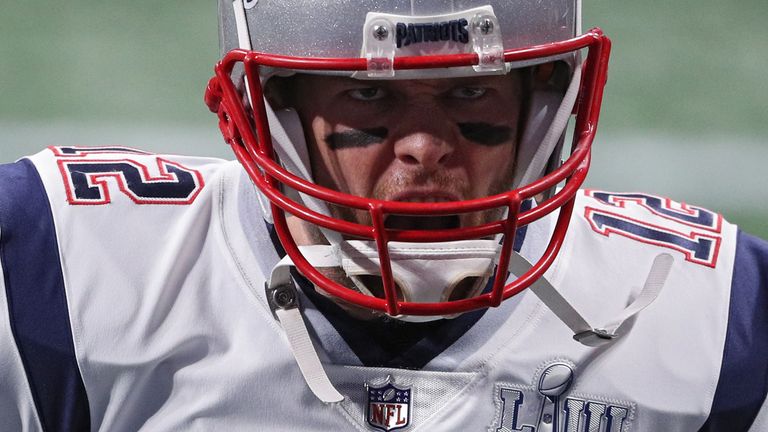 Neil Reynolds picks six storylines from Super Bowl LIII, including Bill Belichick's defensive masterplan....
Super Bowl 53 was by no means a classic. In fact, it was the lowest-scoring game in Super Bowl history. But it was a masterful and classic display of coaching from Belichick as his New England Patriots recorded a 13-3 win over the Los Angeles Rams.
Here are some of the key storylines from a hard-hitting game that saw the Patriots lift the Vince Lombardi Trophy for a record-tying sixth time...
Belichick delivers defensive masterplan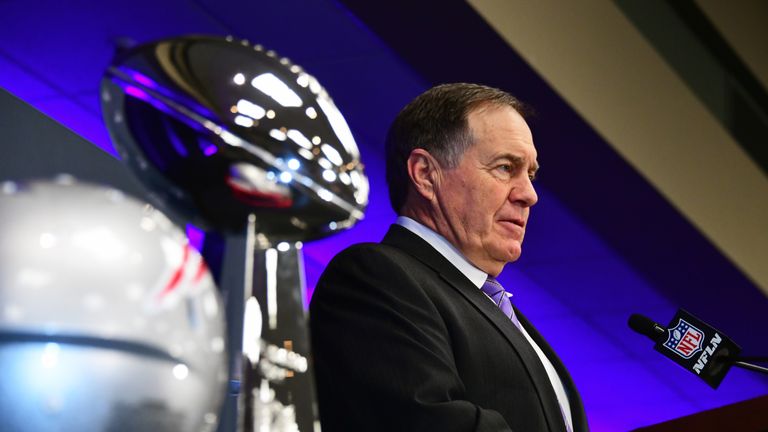 As defensive coordinator of the New York Giants in the 1990 season, Belichick took down the high-flying Buffalo Bills in Super Bowl 25. As head coach of the Patriots in the 2001 season, he stunned the St. Louis Rams' Greatest Show on Turf attack to win Super Bowl 36.
Those were two of the greatest defensive game plans in NFL history and Belichick dialed up another one on Sunday night in Atlanta as he simply overwhelmed L.A's young and growing quarterback Jared Goff. The Rams averaged 32.9 points per game in the regular season and scored three on Sunday night.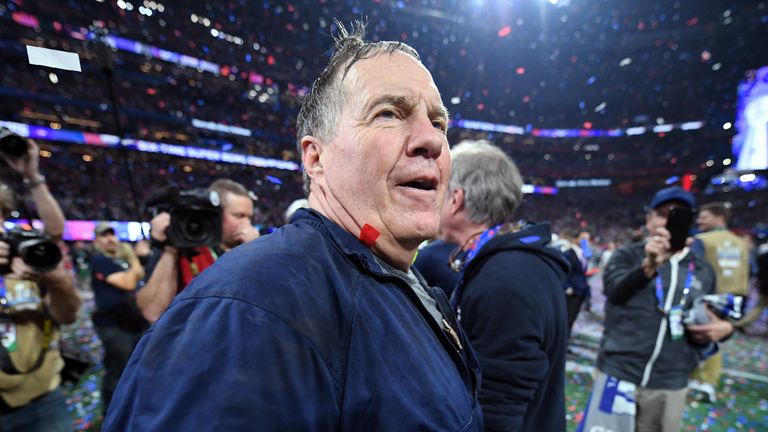 Belichick and soon-to-be Miami Dolphins head coach Brian Flores confused Goff with their defensive fronts and consistently got pressure in the backfield. In addition, they overpowered the line on the way to limiting the Rams to 62 rushing yards (the Rams had averaged 193.5 rushing yards per game since Week 16).
It was an old-school suffocation that forced the Rams to punt nine times. The Patriots also came up with a game-clinching interception and held L.A. to three of 13 on third down. This defensive performance ranks right up there with the very best in NFL history and was a total team effort. In other words, it was typical Patriots.
McVay and Goff come up short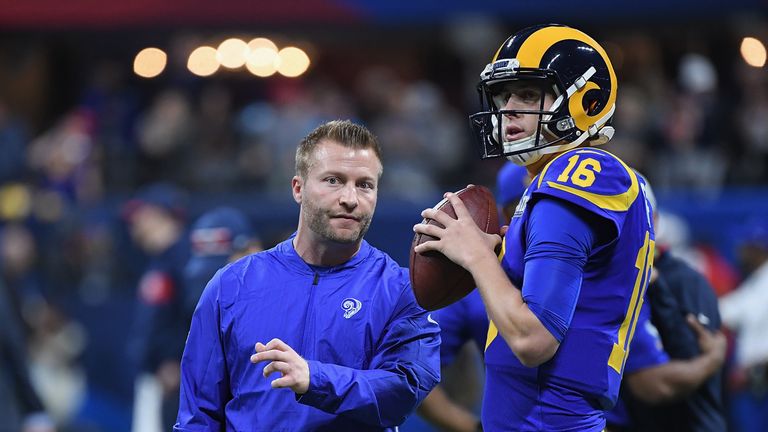 Rams wonderkid head coach Sean McVay, 33, is a very impressive young man and a straight-talker who doesn't hide from criticism. He was quick to confirm what the rest of us already knew after Super Bowl 53… he got out-coached by Belichick and was man enough to admit it.
McVay couldn't find an answer to the Patriots' dominant defense and when he finally got his team rolling, Goff came up wanting as he missed on some Super Bowl-defining throws.
The third-year quarterback had a wide open Brandin Cooks in the middle of the end zone in the third quarter and we were right behind his throw in our Sky Sports studio. Cooks was open for an age and Goff was so late in seeing him - and then he threw up a pass that took an age to get there. That ball could have been drilled to the front of the end zone as there was not a defender in sight. But he wobbled it towards the back and Jason McCourty made a great hustle play to break it up.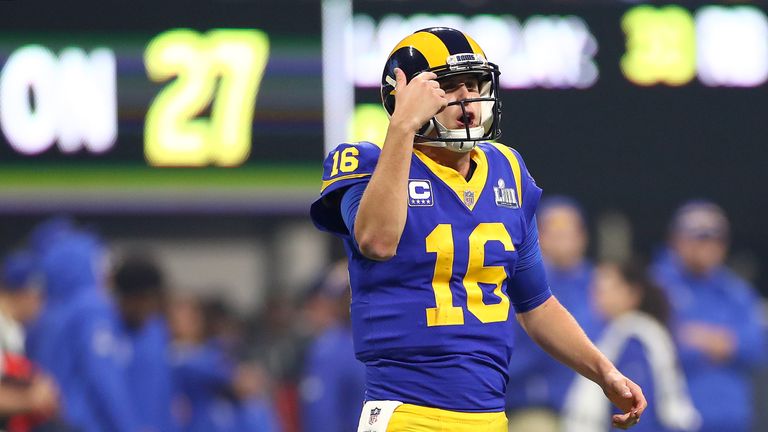 Late in the fourth, Goff appeared to throw a good pass to Cooks that was looking like a touchdown all the way. But there was a possible pass interference call on Stephon Gilmore and Duron Harmon broke it up. But Goff maybe could have led his receiver just a little bit more on that pass.
One play later, Goff had one on one on the outside and took the shot. But his foot slipped and a pass that should have been thrown deep to the back of the end zone came up short and Gilmore - who should have been the Super Bowl Most Valuable Player - came up with the pick to snuff out the Rams' most dangerous drive of the game.
Brady delivers in the clutch
You can tell what kind of Super Bowl we watched on Sunday night when I have penned around 600 words of this column before really getting stuck into Tom Brady, who won a record sixth Super Bowl ring in Atlanta.
It was not a vintage display and there were times Brady looked all of his 41 years and 184 days as the oldest quarterback to ever win a Super Bowl. His first throw of the game was nicely broken up by Nickell Robey-Coleman and intercepted by Cory Littleton, but the ball did take an age to get to the outside.
The Rams hung in there on defense but Brady was well protected and his connection with Julian Edelman was the one constant on an evening when he posted a passer rating of 71.4 - the lowest of all his nine Super Bowl appearances.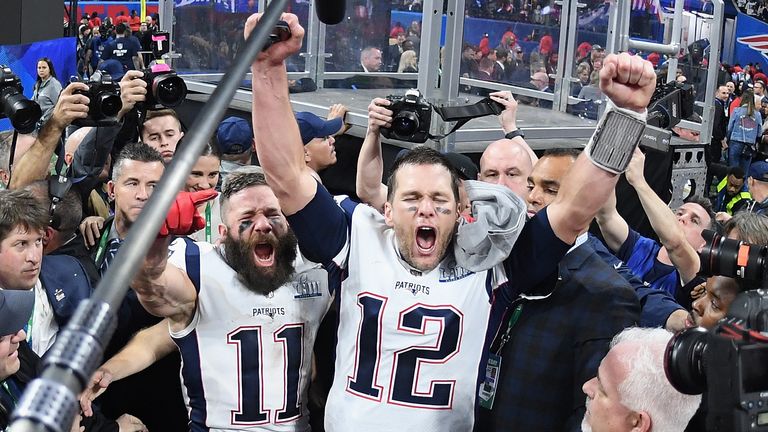 And then with the game hanging in the balance at 3-3, Brady went off just enough as he hit on four of four passes, including a beauty to Rob Gronkowski to set up the only touchdown of the game, Sony Michel's two-yard run. That is the measure of a true great, delivering in the clutch when the stakes were at their highest.
And that is why Brady should go down as one of the greatest sportsmen of all time, not just the greatest NFL player of all time.
Familiar faces step up for New England
Make no mistake, the Patriots had their issues on the offensive side of the ball along with the Rams. But they did get the running game going on that late final drive to ice the Super Bowl and when they did throw, Brady went to his trusted guys.
Brady went into this Super Bowl having targeted running backs a league-high 146 times during the regular season. The popular belief was that he would dink and dunk his way downfield using James White out of the backfield. White had one catch for five yards.
Instead, Brady went to guys who have been an integral part of his career as 19 of his 35 passes were thrown in the direction of Edelman and Gronkowski. Edelman told me during Super Bowl week that he prided himself in getting open and he did that time and again on route to 10 catches for 141 yards and the Super Bowl MVP award. Playing in what I suspect was his last NFL game, Gronk caught six passes for 87 yards.
Emptying the notebook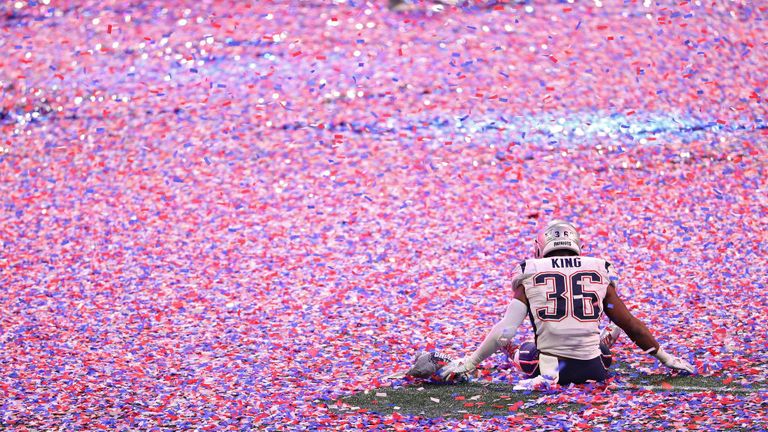 A few other one-liners that don't merit a whole section, but caught my eye…
Sony Michel won the battle of Georgia running backs going home as he gained 94 yards and scored the only touchdown. LA's Todd Gurley insisted he was healthy but was held to 35 rushing yards on 10 carries and I bet he has some sort of offseason medical procedure.
Edelman is your typical Patriot. He came from humble beginnings as a seventh-round draft pick who started out as Tom Brady's errand boy, he played cornerback during the 2011 season and now he is top of the world again as MVP of a game in which he won his third Super Bowl ring.
Rams punter Johnny Hekker delivered one hell of a game. He averaged 46.3 yards on nine punts, produced the longest punt in Super Bowl history (65 yards) and dropped five kicks inside the 20. He more than helped the Rams as they struggled on offense.
Brandin Cooks was just about it for the Rams offense as he reeled in eight catches for 120 yards and if Goff had thrown up a couple of better balls, he might have enjoyed two touchdowns and an MVP performance of his own.
That was a Patriots home game and about as noisy and a one-sided crowd as I have seen in the 10 Super Bowls I have attended in stadium. It must have been 80 percent Patriots fans which served as evidence that the Rams still have a long way to go in growing their fan base in LA. It was also a factor in the game as the Rams were called for a few pre-snap penalties and had trouble communicating on offense.
Get off the field!
This may come across as too much of a grumpy old man but I think it's time for the NFL to seriously look at adopting the policy of keeping photographers off the field at the end of the Super Bowl. That was an absolute joke on Sunday night and was borderline dangerous around Brady, Edelman and Belichick.
This frustrates me on many levels. Does nobody realise that there would be much better photos and television shots available if the field were clean and the players were celebrating with each other? We don't get this kind of scrum at the end of Champions League or FA Cup finals.
If the photographic community is now going to come at me and suggest they 'need' to be on the field, I would first argue that you have lenses as long as your arms and can shoot easily from 200 yards away. But if you do 'need' to be on the field, then the NFL need to appoint two or three pool photographers who then supply to the rest of the media. That is what happens with reporters covering pre-Super Bowl practices so why not here.
The NFL works so hard and so meticulously in so much of what it does and then it goes and allows a total and chaotic free-for-all on the biggest stage of all and with the whole of the sporting world watching.
No one is going to listen to me from 4,000 miles away, but I will keep banging this drum and I hope for a day when I can watch players running around the pitch celebrating with each other free from dozens and dozens of photographers and film crews trying to stick cameras up their noses.
Sky Sports coverage of the NFL will continue through the off-season as we track the player moves and the storylines in the build-up to the 100th year of the NFL - and we will have all three days of the NFL Draft covered in April