American Football Expert & Columnist
Neil Reynolds: Patrick Mahomes' legacy game, Jalen Hurts still in second gear, Philadelphia Eagles the Super Bowl favourites
Sky Sports' Neil Reynolds has the final word on a rollercoaster Championship Sunday; Watch Super Bowl LVII between the Kansas City Chiefs and Philadelphia Eagles live on Sky Sports NFL in Arizona on Sunday, February 12, with coverage underway from 10pm
Last Updated: 30/01/23 7:48pm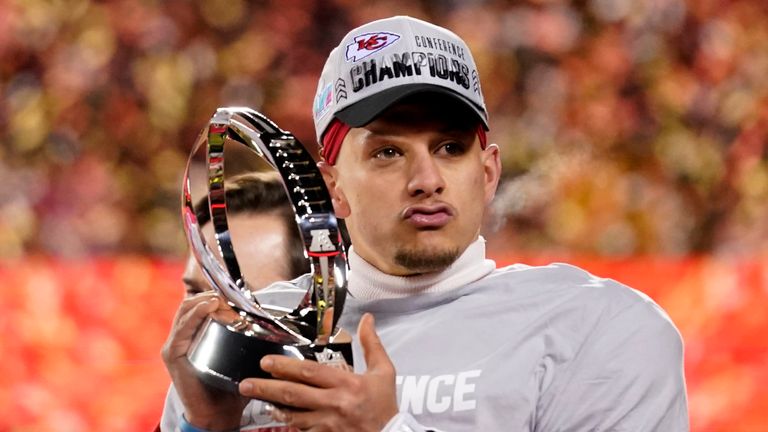 And then there were two. The teams for Super Bowl LVII are set, with the Kansas City Chiefs and Philadelphia Eagles primed to face off for the ultimate prize at Arizona's State Farm Stadium on Sunday, February 12.
The Eagles produced a commanding performance to see off an injury-stricken San Francisco 49ers and clinch the NFC title, before Patrick Mahomes inspired the Chiefs to a third Super Bowl appearance in four seasons as Andy Reid's side overcame the Cincinnati Bengals in the AFC Championship Game.
Sky Sports NFL presenter Neil Reynolds looks back on Sunday's action...
Privilege to watch 'true great' Mahomes
It wasn't quite a classic between Joe Burrow and Patrick Mahomes but I thought it was a great game and it will be one we're talking about for years to come.
Patrick Mahomes, obviously severely hampered by that high ankle sprain, loses three of his key receivers in Mecole Hardman, JuJu Smith-Schuster and Kadarius Toney, and all he does is pass for 326 yards and two touchdowns, including some incredible throws.
This was a legacy game for Mahomes, this was the kind of game that we will remember in years to come. We'll look back on this as the day he passed the Chiefs to another Super Bowl appearance on one leg. And he ran for five yards, the most important five yard-gain he's ever had.
Who on earth thought he was going to run the ball there to pick up that yardage to entice Joseph Ossai into a bone-headed late hit which will be talked about for years to come as well for all the wrong reasons?
Mahomes showed the classic example of putting a team on his shoulders, incredible bravery, incredible guts, wonderful greatness, everything you wanted to see on that big intense playoff stage.
He is deservedly advancing to the Super Bowl, he absolutely laid it on the line for his team. It was a privilege to watch one of the true greats at the height of his game.
Chris Jones makes his mark
Joe Burrow also had some fine moments for the Bengals - he would just not go quietely - but Kansas City's defense made the big plays when they needed to.
Chris Jones had two of their five sacks, including one on what was supposed to be Burrow's game-winning drive, his legacy-defining moment, and Jones pounced to end that drive to force the Bengals to punt, Skyy Moore then returns it 29 yards and Mahomes takes over.
Chris Jones is a guy who can take over a game, he had 15.5 sacks in the regular season, didn't have a sack in 13 playoff games going into last night but he was able to just about tamper down the brilliance of Burrow, who was fantastic at times.
It was Burrow and Mahomes, it was the Bengals and Chiefs, it was always going to be a high level of play. Kansas City's defense stood up as well, those five sacks, two interceptions, it wasn't all about Patrick Mahomes.
Eagles dominant in the trenches
It was a shame to see San Francisco's season peter out with no quarterback who could throw a football. I've never seen anything like it, where a team literally couldn't throw the football in the second half.
You've got Josh Johnson coming in as the backup to Brock Purdy, who was the backup to Jimmy Garoppolo, who was the backup to Trey Lance.
Johnson went out, Purdy came back in and it was just too much for the 49ers to handle. The Eagles defense was too strong.
Haason Reddick was playing like a man possessed and they would have had even more than their three sacks had the 49ers been able to drop back and pass.
San Francisco effectively ran out the clock and admitted defeat, albeit a sour one, as they fell 31-7 to the powerful Eagles, who flexed their muscles again on defense.
They're so strong in the trenches, they really are living up to their billing as the No 1 team in the NFC. But it was a shame that the 49ers played with one hand behind their back so we never really saw what this could have become.
It was pretty even in the early stages, even with Johnson in there it was 7-7, but this Philadelphia defense has 78 sacks on the year including the playoffs. Haason Reddick, with two sacks, a forced fumble and fumble recovery, was a star on that side of the ball. They've got so many stars on defense.
Philly's run game
Not for the first time, the Philadelphia Eagles were able to run the ball effectively, althoigh it took them a little bit of time for them to get going against San Francisco.
They rushed for 44 carries, 268 yards, three touchdowns in the Divisional Round against the New York Giants, and had another 44 carries against the 49ers. A bit harder work, though, with 148 yards, but four times they found the endzone on the ground.
They've now got seven touchdowns on the ground in the playoffs, 416 yards in two games, and they've rushed for 39 touchdowns, the most of any team in NFL history including the playoffs.
It really means Jalen Hurts can just do enough. He's not got out of second gear in these two playoff games and hasn't needed to as the Eagles have reminded us just how good they are on the offensive line.
I think they are all-powerful in the trenches and I think that will be a key factor in the Super Bowl.
Super Bowl LVII...
For the first time since 2017 we have the two No 1 seeds in the Super Bowl and it promises to be a fascinating game in Arizona.
The Eagles are the early two-point favourite and I can see why. I'm surprised they aren't favoured by more because they are dominant on the offensive line, dominant on the defensive line and they've rebuilt their entire team, pretty much.
They won the Super Bowl in 2017 with Nick Foles at quarterback and Doug Pederson as head coach, now it's Jalen Hurts and Nick Sirianni five years later. Howie Roseman has done a great job with this roster, kept eight players together, including some key ones in Jason Kelce, Lane Johnson, Brandon Graham, Fletcher Cox, core players.
The Eagles look really good to me and I'm worried about the Chiefs' injuries - how effective will Patrick Mahomes be? Will he get those receivers back to bolster his passing game? And how well can he be protected? Because he hasn't been, certainly not in the last Super Bowl against the Bucs.
This will be a big moment for Mahomes, he's got a quarterback rating in two Super Bowls of 64.2, in every other playoff game he's played he's got a rating of 115.5.
He struggled for a lot of the game against the 49ers at the end of the 2019 season and then pulled out the win. He struggled all night long at the end of the 2020 season against the Buccaneers and couldn't produce the magic and pull out the win.
I think Philadelphia are going to be too strong in this Super Bowl. I think Andy Reid is going to come up short against his old team. He coached the Eagles for 14 years before his 10 years in Kansas City.
But the Chiefs have Patrick Mahomes, and when you've got the magic man you have a chance. That's what makes this so fascinating. Can Mahomes slay what I think is the NFL's giant in the Eagles?
Sky Sports NFL is your dedicated channel for NFL coverage through the season - featuring a host of NFL Network programming. Don't forget to follow us on skysports.com/nfl, our Twitter account @SkySportsNFL & Sky Sports - on the go!