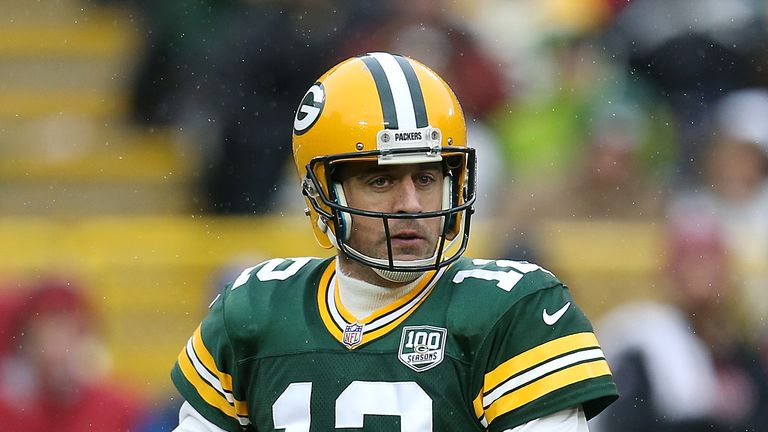 Fantasy analyst expert Adam Rank takes on the NFL Challenge, picking his team for Week 14...
Each week you get to pick a passing offense, rushing attack, defense and special teams unit to pick up points for your team while, on top of that, you can select a quarterback, running back and wide receiver to score additional points. Register to play by clicking here.
Adam Rank: Week 13 points
| | |
| --- | --- |
| Total points | 120 |
| Colts passing offense | 9 |
| Broncos rushing offense | 31 |
| Chiefs defense | 9 |
| Vikings special teams | 4 |
| Ben Roethlisberger, QB (Captain) | 42 |
| Aaron Jones, RB | 10 |
| Davante Adams, WR | 15 |
The fantasy playoffs, for those in the traditional leagues, are starting this week. But for those of us here, playing the greatest fantasy game on the planet, we're just getting started. And, as you know, I like to skip most of the obvious plays of the week. The Chiefs. The Saints. The Rams.
But what's interesting to note here is that the Rams have a tough matchup this week against the Bears. And the last time the L.A. Rams went into Chicago this late in the season, in a meaningful game, Dieter Brock was the Rams quarterback and the Monsters of the Midway shutdown Hall of Fame running back Eric Dickerson as they cruised to Super Bowl XX. Although, it's probably fair to say a lot has changed since then.
However, the thing that really haunted the Rams back then could still come into play this week. Temperatures are expected to be below zero. And as somebody who was born in one of the suburbs of Chicago, but grew up in Southern California, it's really easy to become a California softie. It rained out here last week and I was bundled up like I was studying penguins in the Arctic. So it's hard for me to imagine the Rams getting 50 points like they do seemingly every week.
Be careful. And let's get to the picks...
Green Bay Packers passing offense
We've all been out to dinner or attended a gathering with a bickering couple. While they aren't outwardly throwing shade on each other, you can still feel their resentment for one another. It's the worst. But when that couple breaks up, the good times can start to roll. Usually the one still there will start buying shots, singing karaoke and being the life of the party. I kind of expect that to happen with the Packers this week following on from Mike McCarthy's firing as head coach. I wouldn't be surprised if Aaron Rodgers and the Packers ended up putting 60 points on the board against the Falcons. Atlanta has allowed 25 passing touchdowns this year, created just eight interceptions (and Rodgers throws none). You want to get a part of this.
Los Angeles Chargers rushing offense
The Chargers are coming off a huge, upset win over the Steelers and became the first team in history to rally from a 14-point deficit in Pittsburgh. Truly an amazing night. I don't expect them to slow down this week against the Bengals, who have struggled this season. Especially defensively. The Bengals are last in nearly every major defensive category. And if they aren't last, they are second to last. The Chargers running back situation is fluid and many expect Justin Jackson to get the majority of the work. We'll just take all of the drama out of it and take the entire rushing attack.
New York Giants defense
Alright, alright. Get your butt fumble jokes out of your system. I really hate that my guy Mark Sanchez is going to be known for that forever. And he's got a good sense of humour about it. I really do hate to pick on him, because I've watched him since he was in high school as his hometown isn't too far from me. But you really do want to take advantage of the Giants defense against a quarterback who hadn't seen NFL action since January 1, 2017 before Monday night. And with a short week looming, I have to push the emotion aside, like when Shawn Michaels paused to tell Ric Flair that he loved him before he delivered the super kick that ended his career at WrestleMania. I mean, it's exactly like that.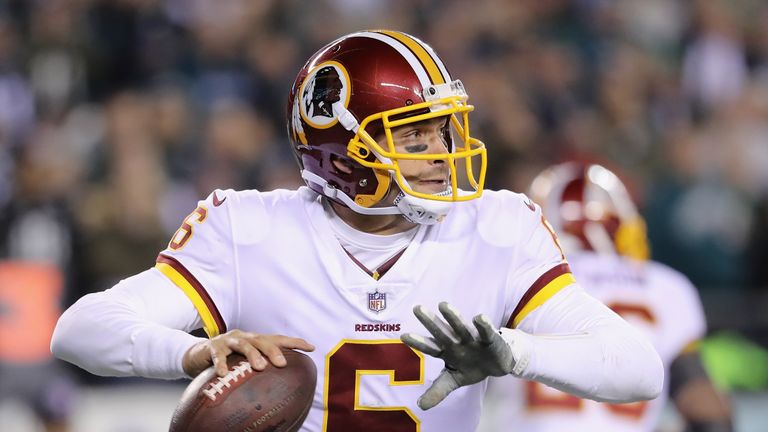 Dallas Cowboys special teams
The score between the Cowboys and Eagles could be a little lower than expected, as both teams play great defense. Alright, the Cowboys play great defense. The Eagles survived Sanchez on Monday night! But I'm always looking for good teams playing in a dome. The Cowboys check all of the boxes.
Philip Rivers, QB, Los Angeles Chargers (Captain)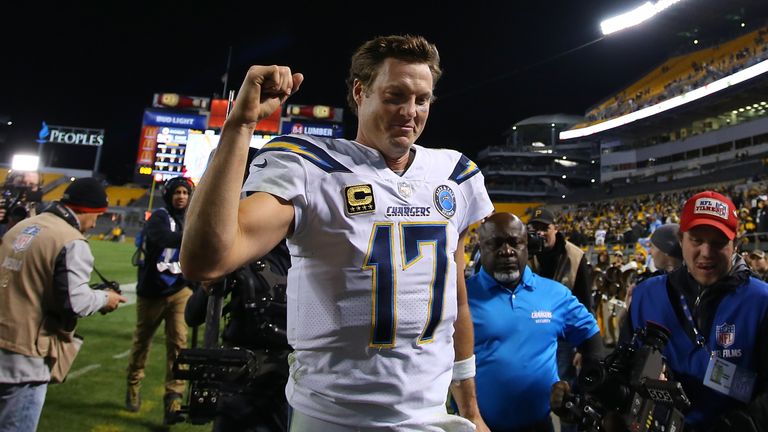 He's probably the most consistent quarterback in fantasy football. He's a lot like the fish and chips you get at the local public house. Even if it's not the most amazing meal you've ever had in your life, it's consistent. You see it on the menu, and you know it's going to deliver for you. He's had at least two touchdown passes in every game this season. I almost feel like I'm setting myself up here to be disappointed because the matchup against the Bengals is just way too good. And now I'm almost freaking myself out thinking about it. But the Chargers are going to come through. Even in their disappointing recent loss to the Broncos, Rivers threw for 401 yards.
Aaron Jones, RB, Green Bay Packers
I'm going to jump on board with the Packers here. One of the things that might have led to McCarthy's dismal was his refusal to run the rock with Jones. Even Rodgers had begged for Jones to be more involved with the offense, but McCarthy just continued to be stubborn about it. I guess it really is like that old married couple who fight about which way to put the silverware in the dishwasher. I mean, even when you know you are wrong for leaving the points up, the truly embattled will just carry on with their wrong assertion. No matter what the facts tell you. I mean, how many times do you need to nick yourself on a fork before you learn that it goes in point down? Oh dear, I fear I've ventured off topic.
Amari Cooper, WR, Dallas Cowboys
If you wanted to stack Rivers with his receiver Keenan Allen, that would also be a pretty good option. And this is how far we've come with Cooper this season. I don't think there was anybody who was more critical of the Cowboys' acquisition of Cooper. I said it was akin to paying £100 for some fish and chips when you can get it for, um, I really don't know how much you should be paying for that. I'm sorry, I'm really trying to be as relatable as possible here, but I think you know where I'm going. And the point is, Cooper has been amazing with the Cowboys. His matchup might be the best of the weekend because the Eagles have lost so many defensive backs to injury. I was tempted to go with Julio Jones, but the Falcons in the cold are never a good idea. So Cooper is my guy. And again, not want to go super obvious with Michael Thomas and the Saints either. Let's go Cooper everyone!
Click here to register to play NFL Challenge.