Minnesota Vikings Tight End
Kyle Rudolph's Thanksgiving blog: 'Vikings owe Detroit'
"I haven't had a normal Thanksgiving at home since I was probably a senior in high school"
Last Updated: 22/11/17 2:54pm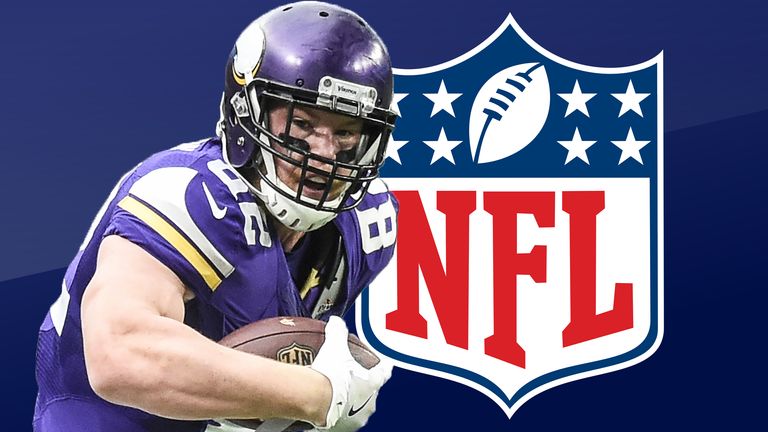 Minnesota tight end Kyle Rudolph is penning a weekly blog during the 2017 NFL season. In his latest offering, he looks ahead to Thanksgiving Day in the NFL as his Vikings take on NFC North rivals Detroit Lions, live on Sky Sports.
Thanksgiving is a very special holiday.
It's a time to spend with friends and family, a time to be thankful, myself and my family.
But, it's also a time for football! I haven't had a normal Thanksgiving at home since I was probably a senior in high school and, even then, I think we may have had practice of some sort.
As a professional athlete, you learn to schedule your holidays around sport. Just like at Christmas and New Year, similar to soccer and the Premier League, we have to play. Thanksgiving is no different.
We go into Thursday's game against the Detroit Lions off the back of a good win over the Los Angeles Rams, our sixth straight.
It was a huge game for us. A 7-2 team against a 7-2 team, both with aspirations of making the playoffs. They were a tough team, so it was extra pleasing to come out with the W.
Hopefully, that will be the case against the Lions too, giving us extra reason to be thankful this Thanksgiving. We'll still celebrate regardless, though I'm not sure if it will be on Thursday itself, once we get home - we get back at a decent hour - or if it will be Friday.
I grew up watching football on Thanksgiving, and so now to have the opportunity to play, it's pretty special.
It's very cool. Everyone in the country is watching as you're one of only three games on that day.
As such, we've got some special touchdown celebrations in the works. We want to think up something good for Thanksgiving. Duck, Duck, Turkey, maybe? Maybe not.
As for the game itself, we owe Detroit. We actually played them on Thanksgiving Day last year too, and lost by three points, while they're also the last team to beat us this season.
It's a game that we felt we let get away from us - turning the ball over three times, giving them points. Then, at the end of the game, we still had an opportunity to win - 4th and goal at the five-yard line, but we weren't able to convert.
They've obviously got a lot better as a team since then, they've won three straight coming into this one, but we've improved too.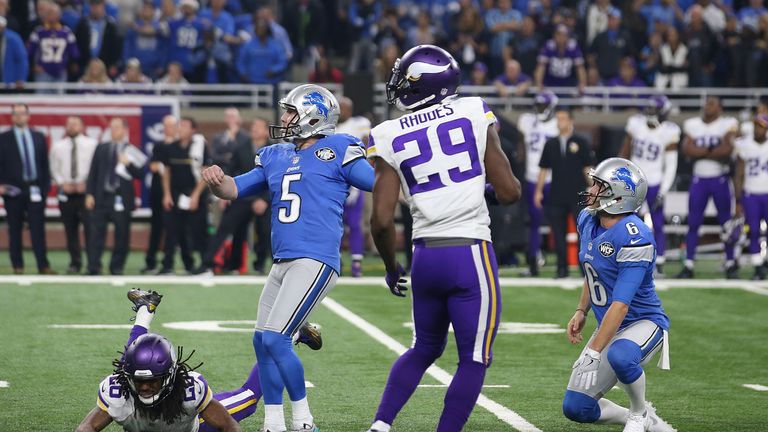 It's a division game. They count as double come playoff time and, sitting only two games back from us in the NFC North, we don't want to give Detroit the chance to make up any ground.
There is definitely a little bit of extra importance placed on this one. It should be fun on Thanksgiving.
Happy holidays.
Watch all the NFL action this Thanksgiving, live on Sky Sports Action (407) from 5pm. Our triple-header kicks off with Kyle Rudolph and the Minnesota Vikings' trip to Detroit to take on the Lions.
Follow the 2017-18 NFL season with us on Sky Sports and through our website skysports.com/NFL also our app for mobile devices and iPad, or follow our Twitter account @SkySportsNFL.