Great Britain's Joe Choong rues poor shooting phase that cost him Olympic medal
By PA Sport
Last Updated: 20/08/16 11:55pm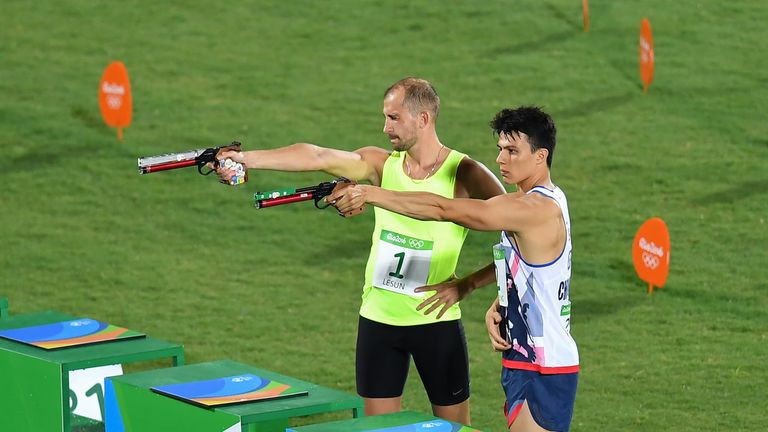 Great Britain's Joe Choong was left to rue a poor shooting phase in the men's modern pentathlon - one that he believes ruined his hopes of an Olympic medal. 
Britain have never won a men's individual modern pentathlon medal in the Olympics.
The 21-year-old Choong put himself in position to challenge as he held second place going into the final combined running and shooting discipline at Deodoro Stadium.
Costly misses, though, during the second and third shooting efforts meant he dropped to 10th, while his team-mate Jamie Cooke finished 14th, despite setting a new Olympic modern pentathlon record in the swimming.
"The shoot threw all my medal chances out of the window," Choong said. "I guess at the moment I am disappointed, but I know that coming into the competition I wouldn't have been disappointed coming 10th.
"I showed in my first shoot, when I got five out of five, what I could do, then I couldn't hit the target. I knew if I had shot like I normally do, I would have got a medal, so that gives me great confidence moving forward, but I am not going to make excuses."
Choong, from Orpington, was a model of consistency throughout swimming, fencing and showjumping, when he had just one fence down on a testing track in torrential rain.
And it was the fencing that cost Cooke, as Russian Aleksander Lesun won gold with an Olympic record total score of 1,479 points - 28 ahead of Choong. 
Cooke, who trains with Choong at the University of Bath, paid his team-mate a glowing tribute.
"We always say in Bath that he's not your average Joe," Cooke said. "He is incredibly talented. If I had half that talent, I would be laughing.
"He has come here to his first Games, probably one of the youngest competitors here, and when he goes away and thinks about it, he should be so proud. He has a massive future.
"For me, the fencing wasn't very good. It's gutting, because three years of hard work goes into this.
"We've sacrificed so much to get the fencing right, so it was not the best time to have a bad day at the office. I think you are defined by your disasters.
"But the swim went well, and going into the combined phase I just wanted to put myself in the best light. You have to get the best experience out of it."