Analysing the reasons behind Team GB's success at Rio Olympics 2016
By Paul Prenderville
Last Updated: 24/08/16 5:51am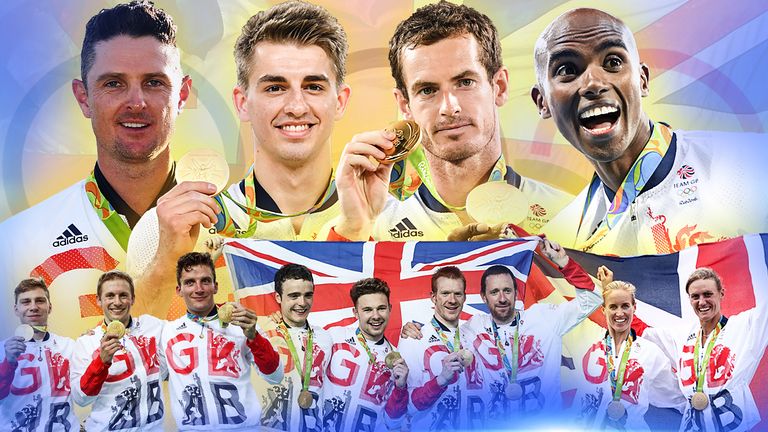 Having set a new record for total medals won at a modern Olympic Games, Team GB smashed their targets and scaled new heights in the pursuit of British sporting excellence.
For the latest in our data analytics series on the summer of sport, Sky Sports has teamed up with Hewlett Packard Enterprise (HPE) to look at how the records were set and how they got they there.
From the outset, the goals, ambitions and the all-important targets were clear. Inspired by the soaring success of London 2012, UK Sport set the parameters for what would be determined a successful Rio 2016.
On July 14 at a pre-Rio press conference, UK Sport set its medal target at between 47-65 medals. The ambition was clear, the minimum requirement of 48 would represent a best ever Olympics on foreign soil, beating the 47 of Beijing in 2008.
The summit of those lofty ambitions was 65, the total set four years ago in London and Great Britain's best tally since 1908. The results were incredible, with 67 medals representing their best performance at an away games and a first ever second-placed finish in the medals table, their best since topping the list as hosts in 1908.
Team GB medal breakdown
| | |
| --- | --- |
| Total Medals | 67 |
| Gold | 27 |
| Silver | 23 |
| Bronze | 17 |
| Total Medalists | 130 |
| Men | 71 |
| Women | 59 |
So how did this happen?
Significantly, GB improved their performance for the fifth successive games and became the first nation to improve their total at the Olympics immediately after hosting a Games. It is no surprise that this has come about since the advent of support from National Lottery funds.
At Atlanta in 1996, GB finished in their lowest ever position of 36th with just one gold medal, behind New Zealand, Kazakhstan, Turkey and Ireland - prompting a dramatic rethink in how the nation funds its Olympic sports.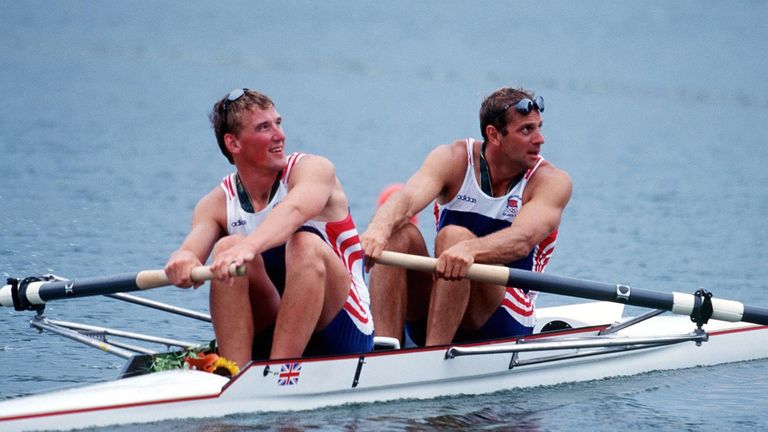 Prior to 1996, investment in high-performance sport was minimal and elite level athletes got precious little in the way of support from the very top. The use of National Lottery funding has played a huge part in driving Team GB forward and that money helped UK Sport introduce the World Class Performance Programme in 1997.
And while the financial support is welcome and is a significant reason behind the stunning improvement, that funding brings its own pressures.
A more professional environment with all the coaching, nutritional, scientific support has allowed supremely talented individuals to prosper, but there is now an expectation to succeed and with so many sports fighting for the cash pot, failure results in funding cuts.
Throughout the last four years, the government and UK Sport have spent £274m towards Rio 2016 - put simply that works out at about £4million per medal. When the funding towards the upcoming Paralympic Games is factored in, the total spend toward this summer's Games is almost £350m, an 11 per cent increase on funding for 2012.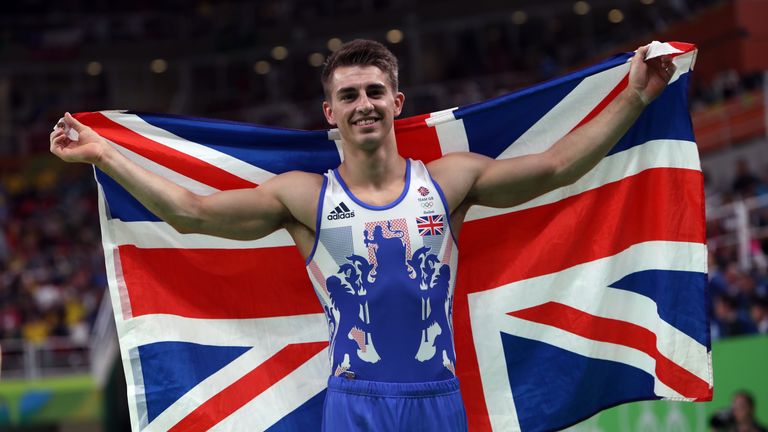 But success brings more funding, with gymnastics being perhaps the most obvious example. Having achieved its target of four medals at London 2012, British gymnastics was awarded a 36 per cent increase in its funding, and the result has been seven medals in Rio including a first in the all-round discipline in 108 years, a first gymnastics gold and a first world or Olympic trampoline medal.
In contrast, swimming missed its target of 3-5 medals in 2012 and had its funding cut, but has prospered in Brazil with the total of six medals exceeding expectation and likely to result in increased financial support for Tokyo in 2020.
Where were the major successes?
Four sports exceeded their targets while 19 met them. Just rowing, despite three golds and one silver, and modern pentathlon missed their objective.
From Adam Peaty's brilliant swimming gold, which set the tone on day two, to Joe Joyce's silver on the final day, Team GB scaled memorable new heights.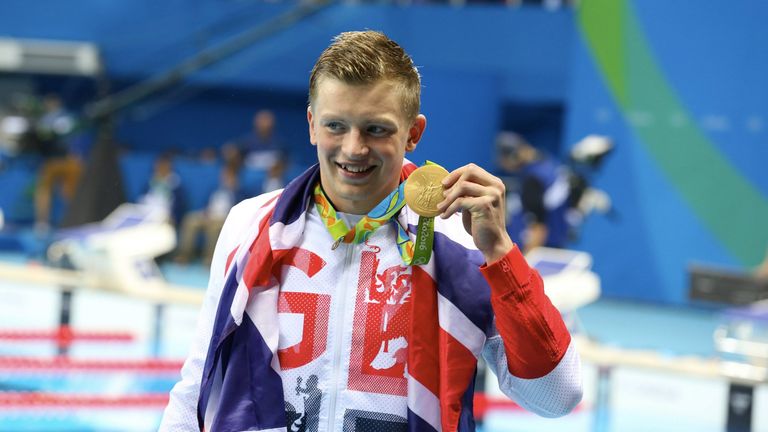 London's total was equalled with Mo Farah's second gold of the Games and was beaten when the 4x100m relay women won bronze in the final night on the track. Joyce's silver put the feather in the cap of a memorable 16 days of competition.
New levels of sporting success
Highest medal total and finish since 1908
First time in modern Olympics host nation has bettered their total in the Games immediately after hosting.
First nation to improve their medal total for five successive games.
Gold in 15 different sports, more than any other nation, medals in 19 of 31 sports.
Five golds in one day first time ever overseas
First ever diving gold medal (Laugher & Goodfellow)
Jason Kenny won a record-equalling sixth gold medal, while Laura Trott became the first British woman to win four golds. Nicola Adams became the first British boxer since 1920 to defend her title, while Max Whitlock won Britain's first gymnastics gold, which he followed with a second gold on the same day.
The magnificent women's hockey team, Bryony Page's trampoline silver and Jack Laugher and Dan Goodfellow's unprecedented diving gold were all as brilliant as they were unexpected.
Cycling
2016 Olympics - Cycling medal table
| | | | | |
| --- | --- | --- | --- | --- |
| | Gold | Silver | Bronze | Total |
| 1. Great Britain | 6 | 4 | 2 | 12 |
| 2. Netherlands | 2 | 3 | 1 | 6 |
| 3. USA | 2 | 3 | 0 | 5 |
Eight gold medals, two silvers and two bronzes at an all-conquering London 2012 Olympic Games was quite a feat to live up to, but while they weren't quite able to match that success at Rio 2016, Great Britain were still the dominant nation in Brazil.
London's target was between 6-10 medals, so with 12 won those expectations were surpassed resulting in an increase in funding from £26m to £30.2m. For Rio, the target was between 8-10 and that target was again beaten.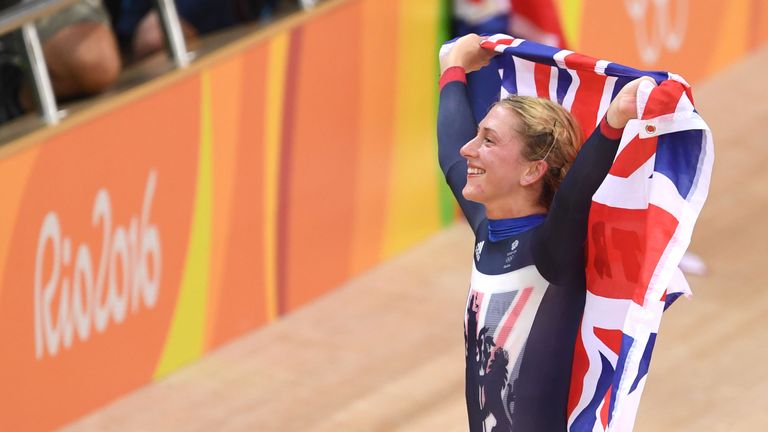 The men's pursuit team, men's sprint team, women's pursuit team, Trott in the omnium and Kenny in the individual sprint all retained their 2012 Olympic titles, while Kenny succeeded Sir Chris Hoy as keirin champion.
Chris Froome, meanwhile, repeated his performance at the 2012 Games by once again winning bronze in the men's time trial on the road, but Lizzie Armitstead was unable to return to the podium in the women's road race.
Gymnastics
Perhaps the biggest success story of Rio 2016 for Team GB was in the gymnastics hall - with seven medals Britain finished behind only USA and Russia, a notable triumph given the names and success of those nations.
Whitlock won bronze in the individual all-round competition and the 23-year old then added two golds in the pommel horse and the floor giving GB its first gymnastics gold medal in 116 years.
Having beat its medal target in 2012 and followed that up again in Rio, GB can probably expect another increase to its £14.6m funding for the next cycle. Quite a feat for a sport that not so long ago had lost all top-level funding.
Gymnastics - GB at the Olympics (years where medals won)
| | | | | |
| --- | --- | --- | --- | --- |
| | Gold | Silver | Bronze | Total |
| 2016 | 2 | 2 | 3 | 7 |
| 2012 | 0 | 1 | 3 | 4 |
| 1908 | 0 | 1 | 0 | 1 |
| 2008 | 0 | 0 | 1 | 1 |
| 1928 | 0 | 0 | 1 | 1 |
| 1912 | 0 | 0 | 1 | 1 |
Boxing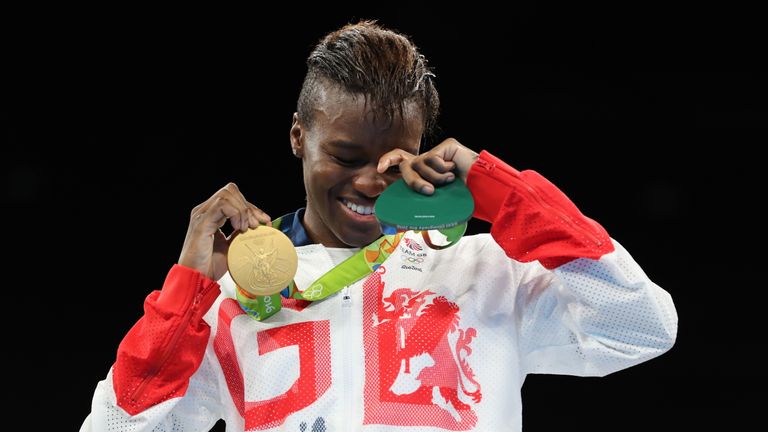 Great Britain claimed just the one gold medal, with Adams defending her 2012 title, but her fellow boxers could not repeat the tally of three golds in London.
A final total of one gold, one silver and one bronze, however, is still a creditable showing in a fiercely competitive tournament, which saw Uzbekistan top the medals table with three golds, two silvers and two bronzes.
Four years ago, Anthony Joshua and Luke Campbell joined Adams by claiming gold as Britain led all the other nations on three golds, one silver, and one bronze.
Joyce narrowly failed to repeat the success of Joshua at super-heavyweight, ending with silver after a split-decision defeat, while Joshua Buatsi battled to bronze.
But Anthony Fowler, a Commonwealth gold medallist, and Qais Ashfaq, who took silver in Glasgow, fell short on the biggest stage for amateur boxing.
Swimming
After the success of Beijing in 2008, swimming was one sport where there was disappointment for Team GB at London 2012 and, having missed their target, funding dropped by almost £4.5m.
The result has seen an increased focus on the very top level of the sport. A more condensed elite programme has delivered results with GB sixth in the medal table, ahead of China, and behind only four countries when it came to winning medals in the pool.
A haul of six medals equals the best total since 1908 and exceeds the 3-5 medal target laid out by UK Sport.
Swimming - Great Britain at the last five Olympics
| | | | | |
| --- | --- | --- | --- | --- |
| | Gold | Silver | Bronze | Total |
| 2016 | 1 | 5 | 0 | 6 |
| 2012 | 0 | 1 | 2 | 3 |
| 2008 | 2 | 2 | 2 | 6 |
| 2004 | 0 | 0 | 2 | 2 |
| 2000 | 0 | 0 | 0 | 0 |
Athletics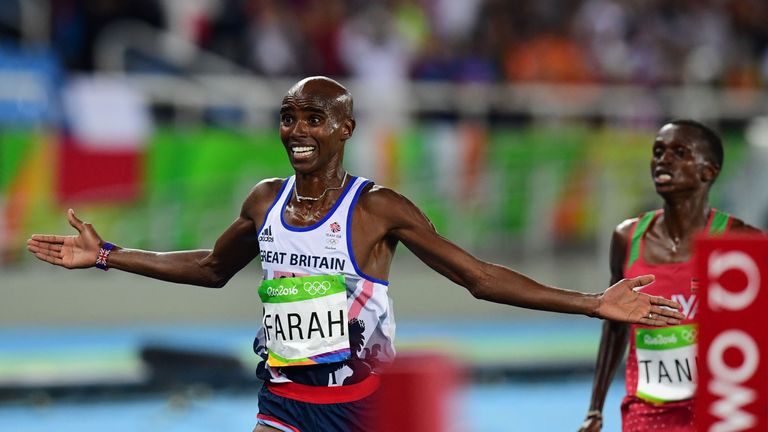 Great Britain won seven medals at Rio 2016 compared with six at London 2012, but two fewer golds meant they finished two places further down the medals table, in sixth.
Farah claimed two golds while Jessica-Ennis Hill and Greg Rutherford earned one apiece at London 2012 - three of them coming on the now famous 'Super Saturday' - but while Farah retained his titles in Rio, Ennis-Hill had to settle for silver and Rutherford could only take bronze.
Britain won one silver at London 2012 and it was the same number in Rio, but they significantly boosted their number of bronzes from one to four.
As well as Rutherford, Sophie Hitchon in the hammer throw, the women's 4x100m and the women's 4x400m relay teams all finished third.
Rowing
Great Britain dominated the London 2012 Olympic regatta, winning four golds, two silvers and three bronzes on the way to topping the medals table.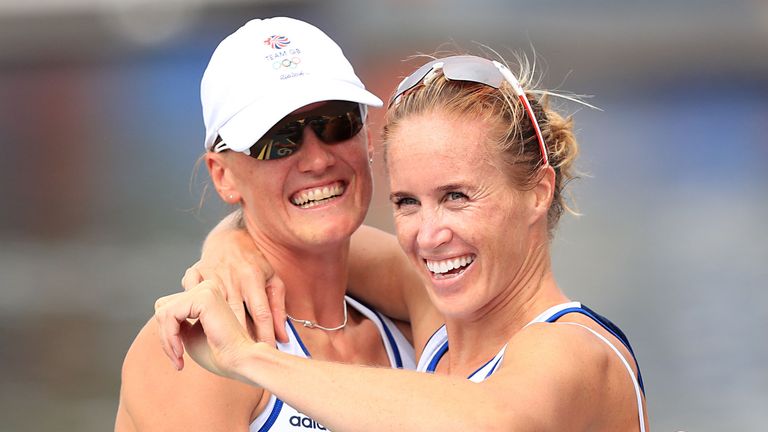 They were the No 1 nation once again at Rio 2016, but a return of three golds and two silvers shows they did not enjoy the same supremacy over their rivals this time around, missing their target of between 6-8 medals for the Games.
The men's coxless four and the women's coxless pair both retained their titles, while the men's coxed eight added a third gold, but the women's double sculls and lightweight double sculls both relinquished their titles.
In 2012, Britain topped the medals table by four medals, but this time there was only two in it to second-placed Germany.
What next? Can Britain top the table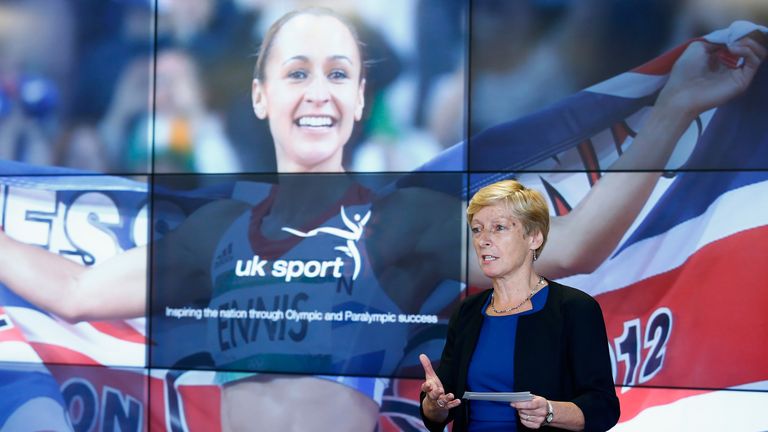 "We're making sporting history - 67 medals, nearly 130 medallists, across 19 sports."Even the sporting superpowers haven't done that in the past, but we are one of those now."
UK Sport chief executive Liz Nicholl
Eight years ago, GB was not even in the top five of the medals table but, having being declared a sporting superpower by UK Sport Chief Executive Liz Nicholl, is top spot achievable? After all it is now just the USA that GB need to overcome.
The gap is certainly closing, and with many in Rio still to achieve their best there is no reason the growth cannot continue.
America have topped the table in five of the last six summer Olympics but Team GB are closing that gap.
Total Medals Won - USA v GB
| | | |
| --- | --- | --- |
| USA | | Great Britain |
| 121 | 2016 (Rio) | 67 |
| 103 | 2012 (London) | 65 |
| 110 | 2008 (Beijing) | 47 |
| 101 | 2004 (Athens) | 30 |
| 93 | 2000 (Sydney) | 28 |
| 101 | 1996 (Atlanta) | 15 |
As well as the constant successes - rowing, cycling and sailing - GB are growing in other sports. Gymnastics and diving have enjoyed their best ever games and with that comes extra funding and growing expectation.
We have seen the results of increased investment and with rocketing success adding to that, can we expect things to continue on an upward scale?
Last Six Olympics - Medal Table Top Five
| | | | | | | |
| --- | --- | --- | --- | --- | --- | --- |
| | 2016 | 2012 | 2008 | 2004 | 2000 | 1996 |
| 1. | USA | USA | China | USA | USA | USA |
| 2. | GB | China | USA | China | Russia | Russia |
| 3. | China | GB | Russia | Russia | China | Germany |
| 4. | Russia | Russia | GB | Australia | Australia | China |
| 5. | Germany | S Korea | Germany | Japan | Germany | France |
The talent pools are expanding and we are told that the much vaunted legacy of London is reaping dividends but there remain issues. Is funding at elite level costing grassroots sport? UK Sport are focused at the top levels of sporting performance, but who and where is the funding at the base level that can sustain this run of success.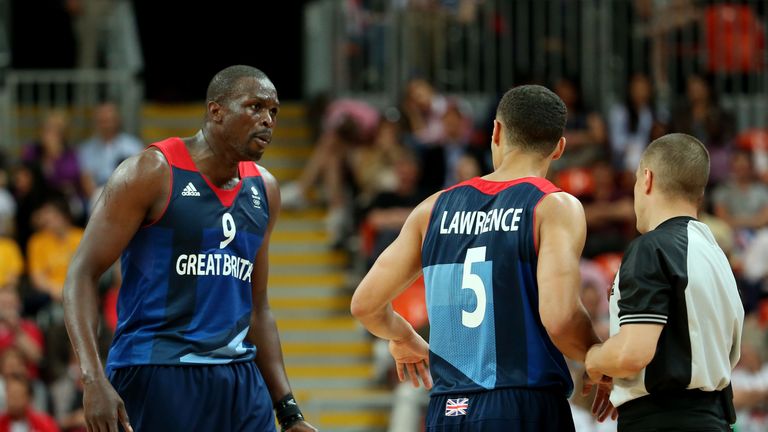 And what of sports like handball, basketball and volleyball? Sports that get minimal funding, starting from a level that sees them competing against countries with established programmes in those events.
It is a difficult balancing act but one UK Sport appears to be performing.
They have increased GB's medal output and raised the sporting profile. While some sports will justifiably argue their case, the breadth of GB's success in Rio, medalling in 19 sports and winning gold in 15, suggests success continues to come and for now more and more sports are coming to the party.
Find out more about Hewlett Packard Enterprise data solutions
Team GB - London v Rio
| | | |
| --- | --- | --- |
| London 2012 | | Rio 2016. |
| 541 | Competitors | 366 |
| 26 | Sports | 25 |
| 65 | Total Medals | 67 |
| 29 | Gold | 27 |
| 17 | Silver | 23 |
| 19 | Bronze | 17 |
| 17 | Sports winning medals | 19 |
| 11 | Sports winning gold | 15 |
Team GB - London v Rio
| | | |
| --- | --- | --- |
| London 2012 | | Rio 2016. |
| 541 | Competitors | 366 |
| 26 | Sports | 25 |
| 65 | Total Medals | 67 |
| 29 | Gold | 27 |
| 17 | Silver | 23 |
| 19 | Bronze | 17 |
| 17 | Sports winning medals | 19 |
| 11 | Sports winning gold | 15 |