Tokyo 2020 Olympics: Team GB win record eighth swimming medal in 4x100 metres medley
Duncan Scott became the first British athlete to win four medals at a single Olympic Games; Britain's tally of eight medals - four golds, three silvers and a bronze - bettered their previous best tally in the pool of seven
Last Updated: 02/08/21 9:06am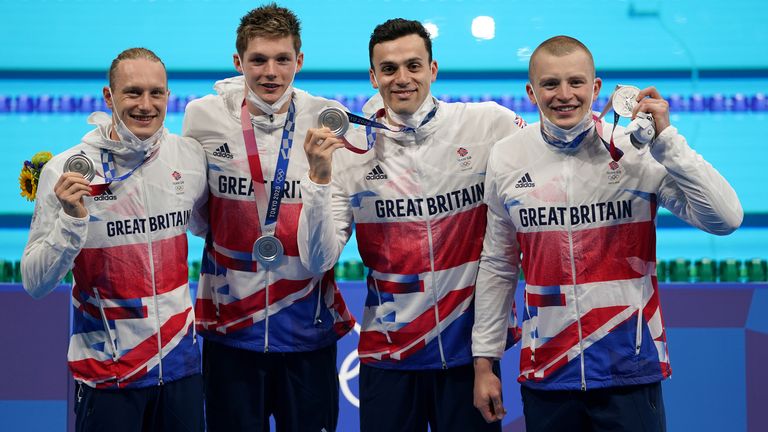 Team GB's swimmers closed out their best-ever Olympics with 4x100m medley relay silver as Duncan Scott won a record-breaking fourth medal at Tokyo 2020.
Luke Greenbank, Adam Peaty, James Guy and Scott took silver in the men's 4x100 metres medley relay final, finishing 0.73 seconds behind the United States, who claimed gold in a world record time of three minutes and 26.78 seconds.
Scott, who brought the team home, becomes the first athlete in any sport to ever win four medals at a single Games for Team GB.
The 24-year-old comes home from Tokyo having won gold in the men's 4x200m freestyle relay and silver in the solo event as well as finishing runner-up in the 200m individual medley, and adding this silver to his collection in the 4x100m medley relay.
Greenbank, the 200m backstroke bronze medallist, was seventh after the opening leg, but Peaty, eyeing his third gold of these Olympics, swam a remarkable breaststroke split of 56.53s to take them into the lead.
Guy, also chasing a hat-trick of gold medals this week, swam his butterfly leg in a creditable 50.27s but was overtaken by the vaunted Caeleb Dressel, with American compatriot Zach Apple completing the job.
Victory for the USA was a second win on Sunday for Dressel after prevailing in the 50m freestyle earlier, capping a sensational Games for the 24-year-old, who has collected five golds in Japan and now has seven overall.
The USA-Britain one-two matched the result from the Rio 2016 Games.
Scott said: "It's all my teammates, that's what that is. I'm fortunate to be part of some excellent relay teams, this being one of them. We're all pretty disappointed with this, but in 2015, when we started coming together, back-to-back Olympic silvers in this event, we'd have taken that all day.
"We're coming in here to really challenge the Americans just like we did last time at worlds. With our splits, we all swam well, slightly disappointed with mine but that's how it is. It's been a tough week, but we've got to be happy with that."
Peaty: Mentality shift behind success for swimmers
Peaty said a culture shift within the British Swimming team over the last decade was pivotal behind their historic campaign in the pool.
"Unfortunately we didn't do enough to take that gold, but with the success British Swimming have had and we have had, sometimes you need a little bit of pain.
"This is painful, and I know people at home will say we got Olympic silver, but that's the standard we are at now."
Speaking to Sky Sports News, the 26-year-old added: "We are not just looking at people making the team anymore.
"It was a privilege to make the team eight years ago. It still is, I don't want to take away anything from those Olympians who are so proud to represent their country but that is where the culture has changed now.
"We are not just trying to make the team now. We are trying to get medals and we are not just trying to get medals now, we are trying to go for gold."
British swimmers rise to the challenge in Tokyo
The 4x100m medley relay silver ended a historic swimming programme for Team GB as they surpassed their previous best seven-strong haul from the 1908 Games in London.
Jack Buckner, the CEO of British Swimming, told Sky Sports News focus would soon turn towards the next Olympics in Paris in 2024.
"We have got a philosophy which has come across this week which is 'one team: winning well in water'," Buckner said.
"So, we will absolutely be moving forward. We feel we have great foundations with what we are doing."
British Swimming head coach Bill Furniss praised the Team GB squad for rising to the challenge in the pool.
"We have raised the bar," he said. "We have made qualification standards a lot higher, a lot tougher but at the same time, the athletes have risen to the challenge, so it is a combination of a lot of factors. But I think the main thing is belief."
Chris Spice, British Swimming performance director, said he was "absolutely chuffed" with how the swimmers had delivered under increased expectations.
"In our programme we have worked really hard to make sure that athletes are supported because we tell them right up front you are going to be challenged," Price added.