Sheppard's family link
Natalia Sheppard will be following in family footsteps when she leads off Britain's fencers at the ExCeL Arena.
Last Updated: 26/07/12 8:49am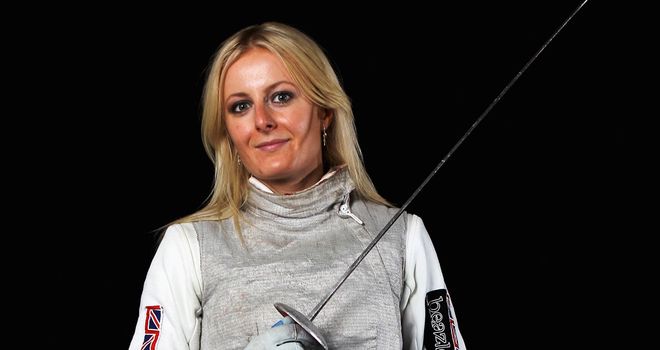 Natalia Sheppard will be following in family footsteps when she leads off Britain's Olympic fencers at the ExCeL Arena on Saturday - with one big difference.
In Beijing four years ago her older sister Irena was competing for Poland when she reached the last 16 of the women's individual sabre and the quarter-finals of the team event.
Sheppard was born Natalia Wieckowska in Gdansk, but came to this country to study. She gave up fencing for a while, then got married and was persuaded by her husband Gary to give it another go.
The 28-year-old foilist came through the qualifying event in Slovakia in April to earn her place and will also be competing in the team event with Anna Bentley and Sophie Troiano next Thursday.
Stressful
She said: "At the back of your mind you know you've got another chance through host nation places, but to be there on merit regardless of where the Olympics are taking place is great.
"It was really stressful on the day, but incredible and we've been working so hard every day to deliver on the day. I'm sure we're not going to disappoint.
"After I stopped fencing there was a massive question mark whether I would come back to it, let alone make the Olympics.
"You just don't know whether you can come back to the form or the technique level or fitness level that you had previously when you trained day-in and day-out.
"Things change within the sport, so I wasn't sure if I could still make it internationally when I began again and where I could take it.
"At first it was really, really hard to get back to it and I had very little support in terms of coaching or funding or set-up.
"Everything was done off my own initiative and I travelled all over Europe at my own expense.
"Now all the support has been put in place and it makes such a big difference. The last year has been amazing and we've gone from strength to strength."
Lawyer
Sheppard, a qualified barrister who work as an in-house lawyer for printing supplier Pulse in Bath, takes heart from the British team's performance against gold medal favourites Italy at last year's European Championships in Sheffield.
The Italians won the quarter-final 39-34 and Sheppard, ranked 42nd in the world, added: "I think if we all believe in ourselves we can make it."
First, though, comes the individual event. Favourite for that is Italian Valentina Vezzali, who the morning after carrying her country's flag at the opening ceremony will be trying for a piece of sporting history.
Only three Olympians - Carl Lewis in the long jump (1984-96), fellow American Al Oerter in the discus (1956-68) and Danish sailor Paul Elvstrom (1948-60) - have won individual golds in four successive Games, so after her wins in Sydney, Athens and Beijing the 38-year-old police officer has the chance to become the first woman.