Keiron Cunningham disappointed with St Helens display against Rabbitohs
Last Updated: 23/02/15 6:58am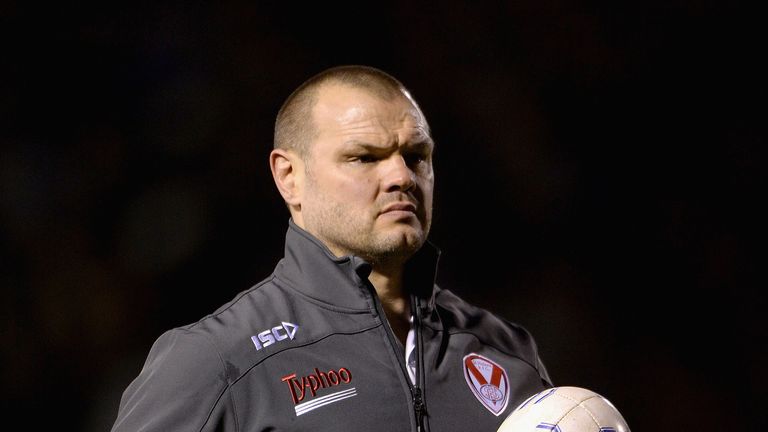 St Helens coach Keiron Cunningham admitted his side was taught a lesson by the South Sydney Rabbitohs in the World Club Challenge.
The NRL champions ran in seven tries in a record 39-0 win over their Super League counterparts at Langtree Park, with the Saints rarely challenging the Rabbitohs try line.
Victory was the biggest in the history of the competition, confirmed when the influential Adam Reynolds booted a late drop goal to add a point to their already commanding advantage.
"I really am disappointed," Cunningham said. "We probably got schooled by the best side in the world. Sometimes you've got to to lose in a big fashion to learn some lessons.
"It's going to be a good education from my players, especially my younger players. I know my team are a lot better than they tossed up."
Completion problems
St Helens got off to the worst possible start, conceding a try to debutant Glenn Stewart inside the first two minutes, and were out of the contest by half-time, when they trailed 24-0.
"The first 20 minutes hurt us," Cunningham added. "I am not sure what rules we were playing to but I didn't recognise them.
"I know how good they are, Michael Maguire is bit of an idol of mine as a coach and I knew what they were going to do.
"They didn't do anything different. They completed in the upper 80s (completion rate percentages) in the first half and 93 in the second, whereas we were 62 and 50."
Saints captain Jon Wilkin said: "They played a Test-match style of rugby, whereas we played Super League. It's absolutely chalk and cheese.
"What this series has showed is that the NRL teams don't make mistakes. In Super League we are more flamboyant and throw the ball around a bit more. Crucially all three teams across the weekend have made fundamental errors.
"It's difficult to take but it's a learning experience for our young guys who have aspirations to go on and play for England."
Proud
Rabbitohs coach Michael Maguire had no idea the Rabbitohs had set a new record with their late drop goal, but he was understandably thrilled with their performance, given their season is yet to kick off.
"I was told at the end of the game that we broke the record, which was good," the former Wigan coach said.
"I'm really proud of the players. We set out to come here and be as professional as we could be and it was a great performance.
"The boys turned up for pre-season in great shape, they are a team of guys who want to improve."