Denis Betts blasts 'worst refereeing performance I've seen in 30 years'
Last Updated: 30/04/16 1:35pm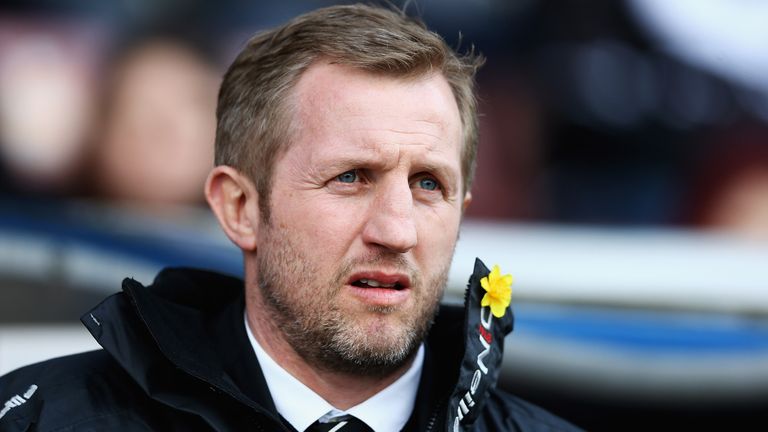 Widnes boss Denis Betts hit out at referee Joe Cobb after his side plunged to a last gasp 18-16 home defeat to Wakefield.
The Vikings looked set to end a five-match losing Super League streak when they recovered from an 8-0 interval deficit to lead 16-12, but Craig Hall's late try led to a bad tempered encounter which saw two players sent off and another three sin-binned.
Wakefield hooker Scott Moore and Vikings scrum-half Aaron Heremaia were sent off midway through the first half after Widnes centre Patrick Ah Van had already been yellow carded for a tackle which left Ashley Gibson with a dislocated shoulder. Then Widnes, who trailed 8-0 at the break to an Anthony Tupou try and two Finn goals, had Lloyd White and Stefan Marsh sin-binned in the second half.
"It was the worst refereeing performance I've seen in 30 years," said Betts, who this week was announced assistant coach of England.
"We had a legitimate try from Chris Houston from a bomb disallowed near the end and there was nothing wrong with it.
"We did enough to win the game because we were in control but I'm really disappointed for my players. I can understand Wakefield's elation but thought we deserved something out of the game."
Widnes fought back to lead 16-12 with tries from Charly Runciman, Eamon O'Carroll and Rhys Hanbury before Hall struck.
Wakefield also lost Danny Kirmond with concussion and coach Chris Chester said: "It was a crazy game and I've not been in one before like it with two sent off and three sin-binned.
"But we had a real never-say-die-attitude despite being shot to bits in terms of interchanges.
"It was a real back to the wall effort and we won it with a special play from Hally in the end and a great conversion from Liam Finn. It was a fantastic performance by our guys."