Castleford has RFL backing over Denny Solomona contract row
By PA Sport
Last Updated: 07/12/16 10:01am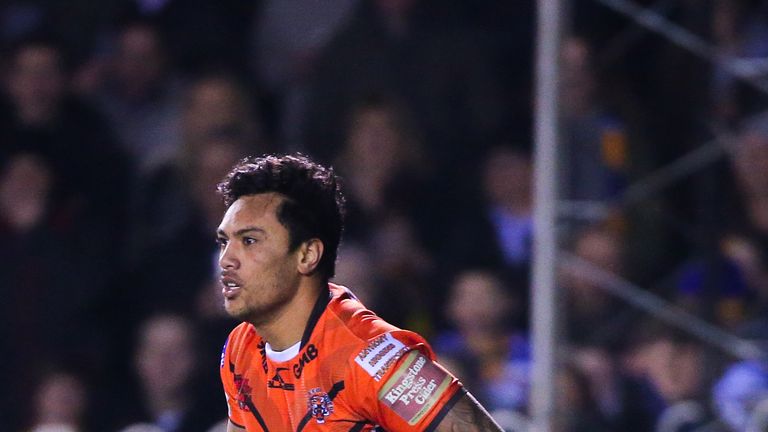 The Rugby Football League is to throw its weight behind Castleford in their contract row with record-breaking winger Denny Solomona.
The Tigers are preparing for a high-court battle with Solomona, who scored a record 40 tries in Super League in 2016, after he failed to turn up for pre-season training amid rumours of a switch of codes.
Castleford have successfully enlisted the backing of rugby league's governing body, who say they are also ready to intervene in the case of Australian scrum-half Chris Sandow, who has walked out on Warrington despite having a year left on his contract, and support Leeds in their battle to hang onto unsettled hooker James Segeyaro.
Leeds chief executive Gary Hetherington warned on Sunday that "the integrity of our game is now on the line" after Segeyaro threatened to turn his back on the Rhinos despite recently signing a new two-year contract.
In a statement issued on Tuesday, RFL chief executive Nigel Wood said: "The RFL is extremely disappointed to learn  that properly contracted Super League players may not be fulfilling the terms of their employment with Super League clubs as agreed.
"Contracts are two-way commitments mutually binding on both parties. The RFL will support its member clubs absolutely to defend their contractual positions and will work with other similarly inclined governing bodies to ensure that the unacceptable potential anarchy of lawful contracts simply being walked away from, is not tolerated."
Wood, who is also chairman of the Rugby League International Federation, is likely to receive a favourable response from the NRL as he bids to block any return to the NRL by Sandow and Segeyaro, who are both still in Australia, without reaching agreement with their Super League clubs.
However,  the RFL could be on a collision course with the RFU over Solomona, who is thought to be training with Sale despite having two years left on his contract with the Tigers.
"Denny Solomona has resigned from playing rugby league and us, and many other clubs, are interested in signing him," Sale director of rugby Steve Diamond told BBC Sport on Monday.
Castleford, who say they rejected three offers for Solomona, have appointed leading London barrister Nick Randall QC - whose other clients include England captain Wayne Rooney - and Leeds-based sports lawyer Richard Cramer to fight their case.
In a clear warning that Sale are also gearing for a fight, Diamond added: "There are no governing body registrations between the sports. It is just like someone coming from another sport to rugby union, whether it be football or basketball and I don't understand what the furore is about."
Press Association Sport understands that Castleford have given Sale an opportunity to resolve the matter before it goes to the High Court.
In the meantime, the RFL has confirmed it is investigating the actions of Solomona's agent Andy Clarke.
Upgrade to Sky Sports now and get 12 months half price. Hurry, offer ends December 4th!