LISTEN: Hull Kingston Rovers head coach Tony Smith on The Coaching Manual podcast
Speaking to Sky Sports rugby league presenter Brian Carney, Hull KR head coach Smith revealed the effect Mose Masoe's life-changing injury and the death of Jordan Cox had. "We try to be professional and we try to prioritise, but some of that is questioned," he said.
By Sky Sports Rugby League
Last Updated: 09/04/21 2:07pm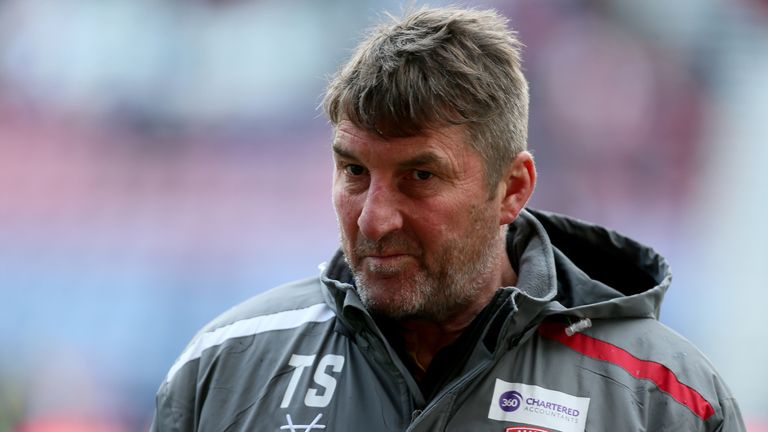 Tony Smith has admitted he was left questioning his involvement in rugby league following two tragedies which affected Hull Kingston Rovers during 2020.
The first saw Mose Masoe suffer a life-changing spinal injury just three minutes into a pre-season game against Wakefield Trinity in January. Then, at the end of April, the news came through of the death of reserve-team forward Jordan Cox at the age of 27.
Speaking to Sky Sports rugby league presenter Brian Carney on The Coaching Manual, Rovers head coach Smith revealed how both incidents had profound effects on him and the rest of the squad, and left him with a lot of questions he needed to resolve.
"We try to be professional and we try to prioritise, but some of that is questioned," Smith told Sky Sports. "I had some questions in the days after [Masoe being injured] as well about sending young men out onto the field to put their bodies on the lines.
"I spoke to a couple of other coaches as well and people I respect and confided some of my personal feelings about how that incident was making me feel at the time. With their support, I was able to refocus in some respects, but at the same time I did question my involvement.
"Not long after that we had a young player in our team, Jordan Cox, who lost his life in his mid-20s. I'd coached Jordan at Warrington and he was trying to re-establish his career in our reserve grade, and unfortunately that happened as well.
"The effect of what we do made me question some of the things which go on in our sport. You question some of those things, come up with some answers, find a focus and get on with those things."
Advice from Colin Bland, CEO of the Sporting Chance charity which Smith is a patron of, welfare manager at former club Leeds Rhinos Nigel O'Flaherty Johnston and some of his fellow coaches helped the 54-year-old find some answers and he remains grateful for that help.
Smith admitted there were feelings of guilt for him and the Hull KR players in thinking about both Masoe and Cox in the context of themselves when the focus should be on the two young men and their families too, but came to realise that was a natural reaction to such situations.
The injury suffered by Masoe has seen the entire rugby league family rally around the former Samoa international and Smith quickly came to realise the seriousness of what had happened when it occurred.
Little of his experience from a two-decade coaching career which included spells with Huddersfield Giants, Leeds and Warrington Wolves could have prepared Smith for what came next and although he had only known Masoe for a relatively short period of time, the prop had already made a big impression.
"I'd only been with him around 12 months, but he was in great shape and really excited for the season, and I felt for him because he was so pumped up and proud to be asked to be captain," Smith said.
"He took a couple of days to answer when I asked him, and he came back and said it was time to step up and do a bit more. Within two weeks of that, he was in the gym and deadlifting something like 335kg three times.
"The whole gym stopped to watch, and he was achieving some big stuff. He was fitter and stronger than he had probably ever been, he was excited, and it was rubbing off on us.
"Rugby league became totally insignificant, it's not even on your priority list. You just want him to be physically sound and capable."
Masoe has slowly regained some use of his arms and legs as he continues his long recovery and Smith was left in awe of the doctor who operated on the 31-year-old's spine after speaking to him when he went to visit his player the following day in hospital.
Smith was also amazed by how even in the darkest moments, Masoe's personality shone through with everyone who went to visit him in the coming days even with the uncertainty both he and his family were facing.
"Right from the off, he made whoever went in to see him feel at ease - he was incredible," Smith said. "As soon as we walked in, he'd put that big smile on and say: 'It's all right'."
"He was more concerned about how we were feeling deep down and making sure we were okay but, at the same time, deep down, he would have been worried about himself and he did it with all of our players who came in.
"The first thing he'd do with each one of them was make them feel not awkward about the situation. Mose's test of character shone through.
"I think we're all good when things are good, but we're not so good when things aren't, and he was there making sure everybody was feeling fine when he can't move most of his body. What a test - and he came through it with flying colours in terms of character."
Catch the latest weekly episodes of The Golden Point and podcast versions of The Coaching Manual. Subscribe now on: Apple Podcasts | Spotify | Spreaker