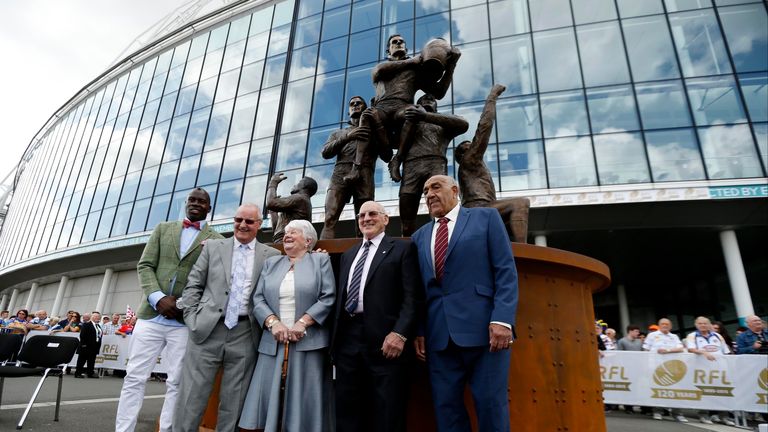 Five legends of rugby league have been immortalised in a bronze statue which was unveiled at Wembley Stadium ahead the Challenge Cup final between Hull KR and Leeds on Saturday.
The statue, created by Hull-based sculptor Stephen Winterburn and three years in the making, features five all-time greats of the sport in Eric Ashton, Billy Boston, Martin Offiah, Alex Murphy and Gus Risman.
A panel of journalists, coaches, players, MPs, national newspaper editors and fans voted for the quintet.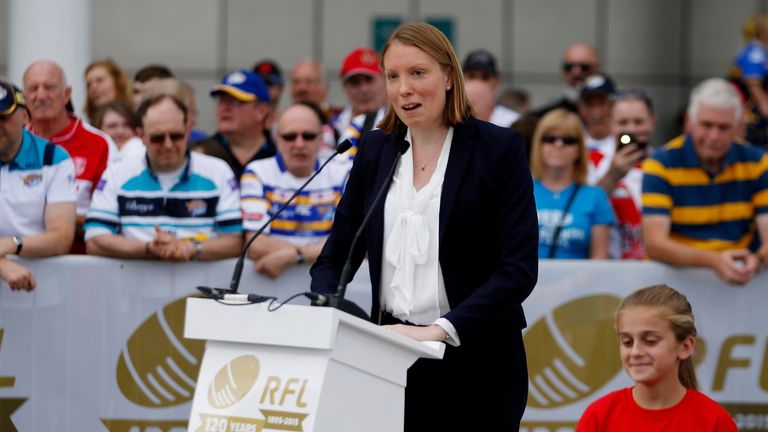 The statue, situated 50 metres from the Bobby Moore Statue, was commissioned by the charity Rugby League Cares and unveiled by sports minister Tracey Crouch on the 120th anniversary to the day the sport was founded.
"This is the pinnacle of my career, without a doubt," said Offiah.
"I was having a conversation with the sculptor Stephen Winterburn recently and we were in agreement that this is the greatest honour that any sportsman in any sport could ever have.
"To have it at the national stadium, too, is beyond anything you could ever dream of. When you're young, you dream about representing your country or playing at Wembley. But whatever your desire is, you never imagine for a moment that anything like this will be achieved.
"It's very important to have this statue. The Bobby Moore Statue is a landmark at Wembley Stadium and people meet there and the rugby league statue will be a meeting place for rugby league fans. In 20 or 30 years' time, it will still be there as a shrine to rugby league."
"I think the statue looks great," said Cardiff-born Boston who scored a record 478 tries for Wigan from 1953-68.
"I've been a few times to see it and Stephen's done a great job. It's such a massive honour to have something like this and to be a part of it, too."
Murphy, who was inducted into the Rugby League Hall of Fame in 1988, ranks the statue as the greatest achievement in the sport.
"I think it's the biggest thing to happen in rugby league," Murphy said. "It's as big as putting a man on the moon.
"When people go to Wembley for different events, they're not only going to see a statue of Bobby Moore, but they'll also see the rugby league statue of Billy Boston, Eric Ashton, Gus Risman, Martin Offiah and myself. It's huge for rugby league to have a permanent place at Wembley."