Super League waits to discover if Magic Weekend can return to Manchester in 2015
By Rob Lancaster
Last Updated: 10/09/14 11:16am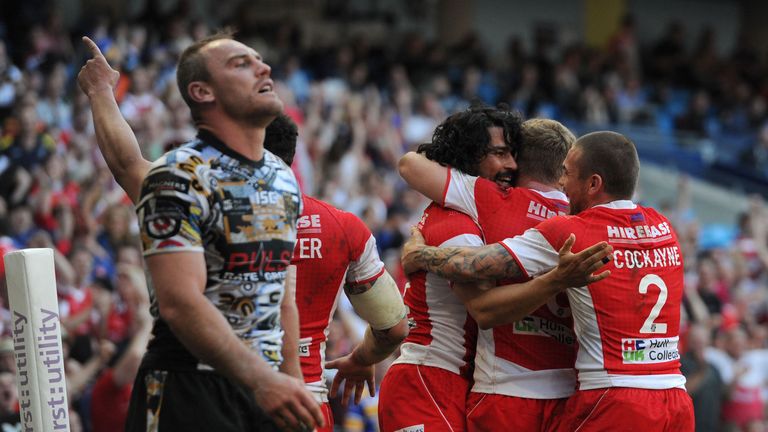 Whether it was the sunshine, the rugby on offer or just the city of Manchester itself, the Etihad Stadium excelled itself once again as the venue for Magic Weekend.
A record crowd attended over the two days at the home of the newly-crowned Premier League champions as the event seems to continue to go from strength-to-strength, having previously been staged in both Cardiff and Edinburgh.
We are in the hands of the Premier League schedule if you like, but we certainly couldn't have asked for a better partner than the Etihad Stadium.
Blake Solly
While pushing the boundaries beyond the borders of England was understandable in a bid to aid growth, staging Magic Weekend in the North West – and midway through the season – seems to have made it even more enticing to spectators, and not just the hardcore following of the 14 clubs.
Of course, the eighth edition was not without the odd issue. The number in attendance may have been even higher on the Saturday had the Hull derby not clashed with an FA Cup final involving the city's football team. But that should not detract from the success story, nor should a couple of lop-sided scorelines on Sunday.
Blake Solly – the soon-to-be general manager of Super League – was certainly beaming with pride when interviewed by Sky Sports at the end of Sunday's seventh and final game, Warrington and St Helens bringing to an end an occasion that showcased so much of what the sport has to offer.
"I think it has undoubtedly been the best Magic Weekend so far. It has certainly been our biggest attendance," he said.
"All through the last two days, all the fans that have been here have had a fantastic experience. It's an outstanding venue and a great sporting city."
Future plans
So see you again next year, Manchester City. Well, possibly not. Just as Super League might have discovered a gold mine that they could continue to reap the benefits from for years to come, they must now deal with the prospect of finding somewhere different to dig for success in 2015.
Plans to develop the stadium have left Magic Weekend's return to Manchester in doubt, though at least Solly was able to state that the product was now attracting other options.
"The issue for us is that they've obviously got some building work they want to do here at the end of next year, so we're in discussions as to whether we can bring it back here or move to an alternative venue," he continued.
"The good thing for us is we have got alternative venues that want to host the event, because they've seen what has happened here today and love it. We are in the hands of the Premier League schedule if you like, but we certainly couldn't have asked for a better partner than the Etihad Stadium."
It helps when trying to sell something if the product lives up to the marketing pitch. Saturday's four fixtures saw the biggest margin of victory stand at just 14 points, and even then there were mitigating circumstances for that outcome as Hull FC were reduced to 12 men in their defeat to Rovers.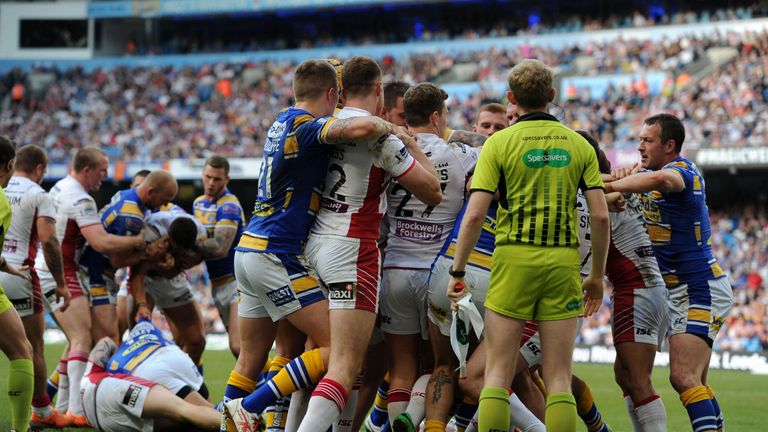 However, the best was saved for last on day one. Leeds and Wigan played at a play-off intensity in a game that showcased the very best of what Super League has to offer. In a true heavyweight contest, it shouldn't have been a surprise to many that punches ended up being thrown.
The depleted Warriors got their noses in front and managed to hold on to upset the reigning league leaders, gaining a modicum of revenge over the Rhinos having lost to them at Headingley just over a fortnight beforehand.
Australian Solly admitted the match had "made waves 10,000 miles away" in his homeland, while Jamie Peacock – a man who has appeared in plenty of big occasions in his illustrious career – admitted he could still take some enjoyment from being part of such a fixture, even if he did end up on the losing side.
"It was a great game to play in," he said. "They are the types of games you want to play in as a player. Maybe it was two points at stake in the league, but it certainly felt like more than that. I really enjoyed the game and really enjoyed the occasion."
Sunday's final chapter between Wolves and Saints didn't disappoint either, even if the former did end up winning comfortably in the end. The performance of St Helens was a concern for club captain Paul Wellens, one he branded as "embarrassing" as they were beaten 41-24.
Magic Weekend has not always been this popular, though. An extra round of games to play in what is already a physically punishing campaign did not please everyone concerns, while there are logistical issues in terms of space when you have so many teams in one place and with so little time in between kick-off times.
Long-term growth
The players too have taken a while to appreciate the concept, but Peacock – part of Sky Sports' team during the coverage on day two – feels it is vital rugby league continues to grow, and not just in the hope of expanding outside of its heartland. Leeds, St Helens, Wigan and Warrington are not content to just sit back and bask in their successes, wanting to build themselves and become even bigger.
"The event has grown," said the former England captain. "It has taken time to catch hold for everybody. It has caught on with the players now, as well as the fans.
"I think it is important we have another showpiece event in rugby league. I believe this kind of event attracts fans from outside the sport. I know where I live people come to the Magic Weekend that don't normally watch Super League.
"There is a feeling in some of the clubs that the sport needs to grow as a whole for those clubs to grow. They have reached their potential within rugby league at the moment. These kinds of events grow rugby league, a little bit like the World Cup (last year)."
Manchester has done much to help confirm Magic Weekend as part of the domestic calendar for the foreseeable future. Bring on the 2015 edition, wherever it may be, for Super League is now in a position of strength to advertise itself whererever it chooses.